The Content Of The Article:
Although the summer months are the period in which most of the shrubs bloom, but in September we are still thrilled by numerous flowering shrubs with a true color fireworks. While at first glance the yellow, orange or red-flowered perennials such as sun hat (Rudbeckia), Goldenrod (Solidago) or sunbeam (Helenium) stand out, the closer you look, the wider the color spectrum: from pink to purple to deep blue. The classic late summer flowers also include asters, autumn anemones and tall stonecrops.
Blasting with the sun: yellow flowering perennials
A late summer perennial flowerbed just makes you happy! Because at last the time is here in which the pretty yellow flowers of coneflower, goldenrod and perennial sunflowers (Helianthus) show themselves in full splendor. Probably the most well-known and presently most popular representative among the sun hats is the variety 'Goldsturm' (Rudbeckia fulgida var. Sullivantii), which is covered all over with large golden yellow flower heads. It is between 70 and 90 centimeters high and can reach growth widths of up to 60 centimeters. The variety was bred by Karl Foerster back in 1936 and has quickly spread because of its lush flowering and robustness. In addition, it is considered very easy to maintain.
Sun hats are native to the North American plains, where they thrive on fresh, well drained and nutrient rich soils in full sun. That makes them popular with us for plantations in prairie garden style. The yellow flowers are particularly beautiful when combined with different grasses, for example garden grass (Calamagrostis) or spring grasses (Stipa). Even sun-loving shrubs with other flower forms such as thistle (Echinops) or yarrow (Achillea) form a nice contrast to the cup flowers of the sun hat. In addition to the popular 'Goldsturm' there are also many other great sun hats that you should try out in your garden. Here, for example, the giant sun hat (Rudbeckia maxima) with a striking flower shape and stature heights of up to 180 centimeters to call or the October sun hat (Rudbeckia triloba), whose small flowers sit on densely branched stems.
A completely different flower shape presents the goldenrod hybrid 'Goldenmosa' (Solidago x cultorum) between July and September. Their golden-yellow, feathery flower spikes are up to 30 centimeters long and smell pleasant. This makes the perennial also very popular with bees. She is about 60 centimeters high and grows horstig. Like the sun hat, it prefers fresh, well-drained soils with a high nutrient content, which is why these two perennials can be combined very well. Anyone who thinks of the genus goldenrod directly to the North American species Solidago canadensis and Solidago gigantea and their status as neophytes, is reassured at this point: The variety 'Goldenmosa' is a pure breed form, although also tends to Selbstaussaat itself but well controlled by a targeted pruning in the fall.
Sunflowers (Helianthus) are widespread with us especially as annual plants and typical farmer garden flowers. But there are also numerous species that are perennial and therefore assigned to the group of perennials. The spectrum ranges from densely populated species such as the yellow variety 'Soleil d'Or' (Helianthus decapetalus) to simple flowers, such as the lemon yellow 'Lemon Queen' (Helianthus Microcephalus hybrid). The latter is especially recommended as it flowers very well and has quite large flowers compared to other perennial sunflowers. It thrives in nutrient-rich, loamy soil in full sun.
Start photo gallery
Blossoms in bright colors
The variety 'Goldsturm' (Rudbeckia fulgida var. Sullivantii) is one of the best-known representatives of the sun-hats and flowers until October
Unlike their North American relatives, the goldenrod hybrid 'Goldenmosa' (Solidago hybrid) is not counted among the neophytes, but is a pure garden form
Many know the sunflowers (Helianthus) as annuals. But there are also staudige representatives in this genus, which still show their bright yellow flowers in September
Blossoms in pink, purple and red
In addition to the popular yellow-flowering perennials, there are numerous other flowering plants that bring color to the bed in late summer and autumn. Hardly any other plant is associated with these seasons like the aster. It delights with countless species and varieties, most of which bloom in all imaginable pinks and purples.For example, varieties of the Cushion-Asters (Aster dumosus) are used, which only reach stature heights of up to 50 centimeters. Smooth-leaf asters (Aster novi-belgii) and Raublatt asters (Aster novae-angliae) are already much higher and carry their flowers on up to 150 centimeters high stems. All have in common their preference for a nutritious soil and a sunny spot in the garden. No matter which of these asters you choose, one thing is clear: they must not be missing in any late summer bed! The combinations for asters are almost endless, as the color palette includes such a wide range of pink and violet tones. Suitable partners are for example sun brides or sunflowers, but also ornamental grasses fit perfectly to the wild charm of the daisy family.
While most of the perennials from our top ten open their flowers in July and August, the autumn coneflower (Aconitum carmichaelii 'Arendsi') does not have its big show until September. Then he presents his showy blue-violet flower clusters, which attract everyone's attention in every bed. The valuable autumn-flowering perennial is indispensable not only for its late flowering, but also because it is one of the few plants that so late brings an intense blue to the bed. Autumn anemones such as the cultivar 'Honorine Jobert' (Anemone Japonica hybrid) are a nice contrast to this shade. Its elegant, white flowers gently surround the blue grapes until October. Both prefer a partially shaded location, but also get along in the sun. However, the soil here should be a bit damper than in the partial shade. Among the autumn anemones there are also some species and varieties whose flowers are colored in different shades of pink - from delicate pink (for example Anemone hupehensis 'Overture') to rich pink (Anemone japonica 'Bressingham Glow') and magenta (Anemone Japonica hybrid 'Prince Henry').
Not only in the bed, but also in the pot popular for the autumn planting are the species and varieties of the high pitched hen (Sedum telephium and spectabile). They show their pretty, usually pink or white flower umbels - which can be up to hand-size - in August and September. The standing on solid stems, however, remain stable even long after the flowering period and are in the winter months, provided with a small snow cap, a real eye-catcher. Most high fat hens are characterized by fresh-green, fleshy foliage. Meanwhile, there are also some varieties with purple foliage, for example, the hybrids 'Karfunkelstein', 'Matrona' or 'Purple Emperor', which spread a beautiful autumn mood.
Start photo gallery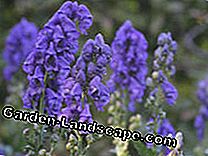 7
Show all
Colourfulness for the perennial flowerbed
The high fat hens not only impress with their eye-catching flower plates throughout the fall, they also remain stable over the winter and bring prominent structures into the flower bed
Hardly any shrub produces such an intense shade of blue in September as the autumn-iron-hat (Aconitum carmichaelii)
The Aster is probably the most well-known perennial flower of late summer and autumn and delights with a true abundance of flowers in all imaginable pink and violet tones
The Knotweed (Polygonum amplexicaule) not only thrives in sunny locations, but also brings color into semi-shady garden areas with its pretty flower spikes
In August and September, the autumn anemone 'Bressingham Glow' (Anemone japonica) presents its elegant, pink peelage blossoms
An exceptional abundance of flowers shows in September, the bearded flower (Caryopteris x clandonensis), which botanically actually belongs to the half-shrubs
The Caucasus-Gamander (Teucrium hircanicum) is a true perennial and has already opened its flowers in June
From June to October, the Caucasus-Gamander (Teucrium hircanicum) shows unusual flower forms, adorned by numerous, erect purple flower spikes. In our gardens, it is still far too rarely used today - even though it is a true insect magnet and is swarming with bees and bumblebees. He is very robust, fast growing and easy to clean. It grows best in sunny to partially shaded places, but also gets along well in more or less shady places in the garden. He prefers a permeable, fresh soil, but also tolerates temporary dryness. Good combination partners for this perennial plant are, for example, purple coneflower (Echinacea purpurea) or various ornamental grasses whose fine leaf structure form a good contrast to the striking flowers of the gamander.
Already since August, the Knotweed (Polygonum amplexicaule) has been flourishing in our gardens. Depending on the variety, its small flower candles are sometimes white, sometimes pink, sometimes red in color and grow between 60 and 120 centimeters high. These perennials are best planted in a smaller group planted, even single specimens form but over time, broad plant pests.The location for the candle Knöterichen should be sunny to partially shaded and have a fresh to slightly moist, loamy soil. The perennial plant combines well with other late-flowering species such as autumn anemones, purple water sprigs (Eupatorium fistulosum), candelabra honors (Veronicastrum), asters and ornamental grasses.
Botanically a subshrub is the last September flower star: the bearded flower (Caryopteris x clandonensis). It is characterized by a compact habit and carries from July to October numerous, deep dark blue flower tufts. It thrives best in Mediterranean beets with dry soil and harmonizes visually very well with other sun and drought loving plants such as lavender or blue noise (Perovskia). Their pretty blue flowers also form a nice contrast to yellow-flowered perennials such as the yellow hedgehog head (Echinacea paradoxa).
Video: Cultivating perennials properly
Many perennials need pruning after flowering or need to be regularly split. We show you the most important measures for healthy and flowering plants.
Video Board: Top 10 Most beautiful Flowers In The World| Amazing Flowers| Prettiest flowers 2018.