The Content Of The Article:
Advent calendars increase the anticipation for Christmas - door for door. But does it really always have to be a door? We have collected five creative ideas for you to make, sweetening the wait until 24th December for both young and old Advent fans. And that's how it's done!
Advent calendar: Christmas hat game
The gifts are hidden in this advent calendar under nicely designed paper cups
For our first creative idea, you will need 24 paper cups, as well as many (small) pine cones and beautiful paper, for example, gold or wrapping paper. You can either buy round coasters in the craft shop or simply make them yourself using a circle. When designing and coloring your imagination knows no bounds. We opted for finely patterned paper with small dots and - as a highlight for Christmas Eve - covered a mug with golden paper.
Gift tree in the box
24 small gifts hang in this advent calendar tree
This advent calendar is a bit more elaborate in design - but it can also be used year after year again. The 24 attentions are individually wrapped with colorful fabric, crepe paper or the like and then hung in a tree. Especially nice about this idea: Most materials can be found outside in your garden. So the tree consists of old cut, dry branches and branches and the decoration in the lower part of small cones, Tannenreisig and Co. After the box (we have just used a discarded fruit box from the supermarket) painted and dried, the tree with a hot glue gun attached to the bottom of the floor. Any traces of glue are simply covered with the finds from the garden. Here and there a squirrel is placed - and the gift tree is ready!
Advent calendar in the file folder
In our hinged advent calendar in the file folder many surprises can be accommodated
A brilliant idea for even bigger Christmas fans: The hinged Advent calendar in the file folder. You need 24 matchboxes, preferably in different sizes, wrapping paper and a very ordinary file folder. This advent calendar can also be sent very well by mail and will definitely make for surprised and enthusiastic faces.
City in Advent
Paper bags can be quickly transformed into a creative advent calendar
This advent calendar idea is inspired by a Christmas winter city with decorated houses and a little snow here and there. You need 24 brown paper bags, some cotton wool and some clothespins to close the bags at the top or to attach the "smoking chimneys" to the roofs. Our little houses are painted with felt-tip pens and colored wooden pencils. Do not forget the house numbers! The paper bags are available in a variety of sizes, so you can easily accommodate larger gifts. The roofs can make them especially beautiful by simply folding over the edges and cutting out the edge like a brick.
Adventskalendertütchen made of cloth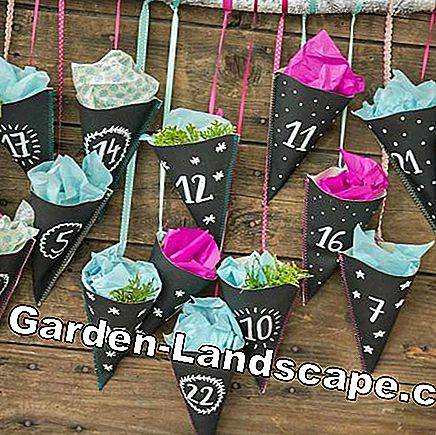 Reusable advent calendar with bags made of fabric
Tableware is the new trend material - and, of course, must not be missing in our creative ideas for advent calendars. The fabric is dull and slightly firmer than artificial leather, but can be easily sewn by sewing machine or by hand by hand. The cut edges do not fray and make processing even easier. The yarn for the cut edges was color matched to the filling and the bags hung on ribbons in the same color. We recommend punching out the fastening hole for the straps and reinforcing them with hollow rivets. For lettering or decorating, you can use chalk or, if it is a bit more delicate, chalk pencils. The highlight: The bags can be reused after the Christmas season. Simply wash the numbers with a sponge, just like on a real table.
Video Board: Exquisite Shadow Box Tags.