The Content Of The Article:
Of course, flowers with black flowers are very rare. The black flowers are the result of a high concentration of anthocyanins (water-soluble plant dyes). Thanks to this, the dark flowers look almost black. However, only at first glance: If you look closer, notes that it is in the supposedly black flowers in truth is a very deep dark red. Nevertheless, you can add elegant accents to your garden with the unusual flowers and provide exotic splashes of color. Here are our top 5 flowers with black flowers.
Persian imperial crown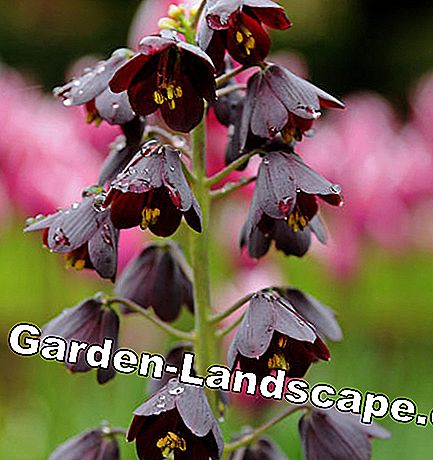 The Persian imperial crown is also known as Persian bell lily
The Persian Imperial Crown (Fritillaria persica) is native to Syria, Iraq and Iran. It grows up to a meter tall and carries noble dark-aubergine-colored bell blossoms from April to May. The onion flower is planted about 20 centimeters deep and must be fertilized regularly. Important is a summer-dry location in the garden. In addition, the shoot should always be covered in the event of threatening late frost. When the flowering stops after a few years, you have to clear the bulbs in summer, sing them and plant them in a new location in August.
Tall Bearded Iris 'Before the Storm'
The black flowers of the tall bearded vines (Iris Barbata Elatior 'Before the Storm') also exude a pleasant scent
The High Bearded Iris 'Before the Storm' (Iris barbata elatior) impresses not only with its black wavy flowers, but also with their beautiful growth habit. She prefers a dry and sunny location. Her fragrant flowers will be presented in May. In 1996, the variety received, among many other prizes, the Dykes Medal, named after the English botanist and author William R. Dykes (1877-1925), the highest honors in their category.
Tulips 'Black Hero' and 'Queen of Night'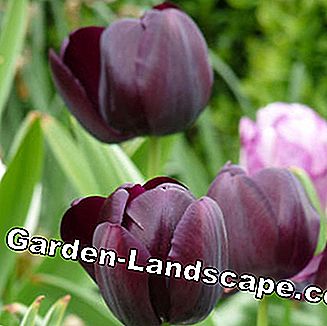 Tulipa 'Black Hero' (left) and Tulipa 'Queen of Night' (right) both have almost black flowers
No spring garden without tulips! However, with the varieties 'Black Hero' and 'Queen of Night' you will be able to provide very special spring messengers in your garden. Both have black-purple flowers that show their best side in May. They can be placed both in the bed and in a bucket and prefer a sunny to sunny location.
Italian clematis 'Black Prince'
The Clematis viticella 'Black Prince' is a climber with striking dark flowers
The Italian clematis 'Black Prince' (Clematis viticella) is a fancy climber that can grow up to four meters tall. From July to September, numerous flowers show up in an intense, almost black purple, which can reach a size of five to ten centimeters. Like most Clematis species it prefers a sunny to half shady site and a well drained soil.
Video Board: Black Flowers.