The Content Of The Article:
Terraces often look dull and boring in winter. This need not be. With my decorating ideas your terrace shines in the winter in a magical glow.
As winter approaches, terraces and gardens are winterized. The table and chairs are kept well protected and all the decorative items go into the cellar. After all, they should not be exposed to frost. When everything is in place, there is not much left of the previously cozy terrace. She looks rather bleak and gray.

The terrace is nevertheless a place of relaxation and well-being. And that's supposed to be the case in winter, too. Finally, you can enjoy the sunbeams on the terrace even in cold temperatures. The whole thing will not be really cozy until the surroundings are nicely decorated.

6 ideas for a wintry shine on the terrace
Idea 1: Fire pit for a cozy atmosphere
Fireplaces are a popular place in the summer to sit comfortably together and to end the day. But even in winter you can spend comfortable hours here, you just have to dress a little warmer. In addition, bread and sausage on a spit taste delicious even in cold temperatures. Give it a try.
But fire bowls not only offer great benefits in winter, they are also a beautiful eye-catcher. I personally like the illustrated fire bowl very well (found on Amazon.de). With its stone decor, it is a real eye-catcher both in winter and in summer. The included cover also protects against flying sparks.
A cozy evening at the crackling campfire with a hot mulled wine is nothing more in the way.
Idea 2: Provide splashes of winter-hardy plants
To spread a cozy atmosphere on the terrace, of course, the right plants must not be missing. The important thing is that they are hardy. If you now think that only evergreen plants are available to you, you were wrong. There are even some plants with which they can set beautiful color accents.

For example, the heath is very popular (see picture). It can shine in a delicate pink, but also in a strong white or purple. The miniature medlar with its deep red berries also sets a colorful accent. It is very easy to clean and therefore particularly well suited for winter lazy.

Also evergreen plants, such as boxwood and hibiscus are great for the terrace. In large pots, they easily survive even minus degrees.

»Important for all potted plants:

If you place your plants on the terrace in the winter in pots, it is important to note that they are frost-free. The best materials here are the materials fiberglass (mixture of plastic and glass fibers) and Fibreclay (mixture of clay and glass fibers). Both varieties are weather-resistant, frost-proof and very stable.
Probably the biggest difference lies in the look. Due to the clay content of Fibreclay, the planters look more natural. They resemble the typical terracotta tubs, but are many times lighter. I found a large selection of both materials at Pflanzkuebel.com. Here you will not only find different models in different shades, but also different sizes and even large set offers.
Idea 3: With lanterns & lanterns to the lights
Lanterns and lanterns always look very harmonious in the dark season. With tealights or pillar candles they dive the terrace in an instant into an atmospheric glow of light. Lanterns come in a variety of materials and finishes. Whether round or square, wood or metal - anything is allowed. When buying, however, you should make sure that the lantern is closed from above, as it may otherwise rain or snow may.

Together with a cuddly blanket, the end of work can now be an idyllic finale even in winter.

Lanterns are also available in large quantities commercially. You can also make such lanterns yourself. These are, for example, old jam or cucumber glasses. Just decorate them with some jute tape or lace and other natural materials and you're done. At kreativfieber.de I discovered a completely different version. Here you work with spray glue, tip and glass. Worth watching.
Idea 4: Birdhouse as eye-catcher
First and foremost, bird houses are there to help feed domestic birds in winter. Not only the birds themselves, but also the children, who often stick to the windowpanes from the inside, often watch the birds picking their food.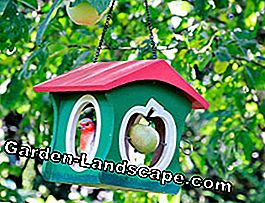 Birdhouses can do much more. The bird food house "apple dream" e.g.not only provides a cozy feeding place, but is also visually an absolute highlight with spring character.

Through the integrated spit you can offer the birds next to sunflower seeds and Meisenknödeln sometimes something fresh.
Idea 5: making ice decorations yourself
An absolute eye-catcher in winter are also decorations made of ice. Here you can use all the decorations that nature has to offer. You can start collecting in the fall as well to have enough materials available. I found a lot of beautiful examples fittingly at livingathome.de. Here you will also be told exactly how you can do the specific things yourself and what you need for it.

Here's a little foretaste: In addition to small lanterns and lanterns, you can expect ice balls and stars. Have fun while copying !!!

" Only drawback: The ice art works only last for a certain time, depending on how frosty it is outside.
Idea 6: Winter-fir-tree-green
Fir green is not only useful in winter to cover plants and protect them from frost. No. You can also conjure up many decorations. Like Christmas, just not with Santa Claus and balls, but with typical wintery materials. These include stars, nuts, snowmen and, of course, light. You can also use materials from nature. For example, the red berries of the dwarf medlar make a nice splash of color on fir green. Also, firethorn with its orange berries is ideal. From the materials you choose you can now tie a wreath, conjure a flower arrangement or simply put the fir green in a frost-free pot and then decorate it. Of course, a fairy light may not be missing here.

" A little hint: On my last winter walk, I also discovered a very interesting decoration idea. Here, the fir green were clamped between the individual struts of the rose trellis. Then there were all the decorative items. A very special eye-catcher.

You see, your terrace does not have to look bleak and gray in winter. With small decorative elements and a few simple steps, you can turn your terrace into a wintery glow in no time.
Video Board: DIY ROOM DECOR! 10 DIY Projects for Winter & Christmas! Decorating ideas for a Frozen Room.