The Content Of The Article:
A dreamlike oasis of opulence, this is how an evergreen bed in the garden presents itself on the journey through the seasons. This magnificent silhouette is created by creative gardeners by combining different plant species. Appear similar plants in two, no more than three primary colors in small islands at different beds, create creative harmony instead of a ragged smorgasbord. Find out more about what else is needed to make a flower bed with all-year flowering plants.
Onion flowers and dwarf shrubs ring in the garden year
The topmost premise for an evergreen bed is: include all plant species. If only shrubs come into play, you can look forward to the first flowers in April at the earliest. Already a few flower bulbs, paired with lush dwarf shrubs open the flowers already in February. Suitable candidates are:

Flower bulbs: snowdrops, tulips, crocuses, winterlings, daffodils and anemones
Shrubs: Rose forsythia (Abeliophyllum distichum), creepers (Cytisus beanii), shadow bells (Pieris japonica), star magnolia (Magnolia stellata)
Spring shrubs give the bedding structure during the winter and create visual resting points. Onion flowers have the advantage that they retire after flowering to make way for the following perennials.
Tip: You give an ever-blooming bed extra spirit by placing planted pots in it. Adapted to the seasons, the pots are replanted over and over again or they adorn themselves with perennial climbers, which decoratively rise up on integrated obelisks.
Long-lasting perennials
They give the appearance of constancy and serve as optical support for short-term Blütenschönheiten. Long-lasting perennials are indispensable in a plant composition that aims for continuity. They therefore have a dominant presence in the foreground. Short-flowering plants, such as peonies (Paeonia) or Turkish poppies (Papaver orientalis) are ideally located in the background, as they leave behind their splendor unfinished gaps. The following perennials are particularly distinguished with a never-ending flowering period:

Bertramsgarbe (Achillea ptarmica 'Snowball'), a historic shrub with lush white flowers
Scented nettle (Agastache hybrid 'Linda'), with purplish-purple lip flowers until the first frost
Large-flowered girl's eye (Coreopsis grandiflora), shows bright yellow flowers from June to October
Dyer chamomile (Anthemis tinctoria), which provides a subtle fullness with silver-gray foliage under cream-colored flowers
Lavender (Lavandula angustifolia), an indispensable classic for the sunny perennial border
Star thumbler (Astrantia major), her pink flower bloom appears after a pruning a second time
Cranesbill (Geranium wallichianum), responsible for colorful splashes of color in the bed until well into autumn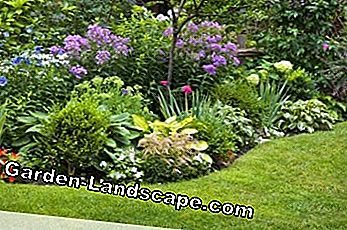 Add to the flowering perennials still elegant ornamental grasses, the fall leaves no sadness in the bed. Miscanthus sinensis, Ammophila breviligulata, Beargrass (Andropogon) or the delicate Rainbow Fever (Festuca amthystina) master this task with flying colors.
Bed and small shrub roses with repeated flower abundance
In the evergreen bed, they must not be missed, the more often flowering bedding and small shrub roses. In contrast to delicate red roses, these rose species are also robust and easy to care for. The following breeds may be the inspiration for an individual rose composition in your garden:

Beetrose 'Abrakadabra' creates a happy atmosphere with red-white-yellow striped and filled flowers
Beetrose 'Airbrush' impresses with orange-yellow and cream-colored marbled flower abundance
Small shrub rose 'Diamant' lies with pure white flowers the tall shrubs at feet
Small shrub rose 'Romantic Roadrunner' combines the vigor of a wild rose with the beauty of the bed rose
Bed rose 'Garden of Roses' scores with a pastel-colored blossom in pink and a bushy habit
Arrange flowering roses in small groups, they are particularly decorative scene. In addition, they are wonderful to green a wall or a fence, provided that the bed is limited in this way.
Tireless rose companions
The breathtaking beauty of bedding and small shrub roses is brought to perfection when they thrive in the bed with the right attendants. Such perennials do not seek to steal the show from the roses. Rather, they are intended as an effective background. Of course, only perennials come into consideration, which can keep up in terms of the duration of flowering among the noble leading actors. Some outstanding contenders for this feature are these:

Columbine (Aquilegia vulgaris) whose hybrids want to disguise their toxicity with filled and simple flowers
Dotted bellflower (Campanula punctata) unfolds its distinctive, purple flowers from June to October
Pyrenees aster (Aster pyrenaeus), forms a nice contrast to round rose petals with their cone-shaped flowers
Larkspur (Delphinium elatum) blends beautifully with roses and forms powerful clumps over time
Silver rue (Artemisia ludoviciana var. Albula), lives up to its name with its silvery-gray foliage
Stone quince (Calamintha nepeta) not only blooms without ceasing, but at the same time spreads a wonderful scent
White Foxglove (Digitalis purpurea) decorates the bed with powerful flower candles in bright white
In addition to the brilliant flower abundance of remontierenderRosen also evergreen woody plants come as a backdrop into consideration. Boxwood (Buxus) and cherry laurel (Prunus laurocerasus) can be found, as well as the small carpet loquat (Cotoneaster) or ivy (Hedera helix) as decorative as practical groundcover.
Winter flowering plants

They actually exist, the magicians among the flowering plants, which put colorful splashes of color in winter. The plant community in the evergreen bed completes the following species and varieties:

Mahonia (Mahonia media 'Winter Sun') a beautiful winter bloomer with yellow flowers starting in January
Snow heath (Erica carnea 'Golden Starlet') has 15 cm growth height, the power for winter flowering
Snow cherries (Prunus subhirtella) bloom nonstop in the mild winter from November to April
Winter honeysuckle (Lonicera purpusii) spreads summery scent in mid-winter with cream-white blooms
Witch hazel (Witch hazel), the undisputed Queen of Winter with pink-white or yellow flowers
A Winterblüher of fascinating charisma and wonderful scent is the winter snowball (Viburnum bodnantense 'Dawn'). You barely believe his eyes, when in the midst of barren nature, the pink flowers are eye-catching. This festival of colors continues into April, so that this ornamental shrub deserves a place in the permanently flowering bed in any case. The Christ Rose (Helleborus) does not lack the magic that demonstrates her powerful presence from December to spring.
Tips for the system
In order for the charisma of an evergreen bed to unfold completely, it is not just a question of a creative planting plan. Some sobering aspects also contribute to the year-round flowering plants meeting their expectations.

The bed has a minimum area of ​​15 to 20 square meters
Ideally, the plants find a nutrient-rich, humus-rich garden soil
The location is sunny to partially shaded, without any wind exposure
Before planting, the soil is enriched with mature compost and, if necessary, a little sand
A sufficient supply of water in the first few weeks creates the best growth conditions
In the case of a new plant in autumn, winter protection in the first year is indispensable for the young plants
Prudent hobby gardeners do not fail to spread a stable weed fleece under the potting soil. It is an innovative geotextile that on the one hand is permeable to water and air, on the other hand to effectively prevent any weeds from growing. Conventional plastic foil does not even meet these requirements.
The choice of adequate planting distance within this diverse community often causes gardeners uncertainty. Although the respective plant species defines the exact distance, it can be planted according to the following rule of thumb: Per square meter 5-6 perennials with normal growth, with spreading species 2-3 plants. Small or ground-covering bedding plants set with 6-8 copies per square meter area.
Conclusion
Do not dream anymore of a flowering bed, but put the plan into action. In order to colonize a bed of flowering plants all year round, it depends on a balanced combination of species and varieties, which are characterized by a long flowering period. Early in the year, bulbous flowers and early flowering shrubs take over, followed by perennials from April. It is the perennials that take the lead role in this multi-faceted society. Of course, often flowering roses should not be missing, paired with distinctive companion plants. Even for the winter, Mother Nature has flowering plants that provide a pretty flowerbed in the bed. In order for a flowering bed to fully develop its charisma, it should have an adequate area of ​​at least 15 to 20 square meters.
Video Board: Wonder Gardening Plants To Choose For Your Garden According To The Season.