The Content Of The Article:
Annual perennials convince with an enormous and long lasting flowering and beautify every garden bed. One-year-old plants are the varieties that grow from the seeds within a growing season, then form leaves and shoots, then flower and last fruit. Normally, their flowering time falls in the summer, some even bloom from spring to autumn. After the formation of new seeds, non-hardy plants die.
dahlias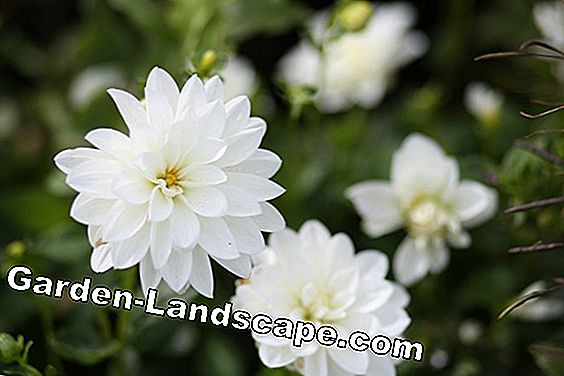 Dahlias transform every garden with its lush and colorful blossoms into a colorful sea of ​​colors. The color scheme is very diverse and with different color gradients, there are monochrome, multicolored, flamed and marbled varieties. In addition, the flower forms vary, some are compact and spherical, others large and fringed. In general, dahlias are relatively easy to care for and thrive when the site conditions are right. However, the perennial comes from tropical climes and is not frost hardy, the tubers freeze in winter. The new formation of buds can be stimulated by appropriate care processes long-lasting. If the shoot tip is cut off after planting, then this process promotes the branching of the plant, which starts already from below. This process is called pinching in botany.

Many color options: yellow, pink, orange, red and white
Flowering from July until well into autumn
Prefer sunny locations
Only after the Eisheiligen plant out
Comes out with relatively little water
Avoid waterlogging, leads to root rot
Remove withering flowers in a timely manner
Fertilize enough, several times a month
Pinch 10 days after planting
marigold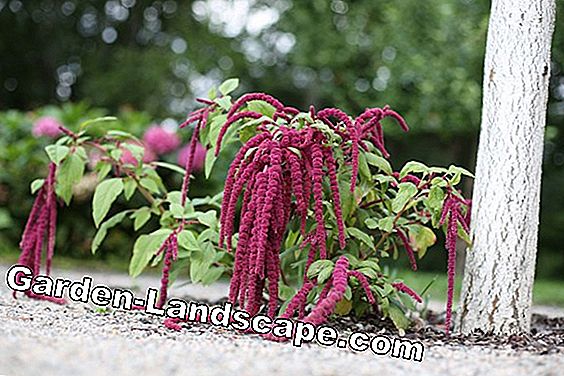 The foxtail is also referred to as an amaranth and is a cold-sensitive summer flower that grows in perennial form. Thanks to the attractive leaves and flowers, the plant has become established worldwide, even in the native gardens. You can choose between upright and hanging varieties. The unusual name is due to the inflorescences that look like fox tails. Due to the stately growth heights of some varieties, this circumstance should be planned before planting, so that the foxtail has enough space to unfold. The plant is extremely susceptible to frost, so it must not be planted too early. Even at the location of the heat-demanding Amarantda certain claims so that it can thrive well. Particularly high-growing varieties need a support with the persistent growth, so that they do not break off by wind gusts.

Depending on the variety, there are green, red, golden brown and purple inflorescences
Decorative leaves are either red, brown, bronze, yellow or green
Some varieties have multicolored speckled leaves
Reach stature heights between 60-120 cm
Only after the Eisheiligen plant out
Soil should be well drained
Are suitable as cut flowers for vases
Needs full sun and wind sheltered location
Fertilize weekly from the beginning of summer
In case of dry phases add additional water
zinnias
Zinnias are rich flowering and warmth-loving plants that form dense flowering cushions. These flowering perennials are versatile in combination and fit well in colorful garden discounts. Depending on the variety, the flowers can assume large proportions. Especially the small-flowered and low-growing varieties form compact flower carpets, which consist of many single flowers. The zinnias are relatively robust, but the plants should not be in an exposed location. However, zinnias are not suitable for self-sowing in the garden bed, as the seeds are very frost-sensitive. Therefore, the seeds should be collected on a dry day before the onset of winter to be released in late spring. If extra water is required due to dryness, then this should only be done in the morning and in the evening. Otherwise, remaining drops of water may cause burns on the flowers and leaves.

Flowering from June to the first frost
Growth height between 15-100 cm
Diameter of the flowers ranges from 2.5 to 15 cm
Loves full sunny locations
Cope well with heat
Withstands temporary soil drought
In case of long dry phases add additional water
When planting soil with compost enrich
Preferably permeable garden soil
Also accepts slightly loamy soils
Needs protection from strong gusts of wind
marigold
The Tagetes delight the eye of the gardener with a rich and lingering floral splendor. The plants are relatively undemanding, which is why they also bear the name of marigolds. However, the site conditions and the care must be right, so that the flowers form nicely.There are both small and large varieties with large-sized flower balls to choose from. With the right care step, the flowering time can be prolonged sustainably, if the weather in late autumn still participate. Characteristic of the Tagetes is a bushy growth, filigree leaves and cup-shaped inflorescences. However, the pollen flowers are very sensitive to frost, so they should be in the garden only after the icy saints. The plants can be easily put indoors, then it does not take too long to bloom.

Flowering from early summer into autumn
Flower colors vary from yellow to red to orange
There are filled and unfilled flowers
Regularly removing the dead flowers to encourage flowering
Tolerant in the location, is possible full sun to partial shade
Needs airy and well drained soil
Keep the soil evenly moist
Avoid waterlogging and dryness
Low nutrient requirement, only moderately fertilize
Remove regularly dried flowers and leaves
Aster
The summer asters flower colorful and bring a lot of color even in a drab garden. With this one-year-old daisy family flowerbeds can be transformed into a veritable sea of ​​flowers. There are both uniform shades as well as colorful mixtures that can be combined well with other plant neighbors. Even when the summer comes to an end, the summer asters will continue to bloom for some time. The plant is very susceptible to frost, so it may be planted after the sacred ice. Sommerastern but can be good indoors prefer and then move into the open. A problem can be the susceptibility to fungal diseases, which leads to wilting plants. Diseased plants should be disposed of immediately in the household waste, in the same place no asters should be planted in the following years.

Flowering time between July and October
Flower colors are yellow, purple, pink, red and white
Growth heights are between 20-70 cm
Ideal is sunny to partially shaded location
Prefers humus to sandy-loamy soils
Keep the soil evenly moist
Avoid waterlogging
Extremely low nutrient requirement
From mid-May to see directly into the bed
Or prefer from April in the house
Susceptible to the fungal disease asterwort wilt
African daisies
The Cape Marguerites are originally from Africa and therefore love the warmth. The plants are very sensitive to frost, but they bloom for a long time throughout the summer. In their flower shape, these are very similar to the daisies and marigolds, but in many bright colors. The perennial flowers should only after the Eisheiligen in the garden, but they prefer to be indoors. In itself, the plants are relatively easy to maintain, but the site conditions must be right. With too few hours of sunshine, the flowering develops significantly less, as bad is a drafty place. When the main flowering is over, the Cape Marguerites can be cut back. Then it comes again to budding, with the formation of more flowers.

Flowering period from June to October
Flower colors: yellow, pink, purple, violet and white
Growth heights depending on the variety of 15-50 cm
Ideal are full sun locations
Windbreak is very beneficial
Need well-drained garden soil
Ensure even moisture
During growth phase fertilize every 1-2 weeks
Regularly removing blooms will lengthen the flowering phase
Pruning stimulates further flowering
petunias
The Duftsteinrich is a low and bushy propagating plant shrub that produces a wealth of small and round flower heads. All varieties spread over their flowers a slightly sweet and honey-like fragrance, hence the name comes. The Duftsteinrich is ideal for planting in thematic rockery. The robust perennial is very undemanding and provides in almost all situations for a plentiful flowering abundance. It is ideal for the borders of garden beds due to the low growth heights. Even longer dry periods can easily survive the plant. If a pruning takes place in the summer, then a second flower can be stimulated. Sowing in the garden on the spot is already possible from April. It is often self-seeded and can grow in impossible places, for example in the crevices of sidewalks.

Flower colors are pink, purple, purple and white
Flowering period from June to September
Grows as a dense floral cushion
Grew barely higher than 15 cm
Both full sun and partially shaded locations possible
Sow from March in the house in flower pots
Plant out into the open at the end of May
In case of severe drought, additionally water
Fertilization is not required
Video Board: Top 5 Perennials for Your Garden.