The Content Of The Article:
A nature-oriented garden looks much more alive than an accurately groomed unit green - and with it you attract many birds. Our feathered friends appreciate the wild-romantic flair and like to adopt a garden as a habitat.
The birds enrich the garden not only visually and acoustically, they also destroy enormous amounts of plant pests, especially during the breeding season. Your boys need the protein-rich insect food to grow fast and become fledged.
How to attract birds
When buying a nest box, pay attention to the different entry hole sizes
What can one do to lure birds into their own garden? The possibilities are manifold. In spring, the garden birds are looking for suitable nesting possibilities. However, it is becoming increasingly difficult for them to find suitable nesting sites, because often missing under the well-insulated roofs modern houses suitable Einflugluken and places for nest building. Higher trees and dense hedges are also rare in new housing estates.
Nesting boxes and bird feeders
Self-built bird feeder: Feeding the garden birds all year round will make you happy with many visitors
Hanging nesting boxes is an easy way to make the garden more attractive to sparrows, starlings, titmice, nuthatch, black redstart and other cave-breeding birds. The number of nesting boxes is also important: starlings, for example, prefer to breed sociably while the black redstart is more of a loner. When hanging the nesting boxes, make sure that the entry holes facing away from the weather side face to the east and are not exposed to excessive sunlight. A nesting box should be inaccessible to cats and martens. In order to protect the entry holes of wooden nesting boxes from predators such as the great spotted woodpecker, you can iron the entry hole all around with sheet steel.
If you set up or hang up a bird feeder next to a few nesting boxes, the infrastructure is complete. Prof. Peter Bertholt, former director of the Max Planck Institute for Ornithology, advises amateur gardeners to feed the birds in the garden throughout the year, as they find less and less food in the wild in summer.
Food and nesting sites
Barberries offer food and protection from enemies to birds
Equip the garden with a rich food supply. In the autumn, birds need reserves for hibernation or for the train to the south, which they find predominantly in berries. These are, for example, fruits of hawthorn, rowanberry, elderberry, prickly pear, privet, wild roses, blackthorn, snowball, cornelian and barberry. Dense thorn bushes and hedges provide attractive nesting and sleeping places at the same time as they protect songbirds from attacks by cats, magpies and other enemies. You can combine the beautiful with the useful: even foreign berry trees or ornamental species of native wild plants such as the jewelry mountain ash (Sorbus decora), the feathered friends like to accept.
Wildflower meadows
Here the table is set for birds: plant seeds and insects are waiting for them
Even the seeds of native wild herbs and flowers are an important food source for wild birds such as greenling or yellowhammer. Popular bird flowers include St. John's wort, evening primrose or mugwort. Many wild herbs such as stinging nettles and various plantains are also an important source of food for some bird species - so it's a good idea to leave a few weeds in hidden corners. The Stieglitz specializes in the seeds of thistles, burdock and other daisy family and therefore also bears the name of the thistle-tail.
insects
But not only plant seeds are consumed by birds, but also the insects, which find themselves in perennial beds and flower meadows. Insectivorous species such as black redstart, starling, robin and blue and great tit feed especially during the breeding season of caterpillars, beetles and spiders.
Wood and branch pile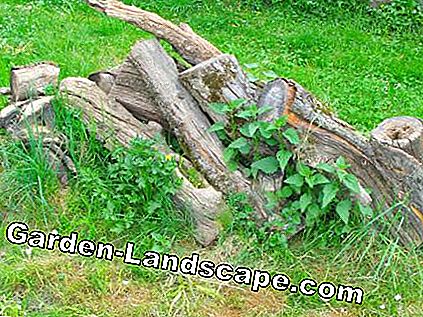 Layered old wood and branches provide good hideouts to birds near the ground
Do not dispose of clippings of trees and shrubs in the green waste, but in a corner of the garden to build up an old wood pile. Robins, wren and ternelle like to look for food and use them as breeding sites. Zilpzalpe also prefer to grow their nests near the ground. If you leave standing perennials and a little old grass, it lures you into the garden.The chaffinch is usually brooding in treetops or tall shrubs where it hides its hemispherical nest.
small biotopes
Many species of birds like to breed on leafy house facades
Especially blackbirds find good opportunities for retreat on walls covered with ivy, knotweed or wild wine. On the other hand, swallows require special nesting boxes because they usually find their nesting material on loamy dirt roads, but these are increasingly asphalted. A loamy puddle in the garden supplies the needed building material. An open window in the tool shed offers barn swallows the opportunity to find a suitable nesting site in the entablature. Ungranded dry stone walls are a good habitat not only for insects. These small biotopes are also used by domestic and redstart, nuthatch, spotted flycatcher, robin and wren as food source and shelter. A small garden pond with a shallow water zone is an ideal drinking and bathing place for many bird species.
blackbird chicks
The more varied and natural your garden is, the more birds you will find there. If you follow some of these tips, you will probably be able to discover an unusually lively life in your garden next spring.
In the following picture gallery we show you some very successful bird pictures of our community members.
Start photo gallery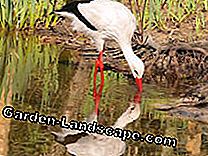 27
Show all
Bird pictures from the photo community
A sparrow of "kluth".
"Replenishment" brings the robin, photographed by "christoffers".
"Who are you, then?" the white stork asks (photo of "christoffers").
"Finch in the hazel" from "Kübelmaus".
"Just look at one!" titled "ronx5" his picture of a curious ostrich.
The unknown bird seems to be a "techie" (photo of "muchtime").
"Johnny" by "hello".
"The first landing" of the young field sparrow succeeded (photo of "Wilde-Hilde").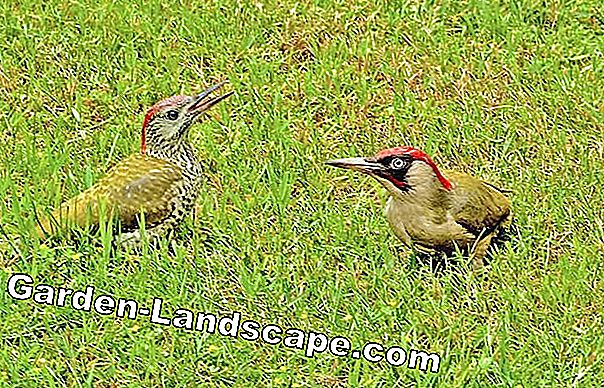 "Do you have plans for this evening... ???" "rainerkurt" calls his picture of the two green woodpeckers (young and adult bird).
"Jay" from "skally".
"Green Woodpecker: An unfamiliar guest in the garden" by "gunnar".
Courtship with the kingfishers: "For you..." by "christoffers".
"Star" by "adriano".
"Honey, I'm coming..." the blackbird flutes from "ronx5".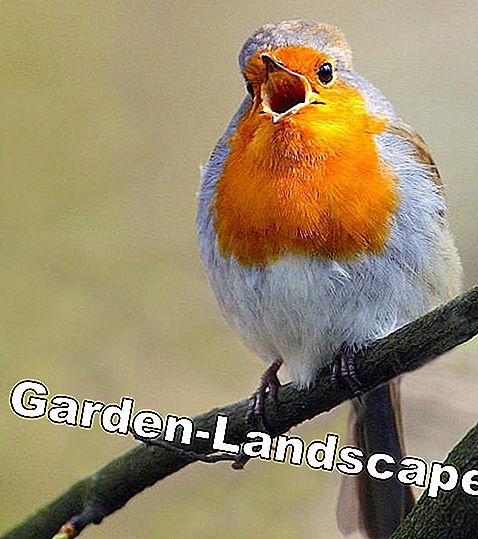 "Little Screamer" "skally" calls the singing robin.
"The Little Black" by "barueel" is a black swan.
A wood pigeon with branch of "haus42".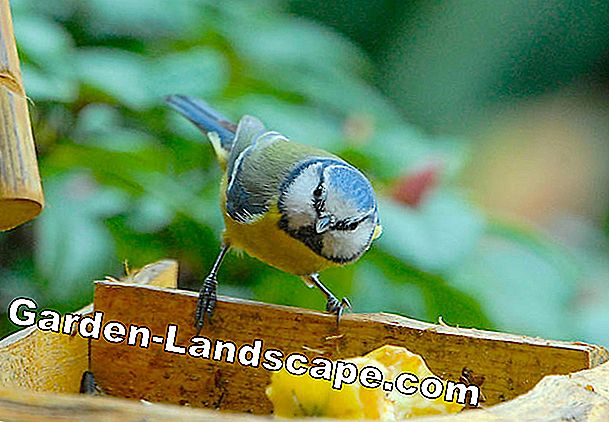 "Is the cat gone now?" the blue tit is worried about "kluth".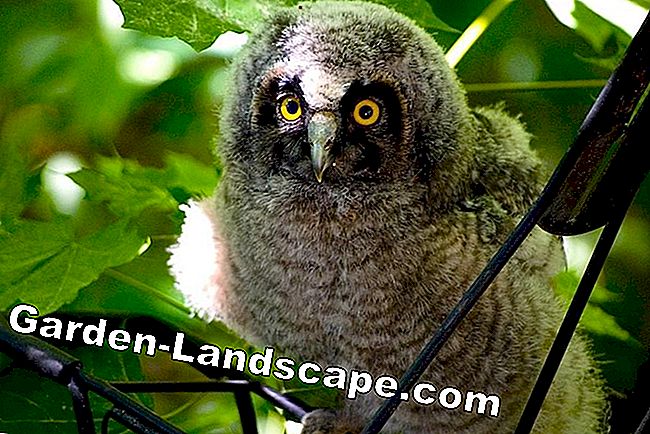 A "rare guest" is the young owl of "sylviaborin".
"Why Meisenknödel?" asks the great spotted woodpecker from "christoffers".
"Little owl portrait" from "winni".
"Meise" calls "renate_01" the picture of the young blue tit.
"Blue tit on feeding place" from "sommerau".
"Winter Gold Chicken" from "skally".
"Freight stowed, ready to take off..." is the nuthatch of "wooky12".
"Bald Eagle" by "winni".
"Right behind the garden" "kluth" discovered the pheasant.



Video Board: How to Attract Birds to Your Garden Tutorial.