The Content Of The Article:
Have you ever noticed dark, burnt-on spots on your beans? This is a fungal infection, which occurs especially in warm, humid summers: the so-called focal blotch. The pathogen is a fungus of the genus Colletotrichum. Among other things, the various species of the genus are responsible for leaf spot diseases on the ivy and for the so-called anthracnose on cucumbers and lupins.
Bush beans are particularly vulnerable
In the vegetable garden mainly bush beans are attacked, while runner beans and fire beans are largely immune to the disease. Typical are brown, often roundish, sunken spots with a black, partly also reddish border. After some time, the bright red spores are formed on these, which can spread the focal blotch to other beans in the bed. Stems, leaves and pods of beans are usually infested first. But the fungus also penetrates into the interior of the pods and infests the seeds. Infected seeds can be recognized by the dark spots - it should be noted that the dark spotted surface may also be a varietal characteristic. Those who want to be on the safe side should cut through the suspicious bean and check whether the nutrient tissue shows signs of fungal attack. The treachery is that the causative agent of the focal blotch disease in the seeds can last for years. If they remain germinable and you self sowed seeds in the next year or two, without noticing the disease in time, it spreads over the infected seeds again in the bean bed.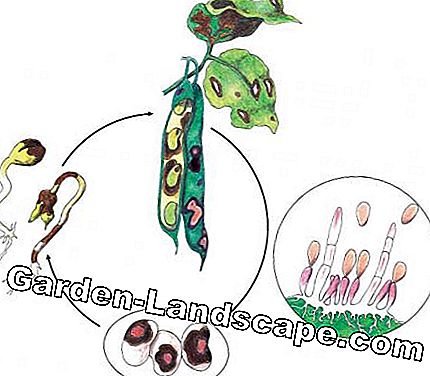 The fungus usually forms reddish spore beds in the middle of the patches (right) and attacks the leaves, stems and pods (above) as well as the seeds (below). About infected seeds are already the young seedlings (left) sick
Prevention of the focal spot disease
The most important prevention is healthy seed, which ideally should come from resistant varieties such as 'Nassau', 'Scuba', 'Sigma' or 'Duplika'. Too dense sowing should be avoided, because then the bush beans dry after precipitation only very slowly and the fungal spores have enough time to germinate. Also make sure that the leaves do not get wet when you pour them. A well thought out crop rotation and an annual bed change are also good measures to prevent the focal spot disease. Ideally, the beans should only grow in the same bed every four to five years.
Combat focal disease
For a direct control of the focal spot disease are in the home garden no approved drugs available. Therefore, remove diseased bush beans from the bed as quickly as possible and dispose of the plants in the household waste. Composting is only recommended if you do not reapply the compost next year in the garden. Since the fungus also hibernates on plant remains in the soil, it is important that not a single leaf of the infected beans remains in the bed.
Video Board: Plant Health & Disease Troubleshooting Guide.