The Content Of The Article:
Autumn cyclamen (Cyclamen hederifolium) have in addition to their white to pink, heart-shaped flowers also beautiful and decorative leaf jewelry. The leaves drift only after the flowering period, which can extend from September to November, and remind a little of ivy foliage. Hence the botanical species name "hederifolium", which means "ivy-leaved". The green carpet is preserved throughout the winter, even though it sometimes looks dead when it is frosty. Only in the spring, the leaves turn yellow and the plants retreat into their tubers until the next sprouting in the coming autumn.
The ideal planting time for autumn cyclamen
In late summer, the tubers of the autumn cyclamen are often offered as a table decoration. While one or the other flower is already visible, most of the stems still carry buds just waiting to show their beauty. Something irritating is that the flowering tubers have no roots. These form only with the leaf ejection. Until then, the water and energy requirements of the plants are covered exclusively from the storage tissue of the flat tuber.
Although the main planting season of graceful autumn flowers is spring, after the leaves have withered, planting is also possible during the autumn flowering season. Important: Buy the tubers only in specialized stores - many of the copies offered on the Internet come from the overexploitation of natural cyclamen stocks.
Tips for planting autumn cyclamen
For the autumn cyclamen is a partially shaded protected location. The white to pink flowers are particularly beautiful as an underplant of trees. Lift a shallow well into humus rich, well drained soil. In summer, the soil should be rather dry. Loamy and moist soil can therefore be mixed with plenty of leaf humus and sand before planting the tubers. Cyclamen like calcareous soil - so use a heaped handful of seaweed lime per square meter of bedding.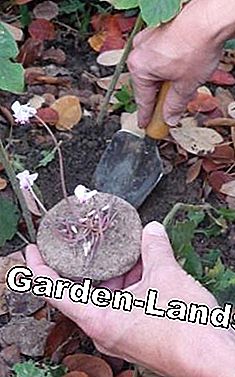 Using the trowel, lift a shallow well (left) and insert the tuber. The top may only be covered very thinly with earth (right)
After you thinly cover the planted tuber with soil, it is lightly poured. It has also proven to cover the surface with some fall foliage - this provides additional protection for the sensitive roots. They drive, unlike most other tuberous plants, namely from the top of the tuber.
Video Board: Hardy Cyclamen Plants - How to grow Cylamen Coum and hederifolium.