The Content Of The Article:
Ball trees are popular: both in private gardens and in parks, on streets and in squares, the characteristically shaped but small trees are planted. But usually the selection is limited to the varieties of ball-maple ('Globosum'), robinia ('Umbraculifera') or trumpet tree ('Nana'). The assortment of tree nurseries offers much more possibilities: In autumn, for example, the spherical shapes of field maple, sweetgum and swamp oak with their colorful leaves are a great sight. A rediscovered classic is the hawthorn. It blooms in May picturesque red, but bears no fruit. The sturdy tree is up to six feet high, a hefty cut is at the expense of flowering abundance.
Two groups of sphere trees
The first is cut-friendly woody plants whose crowns have been formed into balls with scissors. Beech, false cypress, willow and even the blue rain get the desired contour. However, you have to trim these trees year after year: As with hedges, cut at the end of June, who wants to have it accurately grabs a second time in the late winter to the scissors.
This ball tree stays green even in winter. The cypress (Chamaecyparis lawsoniana) can be formed well with regular cut
The second group are special varieties that form the ball crown largely by itself. Examples are steppe cherry 'Globosa', Amberbaum 'Gum Ball' and Ginkgo 'Mariken'. In contrast to the original tree species, they do not form a proper trunk, but rather grow shrubby. Therefore, they are refined on trunks of different heights. The crowns increase in size over time, but grow only slightly in the air. However, an occasional cut may also make sense here, as some crowns in old age tend to go from a ball shape to a flat egg shape.
Woods with spherical crown
Start photo gallery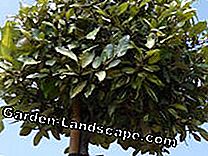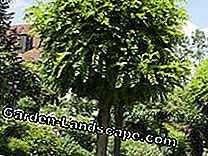 6
Show all
ball trees
Despite its "swampy" name, the Globe Marsh Oak thrives in all humus garden soils. The ball swamp oak fits in heath and farmer gardens or decorates front gardens and yard entrances
The wintergreen oil pasture (Elaeagnus ebbingei) retains its foliage in mild winters. It should be protected, as it can not tolerate frost and sunshine at the same time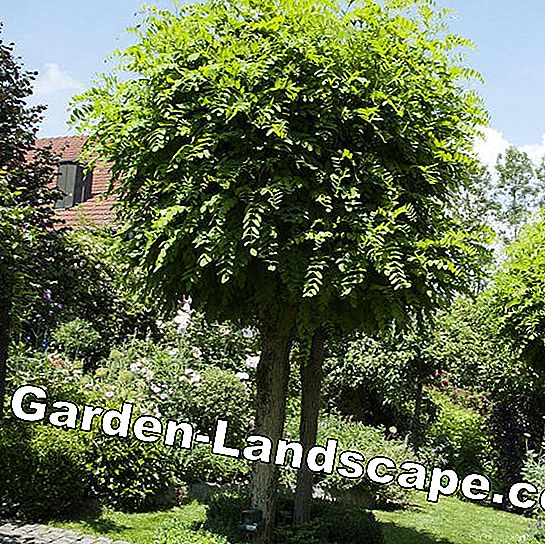 Here is a lot of work in it: A wisteria (Wisteria) has been educated for many years as a high tribe with a bullet. Important is a stable support, so that it does not break in storm
The fan maple (Acer palmatum) naturally forms a rather umbrella-like crown. It can be brought by regular cut but also in a spherical shape
The ball robinia (Robinia pseudoacacia 'Umbraculifera') also fits well in small front gardens. It also retains its spherical shape uncut, but can be shortened if necessary
The spherical shapes of the trumpet tree (Catalpa bignonioides 'Nana') are often sold as small-crowned. In old age, however, the crowns can be quite five to six feet wide
Especially for front gardens and small gardens ball trees are ideal, because their dimensions - especially in the refined forms - manageable. This facilitates long-term garden planning. Even for small beds are suitable with autumn lilac or Mediterranean snowball suitable candidates. Look for aspects such as flowering or autumn colors when selecting. The best advice is in a garden nursery.
Keep ball trees in shape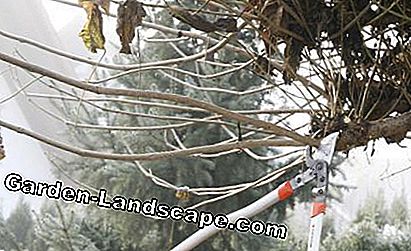 If the crown is to stay in shape, then every year, as with this trumpet tree, a cut is necessary
Trees develop their full charm, especially if they can develop undisturbed. That's why you should not constantly cut around them. On the other hand, things look different with spherical trees. If these become too large, the ball-maple and trumpet tree can reach a width of five to six meters, the trees can be well restored with scissors. Head-willow, ball-ash and -Robinie can also take back to the old wood. In addition, because of their dense growth habit, the crowns lose their hardness over time, so that a pruning provides vitality. This is best done on a frost-free day in winter, so in good time before the new release. Regular pruning is even necessary for large pruning shrubs to maintain the desired shape, such as box lime and umbrella plane trees. In the latter, the branches are pulled on horizontal bars and upright growing shoots are constantly removed.
Avoid problems in advance
If the ball tree is too close to a house wall, problems can arise in later years
Unlike ornamental shrubs and perennials, trees will not be so easy to implement after a few years. Inform yourself before planting exactly about final height, width and growth habit.Even a small-crowned breed, such as the pillared cherry 'Amanogawa', does not belong in the small garden bed, but must be planted at a sufficient distance from the house. Border distances to the neighboring property are by the way country thing. Information about this given by the competent city or local government. An equally important point is the underground growth of the trees. Especially willows, poplars, robinia and plane trees can cause damage to paving surfaces, foundations and pipes with their root system that promotes propagation.
winter protection
Young trees do not have a thick bark, but a smooth bark and are therefore particularly susceptible to frost cracks. Due to strong fluctuations between daytime and nighttime tensions in the bark tissue, so that the trunk can break - with fatal consequences for the tree. This can be prevented with a white coating, as known from fruit trees. Winter protection mats made of bamboo, reeds, willow, coconut and jute, which are simply placed around the trunk, have also proved themselves. Thus, the bark warms less and is also protected from game bite.
Planting ball trees
Tree trunks do not provide ideal conditions for other plants. Above all, trees with a dense, near-surface root system such as pointed maple, chestnut and linden tolerate little competition in their vicinity. With dryness and shadow tolerant shrubs, such as stone seed (Lithospermum), mock strawberry (Duchesnea), wintergreen Elfenblume (Epimedium) and comfrey (Symphytum), even such candidates can be well planted. Robust grasses and dwarf shrubs, such as Shadow-sedge (Carex umbrosa), creeping spindle (Euonymus fortunei) and big-dicked pair (Pachysandra), are also suitable.
It is simpler with trumpet tree, sweetgum and ginkgo as well as ornamental apple and cherry with their heart-shaped root growth. Carpets (Astilbe chin. Var. Pumila), Caucasus forget-me-not (Brunnera), Gold strawberry (Waldsteinia), Cranesbill (Geranium) and Foambloom (Tiarella) can all be combined here, just to name a few. A generously sized tree disc and initial watering ensure a good start. Once the ground cover has grown, they will be better off with the drought under the treetops.
Video Board: Happy Tree Friends: Still Alive - An Inconvenient Tooth.