The Content Of The Article: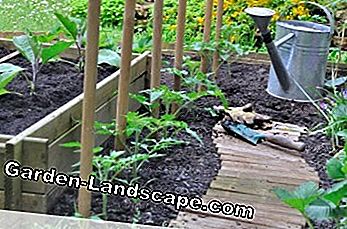 Anyone who decides to put bed sheets in his garden should not just go for the look. The frost and weather resistance of the material must also be considered. Also purely practical considerations, such as the size of the bed, the transport to the home garden and the cost of the material, play a role in the selection. The best way to get a small overview of the different materials that are available in the trade before.
material
Which materials are there? What advantages and disadvantages are to be expected? Below is a little insight into the world of the bed plates. First of all, you have to decide on the right material:
wood panels
Wood panels always look warm and natural in nature. They are also, depending on the type of wood, quite weather-resistant. Their big disadvantage is the slippery surface in the rain. The entry can then become a dangerous Schlitterpartie.

Tree grates - the best way to do this would be the tree disc plates, they are quite cheap and blend visually very harmoniously into their environment.
Wood Tiles - Surface-treated wood tiles, such as acacia wood, provide added resistance to any weather conditions. Depending on the type of wood and the required amount, it can be quite expensive. Ten wooden tiles (acacia wood) are around 30 euros.
Rollweg Holz - Also quite practical are roll-out running boards, for example made of larch wood. Grooves in the boards and spaces between the boards provide more resistance to footsteps. Two and a half meters cost between 15 and 20 euros.
flagstones
Stone slabs offer a wide range of optics and are very natural in most cases. Depending on the choice of material, the shape and finish, they may appear noble or rather rustic. In any case, they are very robust and durable. The safe step in rainy weather depends heavily on the material and the surface structure of the stones.

Paving stones, stone tiles - With paving stones and stone tiles, the size of the treads can be freely designed. But this requires more laying work and skill, so they do not drift apart during the first downpour or frost.
Stone slabs - Whole stone slabs are easier to lay but usually heavy. The prices for stone slabs vary depending on the type of stone. However, they are usually usually higher than wood or plastic. The cheapest variant are stepping stones made of concrete. These usually do not look so appealing. Granite slabs with a rough surface are commercially available as "step stones". Round, with a diameter of about 45 cm, they are affordable for around 15 euros per piece, depending on how many you need. They are appropriate and harmonize perfectly with nature.
Decorative Stepping Stones - Particularly beautiful are cast concrete stepping stones decorated with stones, prints or engravings. Here we meet again on the tree slices, which are, depending on the processing, hardly distinguishable from a real tree slice. A firm alternative to the real buffing wheels.
If it is more about the look or it only takes one or two steps into the bed, there is now a large selection of jewelery step stones. Such stones can be produced relatively easily. Of course it is associated with a greater expenditure of time. But that's where artistic and personal accents come into play. Trittfest, of course.
Tip: For creative, homemade stepping stones, there are many instructions on the Internet. Even a spade, some mortar and a trowel can be used to create imaginative bed plates yourself.
Plastic plates or mats
Plastic sheets or mats are increasingly being offered commercially on the market. They are durable, tread-proof, lightweight and reasonably priced. Those who are primarily concerned with stepping through the flower beds to harvest their beans will be well served with this material.

Material - Good to know, most of the tiles and mats on offer are made from recycled plastic. This may be a bit of a downer for those nature lovers who otherwise reject plastics. An advantage and a disadvantage may be that they are virtually rotten. So at some point to be plastic waste again.
Optics, structure - The plastic plates are very easy to lay. Plug connections make it possible to create narrow paths between rows of plants. They have a non-slip surface and drainage holes for rainwater. They are usually offered in black, brown or green and are visually of course not so eye-catching.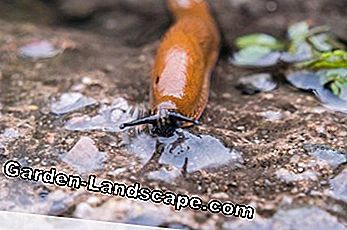 Others
Rubber mats - If you like it very special: there are also stepping stones or rubber bed plates. Visually, they usually look like round doormats in front of wet rooms.Nevertheless, they are inexpensive, easy to install and may fulfill their purpose where flexible and immediate support is required.
Luminous plates - Another highlight of the garden trade are luminous Beetplatten. Made of plastic and phosphorescent, they safely lead across the lawn or into the bed at night.
Deco stones - At garden events and seasonal markets, you will find suppliers who sell self-made crockery plates and stones from ceramics. Whether tasty or not, here it is important to be assured Frost suitability. Likewise with the artful mosaic tiles. Mostly, these individual pieces are more of an eye-catcher than a stepping surface in use.
commitment
Vegetable Bed - As mentioned earlier, there can be many reasons for using bed sheets. In large-scale vegetable beds, it is particularly important to be able to safely enter the beds for care and harvest at any time.
Flowerbed, Lawn - In a small front garden, a few ornate stepping stones, made by hand or made of precious natural stones, will not miss their effect. Bed plates are also handy for preventing unsightly trails on lawns over time. In flowerbeds, bedsheets, which are matched to the bedding limit by the material and the look, can create a harmonious and calm overall picture.
Garden design - With bed plates can make a cozy tour of the garden. A charming, inaccessible resting place under a tree or a tour of lush, colorful plants that nobody else could perceive. A way would be far too radical and disturbing here. Inviting curved bed plates or stepping stones lead into another world. Here are bed plates to (ver) guides through a lovingly landscaped garden.
Japanese Garden - Bedplates or stepping stones can play a very special role in a Japanese-style garden. Here they serve primarily as a contemplative visual axis through artfully designed plants and streams. For this purpose, mostly high quality materials made of stone or wood are used.
embarrassed
Great craftsmanship is not required to lay out bed sheets. Requirements and effort are primarily related to the material selected.
Every material, all plate systems and molds first need a good preparation of the soil. The support surface must be at ground level and level. Here a spirit level serves well. The ground is freed from stones and tapped or kicked evenly, with a wooden board. Plastic mats or rolls can then be applied immediately.
Lay flat surface
In order to prevent a subsequent lowering and tripping, you wear for Beetplatten of stone or wood initially about 30 cm of soil. Then it is filled with coarse sand or not so coarse gravel 20 cm high. Then comes a 5 cm thick layer of sand. Sand is finally distributed in the joints.
Single laying
It is easier to lay single stepping stones or wooden boards. Before laying necessarily "proofing" once. The stones or the wood is optimally arranged so that it fits the foot lengths and the optics ago. Only then does one begin with the preparatory work of the underground. For stepping stones, it is sufficient to remove some earth and straighten as mentioned above. A 10 cm deep sand bed is ideal and protects against imbalances.
Conclusion
Sooner or later it will be an issue for every garden owner: bed plates. The selection in hardware stores and garden centers is huge. Therefore, it is helpful to first think about the future purpose of the bed plates. If it's going to be a bigger project, including bedding, gems and pathways, it may be better to seek professional advice and get a quote first.
Video Board: Top 5 Ways to Farm Materials/Plate/Gem in Monster Hunter World - FARM SECRETS! (Plunderblade Guide).