The Content Of The Article:
Soft fruit is widespread in our gardens. Especially popular are raspberries, blackberries and strawberries. The delicious fruits can be grown in the garden without much work and provide many important vitamins. Since many soft fruits in the vegetable trade are expensive, you also save a lot of money. In this guide you will learn more about the cultivation and use (recipes) of berry fruits.
It is not difficult to cultivate berries. It is important to know how to plant, multiply, refine, cut, process the berries and on which soil they thrive best. Especially when blending there is a lot to consider. After years of harvesting, the fruits often become smaller, carrying only certain branches. You have to ensure a balance between the shoots. As a layman one is sometimes overwhelmed. An exact instruction is very helpful.
Some berry plants are more demanding than others, need different soil or special fertilizer. On the following pages you will learn a lot of useful.
Today there are many new varieties that are particularly suitable for gardens, such as goji berries, vital berries, new varieties of blueberry (grape blueberry), honey berries and others. Until recently, these varieties were still largely unknown. Now they are conquering our gardens and of course you want to know as much as possible about them. Many come to us from abroad and need special conditions to grow well. Also, the healing effects of some berries, such as the vital berry are not so familiar. This fruit, also known as China berry, is known to promote blood flow and vessel cleansing. Many garden owners are interested in such healthy plants.
Planting distance of strawberries, blackberries & raspberries
There are fruits from which you can not get enough in the garden. Some fruit gardeners are therefore inclined to close Erd-, Brom- and raspberries close together. It depends on the planting distance on the right balance.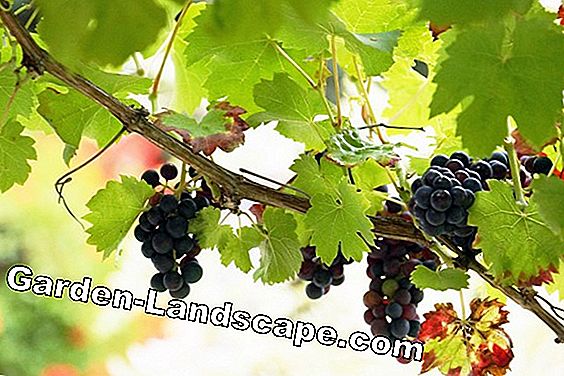 Pull grapes from seeds - Instructions for planting
Grapes are particularly good for mild conditions, but there are also suitable for rougher areas. All of them, however, need a sunny spot so that the grapes can mature well and develop their sweetness. Read more about wine cultivation from self-grown grape seeds.
When are gooseberries ripe? So you harvest the berries properly
Home gardeners with home-grown berry bushes are the primary beneficiaries of pick-fresh gooseberries. As the tendrils bend under their auspicious, sweet load, the question arises as to the optimal timing for the harvest in the room. You have more leeway than other fruit types. Read here, when and how to harvest the berries properly.

Blackberries - plants, crops

The deep black, aromatic sweet berries of blackberry bushes can be processed into delicious jams. Whether at a fence or a wall - a blackberry hedge graces almost every orchard.

Cranberry - large cranberry - cranberry: care

If you encounter blue cranberries, these are not cranberries, but you are probably in Pinzgau or in Tyrol, where our blueberries are called cranberries. Cranberries have a difference between the common cranberry and the large-fruited cranberry, better known as cranberry. How are the berries planted and cultivated in the garden? The cranberry is sure to be present under the name Cranberry. It is cultivated extensively in the USA. From there it came as part of mueslis, juices, jams and syrups to Germany. In this country, it thrives in the garden.

Berry bushes - Instructions for planting, fertilizing and cutting

In many local gardens delicious berry bushes can be found. The reason for this is, of course, on the one hand, the ease of care, on top of the variety of different berries ranging from raspberries over blackberries, currants, gooseberries to cranberries or blueberries. All these varieties are very healthy and rich in vitamins and taste from shrub to mouth as well as processed.

Plant blueberries / blueberries in the garden - Timing & instructions

Blueberries or blueberries are becoming increasingly popular in the local gardens, and are thus being cultivated more and more often. For the garden bed should definitely be selected a culture-blueberry variety, because the wild species are generally not easy to cultivate. But also with this cultivation a lot is to be considered. Because location, soil quality and planting distance are important in order to achieve a good crop yield.

Schisandra chinensis, Wu Wei Zi berries - care guide of the plant

Schisandra chinensis is also called Wu Wei Zi berry, which means "berry of the five flavors".For more than 2000 years, the Chinese have been focusing on the healing properties of the plant, and for good reason, they have been given the nickname "vital berry" here. The easy-care Schisandra also finds more and more followers among the local hobby gardeners due to its decorative appearance.

Blackcurrants - varieties, care & instructions for cutting

In addition to the well-known red and white currants, the blackcurrant is a popular fruit in the local gardens. The vitamin-rich fruits are very healthy and especially the Ribes nigrum is known for its use as juice, jelly, jam or as dessert wine. Of course, the berries also taste directly from the bush to the mouth.

Is Physalis healthy? Wanted poster with ingredients, vitamins and effects

The physalis, also known as the Cape Gooseberry, is finding more and more followers. Because the fruits are not only decorative but also very tasty and, above all, very healthy. Even if the plant belongs to the nightshade family, a toxicity in the vitamin-rich berry fruit must not be feared.

Sow and prefer strawberries - instructions for sowing and growing

Sowing and preferring strawberries is fun you should not miss. "Real strawberries" are so easy to cultivate that even beginners with the guidance for sowing and growing will be successful; Of course, you will also learn what distinguishes "real strawberries" from "fake strawberries".

Plant strawberries - when and how to put strawberries

Delicious strawberries directly from the shrub into the mouth, which succeeds if the own delicious fruits were cultivated in the garden bed or in the bucket on balcony or terrace. How and when the tasty strawberry plants should be used is important for a lush harvest. But with the right guidance, it's easy.

Raspberry bush - planting, care and cutting

Raspberry bush care is basically not a problem, just like raspberry planting and cutting. However, the chance of rich, raspberry-flavored crops increases tremendously when you plant and cut raspberry bushes that have the potential to flavor and grow as your natural growth demands.

Fertilize raspberries properly - all recommended fertilizers

Raspberry plants need nutrients to help them grow and develop raspberries. Raspberries need fertilizers to grow and turn red. If they get the right fertilizer with the right nutrients in a healthy soil, the raspberries could also taste like raspberry...

Raspberries multiply - instructions for all methods

Raspberries are best propagated vegetatively, with the instruction in the article also for beginners to create. If it does not work out so well, it is more the raspberry plant than the gardener anyway - after all, natural raspberry species / varieties often multiply so powerfully in the garden that "contraception" is needed instead of "reproduction".

Plant raspberries - this is how you put raspberry plants

Are you big enough to make sure that the greatest joys of childhood are available to you every day? Then you want to harvest raspberries in the garden, and in the article you will learn how to put the raspberry plants where these raspberries grow.

Cutting blueberries - detailed instructions

So easy to care for the "blueberry trend shrub" in the current culture - you have to cut most blueberries regularly; It is advisable to take a look at the manual, because the basically simple cut offers a few surprises in detail.

Cape Gooseberry, Physalis - Care and Hibernation

Rich, tasty harvest for fans of exotic plants - the Cape Gooseberry makes it possible. In the article you will learn how to (for free) come to a Physalis plant that cares for little effort and can spend several years overwintering.

Blueberry bush care - planting and multiplying

Plant blueberry bushes? If you want to live long, a good idea, you just have to choose the right blueberry. Which is that and why, see the article.

Wild strawberry, Fragaria vesca - care instructions

Where the forest floor provides moisture and shade, the wild strawberry is at home in small, slightly sunny gaps. These conditions can be imitated in the garden and grow your own wild strawberries. We give a guide with the most important care instructions.

Jostabeere, Josta - Planting, care and cutting

The Jostabeere or Jochelbeere is a cross between the currant and the gooseberry, from the first syllables of these two plants was their name. It grows as a shrub that can grow up to 1.80 m high and 2.50 m wide.

Cloudberry, Rubus chamaemorus - plants and care

Cloudberries (lat. Rubus chamaemorus) are colloquially also called Multebeere or peat berry and belong to the family of rose plants. Cloudberry plants grow to a height of about 25 cm and turn white in June and July. They are simple but nice to look at.

Autumn raspberries - varieties, care and cutting

Autumn raspberries have the great advantage over the summer raspberries that they are not attacked by the raspberry beetles, also cutting is much easier with these raspberry varieties. A small disadvantage of the autumn raspberries, however, lies in the later maturity of the fruits.

Garden Bilberry - varieties, care and cutting

Garden huckleberries are different from the wild blueberries in that they do not stain the hands, mouth and teeth blue. They are also not related to the native blueberries that grow wild in the woods.

Table grapes - varieties, plants, care & cutting

Table grapes differ from other grapevines in that they are not pressed into wine, but eaten raw as fruit. Therefore, these varieties are subject to different requirements than grapes.

Red currant - Care of currant, Ribes sanguineum

The ornamental currant Ribes sanguineum adorns the garden in the spring with a white, yellow or pink flowers, which later in the year fruit stalks followed by black berries. A spicy fragrance and uncomplicated care make the blood currant a sought after shrub in the garden.

Gooseberries - planting and cutting

Gooseberries are easy to maintain plants. When buying a variety should be chosen that is resistant to mildew. What tips you should also take to heart with gooseberries, can be found here.

Cranberries - planting, care and cutting

The cranberry is related to the blueberry and therefore also belongs to the heather plants, which need an acid soil to flourish well and produce many fruits. What should one know about their care? Close relatives of the cranberry is the trendy cranberry, which, however, is a cultivated cranberry. Both varieties are very healthy as they contain a variety of vitamins.

Pokeweed plants against snails - care of the berry

There are quite a few types of pokeweed. We mainly eat Asian pokeweed. In the Asian variant, the inflorescences stand upright while they hang down on the perennial of the American.

Andean berry, Physalis peruviana - care tips

Plant lovers also know the Andean berry under the name Kapstachelbeere, Blasenkirsche or just Physalis. Their genus includes about 90 species. The care of the South American plants is easy. They grow expansively and therefore take up a lot of space. In a full-sun location and in the nutrient-poor substrate, it bears tasty and vitamin-rich fruits.

Cutting berry fruit trees - the right care

Berry fruits must not be missing in any garden. Berries are not only ideal for snacking in between. They are also perfect for making delicious jams, jellies and sweet desserts.

Ribes nigrum - care, location, homeopathy

The blackcurrant, Ribes nigrum, wants moisture and nutrients. If there is a compost in the garden, it will be happy to add nutrients to it, so no additional fertilizer is needed. Read more tips here.

Cultivated blueberries proper care - cutting and multiplying

Cultivated blueberries are not derived from the blueberries that are found here in this country often in the woods, but from blueberry varieties from North America. They grow larger, are easy to harvest and taste good.

Berry bushes - plants, care, cutting

Those who like soft fruit and plant in their own garden will be reluctant to confine themselves to one variety. Currants, gooseberries, raspberries and blackberries can be perfectly combined. If the space on the property is sufficient.

Blackberry (Rubus sectio Rubus)

Blackberries are considered to be outstanding. Depending on the variety, you can harvest from July to the end of October - from small round to huge, elongated fruits in black. If you want to know everything important for the care of blackberries, you are right here.

Honeyberry - planting, care & propagation

In itself, the honey berry is extremely easy to care for, and also hardy - and it convinces by an upright, but relatively slow growth. You do not know the berry? Then it's time!

Blueberries - plants & care

Blueberries are getting more and more in the garden. They have many uses and are characterized by their tart taste. Find out everything worth knowing about the "blueberry" in our special article.
Video Board: Health Benefits Of Berries - Berries The Wonder Food.