The Content Of The Article:
Black cumin is one of the exotics in private kitchen gardens, but can easily be grown there. But care: the weeds proliferate!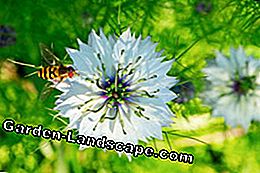 In addition to the well-known fruits and vegetables, such as cherry, plum, carrots or salad in all variations, hobby gardeners are increasingly planting herbs in their kitchen. One reason for this is certainly the cooking programs that are currently booming on TV, which have made flavoring herbs again popular. But the attitude to nutrition has changed, today is eaten more consciously, often even vegetarian or vegan.

The black cumin, or black cumin, comes from the oriental region. The plant has been used there for over 2000 years as a medicinal and spice plant. The Black Cumin, in Latin Nigella sativa, known worldwide today, is probably due to a saying of Muhammad: "black cumin heals any disease - but does not help against death". In addition to the taste, it is above all the far-reaching health effect of the black cumin, which makes the plant so popular. Apart from the pure seeds, the plant is also used as oil or tea. Asthma, digestive problems, hypertension and many other diseases are alleviated. The comprehensive guide on schwarzkuemmeloel360.net shows all facets of the universal remedy.

General information about black cumin
The black cumin is an annual plant that belongs to the buttercup family. She wears white and blue flowers and is between 30 and 60 cm high. The leaves are fiederspaltig (two lines arranged along the blade spindle) and the stem can be multi-branched. The valuable seed is in the capsules, which looks very similar to the poppy seeds. These seed envelopes arise from the star-shaped flowers. Although the name suggests, black cumin has nothing in common with cumin or cumin either in appearance or taste. The taste is more reminiscent of sesame.
Attention when buying black seed seeds
Black seed sowing you get in the garden center or hardware store, but here you should look very carefully. The "virgin in the green" (Nigella damascena), also a one-year-old garden plant of the family Hahnenfußgewächse, looks very similar to the black cumin.
Black cumin cultivation: Soil quality
Now hobby gardeners will cheer, because the black cumin does not make great demands on the ground. Since it is a wild plant, the soil must not be pre-fertilized, but waterlogging should be avoided. Optimal is a humus garden soil. Also read: Soil improvement measures on native-plants.de.
When and how is the sowing done?
Sowing of black cumin takes place in spring, more specifically from March to April, but no later than May. Bear in mind that black cumin is a weed and increases accordingly. So that the herb can not spread throughout the garden and beyond, choose a place where you can curb the growth well.
All sowing tips at a glance
Sowing: March - May
Plant location: sunny
Soil when sowing: loose, do not fertilize
Sowing depth: 1 - 2 cm
Planting distance: 25 cm
Row spacing: 30 cm
Germination time: 2 - 3 weeks
Pour: moderate
Growth height: 30 - 60 cm (depending on variety)
Flowering period: June - July
Harvest time: September
Harvest black cumin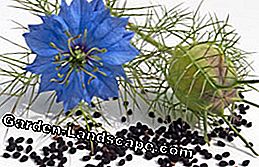 Whether the plant is ripe for harvest, recognize that it is slowly dying from underneath and the fruit capsules get a brownish color. Simply open a capsule to test. The ripe black cumin seeds are drop-shaped, have a matte black color and an anise-like fragrance. For drying it is best spread on a cloth.
Use of black cumin
As mentioned above, black cumin is especially known as a medicinal plant. The resulting oil can be applied externally, for example in case of skin problems. More often, however, it is used in the kitchen because it is said to have many health-promoting effects. This is how black cumin should help to burn fat, lower cholesterol and much more.

The seed itself is reminiscent of sesame and tastes delicious on bread, cheese, salad and curd cheese. The best known black cumin is certainly from various Turkish takeaways, here you can find the exotics on flatbread.
Video Board: Growing And Harvesting Black Cumin Nigella Sativa.