The Content Of The Article: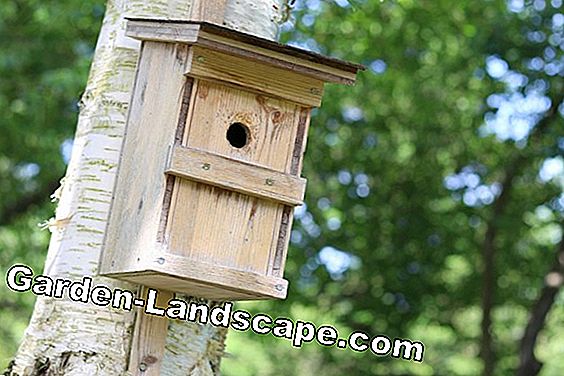 Blue tits are one of the smallest native songbird species in our country. They are very common not only in Europe, but also in North Africa and parts of Asia. Everywhere in our parks, gardens, deciduous and mixed forests, the blue and yellow feathered blue tit is to be found. Blue tits are not towering aviators, they avoid large open spaces.
Numerous species of birds - as well as the pretty blue tit - breed exclusively in largely closed nesting caves. However, as natural caves become rarer and rarer, the blue-tit population is considerably restricted or even threatened. That is why blue tits have become more and more dependent on us for providing them with suitable nesting boxes. It is not the shape or design of the nesting box of importance, but rather the size of the slip opening. This can keep especially competing bird species but also predators away and thus give the blue tit new home.

Characteristics
scientific name: Cyanistes caeruleus
other names: Parus caeruleus
belongs to the genus of titmice within the order of passerine birds
native songbird
Size: up to 12 cm
Span: up to 20 cm
Plumage: blue and yellow
Age: up to 5 years
Weight: on average 10 grams
Appearance and distinguishing features of the blue tit
Apart from the north, blue tits can be found throughout Europe. Blue tits are found throughout the year with us, because they are one of the resident birds that hibernate here. Blue tits are easily recognizable by their distinctively colored plumage. The strong blue parts on the head (cap) and on the wings are found in no other songbird species. The feathers in the belly and chest area are light yellow and separated from the white face by a black-blue neck ring. A fine black line runs almost horizontally through the eye. The blue tit is not only much smaller than its relatives, also her hornbrown beak turns out quite short. In the middle of the yellow abdominal plumage a dark stripe runs vertically, but sometimes it is obscured by the remaining plumage.
Males and females differ little. On closer inspection, the female blue tits appear a bit paler. The birds themselves can recognize themselves without any problems, because in the ultraviolet spectrum, the two sexes are clearly distinguishable.

food sources
Blue tit food consists of many invertebrates, mostly small insects. As the winter supply of this live food is very low, the birds adapt and simply become grain eaters for this time. As small as they are, they are not afraid to drive away other birds such as sparrows, robins or great tits from feed dispensers in winter.

small insects (flies and mosquitoes)
be crazy
Larvae and caterpillars
aphids
Seeds like beechnuts
On an annual average, the proportion of animal food is about 80% of total food. Due to its small size, the blue tit is predominantly hunting prey animals under two millimeters in length. The food that is fed to the nestlings is less variable than in adult birds. Main component of the rearing fodder are butterflies, above all their caterpillars. If this food source is not available, spiders and beetles play an important role.
Tip: In the spring, blue tits also feed on flower buds, pollen and nectar, which is why the blue tit is even considered as a pollinator in some plants (imperial crown).

food supply
A blue tit is characterized by its extraordinary skill in food acquisition. She is able to cling to thin branches with her feet and to look for food upside down.

breeding season
As a rule, blue tits breed twice a year. The first eggs (up to 15 pieces) are laid by the female in April. After about two weeks, the young hatch and remain as a nest stool for another 20 days in the safe care of the nest. At this time you can hear from all sides the beetle of the little blue tits with which they beg their parents for food. The little blue tits are very endangered. Many of them do not even complete the first year of life, because everywhere lurk enemies:

cats
Birds of prey such as sparrowhawks or peregrine falcons
Magpies and other ravens
marten
also people
Nest location and nest building
Blue tits build as a cave breeder quite elaborate nests. They almost exclusively purchase existing caves, but they are very flexible in their choice. However, they do not settle for simply cleaning and padding the cave, but spend a lot of time preparing their nesting site. A typical nesting place for blue tits lies higher on the tree and has a tiny opening, so that natural enemies such as martens or predatory birds can not enter.The total cost of nest building can easily take two weeks.

Outer layer: moss and kinked individual blades of grass
Upholstery fabrics: animal hair and feathers
The right nesting box for the blue tit
Blue tits nest only in completely enclosed buildings (cave breeders). However, as old trees have become rare, blue tits have trouble finding suitable nesting sites. In order to ensure the continuity of the petite, beautifully colored bird, enough nesting boxes should be hung. To exclude other birds (especially the main competitor Great tit), the ingress opening should not be larger than 26-28 millimeters in diameter. Materials for a nesting box:

Wood (natural variant)
Wood concrete (stable, weather-resistant, breathable)
Tip: Blue tits also use unusual places in settlements for nest building. Especially popular are cracks in the masonry or letterboxes.

The right location for the nesting box
Usually blue tits do not nest in gardens, as in them the supply of food in the form of caterpillars for rearing of the young simply is not enough. With a nest box, however, you can lure a pair of tits in the garden. Blue tits are very picky when choosing their nesting hole. Frequently, the birds are watching how they first inspect all possibilities together before they finally decide.
A nesting box for blue tits should be placed at least two to three meters above the ground. It should be noted that he is really stuck firmly and safely. So he is not allowed to swing back or forth in strong winds or storms or even fall down. In addition, he should not be accessible by lower branches or other climbing opportunities for the predators of the blue tit. The orientation of the nesting box also plays a major role. It is best hung with the entrance opening to the east or southeast, so that the first rays of the sun warm the box in the morning, but not the blazing midday sun shines on it. This is very important for the development of sensitive juvenile birds. A new nesting box should be hung in March at the latest. Since many birds do not take new nest boxes so well, it is cleverer to place them already in the fall.

Height: at least 2-3 meters
on house wall or tree
Orientation: east or southeast
weatherproof
Tip: Blue tits are very lively birds and also very capable of learning. Thus blue tits were already observed opening the aluminum lids from milk bottles (parked outside the front door) in order to reach the tasty contents.
Worth knowing about blue tits soon
Blue tits build their nests deep down in a nesting box, where their offspring are best protected from enemies.
The nesting aid should never be exposed to the sun for a long time. A warming by the morning sun, however, is an advantage.
The blue tit is slightly smaller than the great tit. This must be taken into account when making the opening in the nesting box.
For blue tits, the hole must have a diameter of 2.8 cm. In the soil, three small holes are beneficial, so that the moisture can drain.
The nesting box should be 14 cm x 14 cm x 25 cm. The wood of the nesting box must not be treated with wood preservatives.
In the fall, the nest box needs to be cleaned to be fit for next year.
Some blue tits like to spend the night in a nesting box.
Often, several birds cuddle together in a small house and stay warm. In the morning you see a whole family flying out.
Build nesting boxes for blue tits yourself
Blueprints for tits boxes can be found in quantities on the Internet. With a little manual skill you can easily build a nesting aid yourself. Meisenkästen consist of few parts and are very easy to assemble. Children enjoy it very much. It is important that the entry hole is reinforced with a metal plate, so that larger predators such as woodpeckers can not enlarge the hole in order to reach the young birds. Ticks are looted.
Video Board: Bird houses Best for Birds.