The Content Of The Article: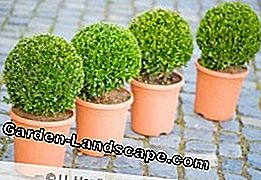 The genus of boxwood (Buxus) includes more than 70 different types of boxwood. The special feature of this is that almost all varieties are not purely natural offshoots of the family tree of the boxwood family (Buxaceae), but targeted breeding. For example, the variety Buxus microphylla, which offers itself because of their relatively low stature height, especially for small gardens and the Kübelhaltung. Find out everything you need to know about Buxus microphylla in terms of variety, origin and, of course, care and proper cutting.
Contrary to popular belief, box trees did not first find their way into the garden design during the Renaissance. In fact, box trees were already bred in ancient Rome and before that in Greece alone for the embellishment of gardens and parks. In addition, the boxwood cultivation in Japan enjoyed great popularity, while the ordinary boxwood in this country was considered almost exclusively because of its special wood as a valuable raw material supplier. First and foremost here is the variety Buxus microphylla, which originally came from China and Korea, but is often referred to as Japanese boxwood due to the countless varieties that Japanese breeders have produced to date.
Well-known varieties (offered names)

Buxus microphylla var. Aemulans
Buxus microphylla var. Microphylla
Buxus microphylla var. Japonica
Buxus microphylla var. Koreana
Buxus microphylla var. Riparia
Popular varieties
Buxus microphylla Faulkner
Buxus microphylla Herrenhausen
Buxus microphylla compacta
Buxus microphylla golden triumph
Buxus microphylla Faulkner in detail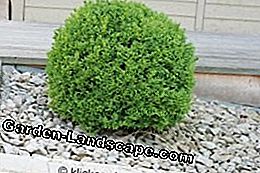 Buxus microphylla Faulkner is one of the most widely used "Buxus microphylla" varieties in Germany. One of the reasons for this is that the Japanese boxwood Faulkner is not only extremely hardy, but also remains relatively small without any pruning. In addition, the evergreen shrub is extremely resistant to pests. Furthermore, the variety Buxus microphylla falconers allows incredibly artistic cuts in shape thanks to their outstanding cutting resistance.
Buxus microphylla Herrenhausen in detail
The variety Buxus microphylla Herrenhausen owes its name to the traditional use in the gardens of the Hanoverian mansions, where it was mainly used for bed borders due to its very low, yet broader growth. In addition, Buxus microphylla Herrenhausen offers for planting larger areas. For design cuts, however, it is less suitable, especially since it grows much slower compared to Buxus microphylla falconer. In addition, Buxus microphylla Herrenhausen tends to get frost damage in particularly harsh winters, which is why the winter hardy box tree should be planted as a precaution only at sheltered locations. It should also be mentioned that the tree species Buxus microphylla Herrenhausen is quite susceptible to spider mites compared to Buxus microphylla Faulkner, which is why it should be examined continuously for an infestation in this respect.
Location
Buxus microphylla boxwoods should, if possible, be planted in an absent to partially shaded location, although, with few exceptions, they may thrive in sunny or shady locations as well. In addition, the soil should be loose or permeable, very nutrient-rich, relatively calcareous and relatively dry to slightly moist. Accordingly, it may be advisable to upgrade the soil according to the respective preferences of the relevant "Buxus microphylla" variety by targeted nutrient enrichment, lime addition or dehydration. However, with regard to nutrient enrichment with fertilizers, it should be noted that these should be purely organic.
planting distance
The distance to be observed when planting Buxus microphylla depends on various criteria. One criterion is of course the "Buxus microphylla" variety itself. Another criterion is the type of use. What this means is whether the Japanese boxwood varieties are now to be planted as a bed border in the row or as a grave plant in individual position.
plants

Although Japanese boxwoods can be planted almost all year round, experts strongly advise spring planting, especially since the seedlings then remain a full growing season to prepare succinctly for the coming winter. In addition, the newly planted boxwood trees have to be watered much less in the spring than, for example, in midsummer, which is not only advantageous in view of the reduced workload.Another advantage is that the risk of waterlogged waterlogging in spring remains low. In addition, box trees form stronger roots if not overly cast. Regardless of this, there is always the danger that valuable nutrients will literally be flushed out of the ground and thus no longer available to the box trees.
cut
Since Japanese boxwood trees grow much slower than other boxwood varieties and do not grow that much, they do not necessarily have to be cut. Unless they should be brought into a certain shape for purely aesthetic reasons or would otherwise grow too close together in the case of a bedding border or area planting. Said form cutting can be done from the beginning of March to the end of September, provided that the box trees are treated only superficially. A far-reaching pruning, however, should be made only for reasons of environmental protection after the end of the flowering period. The reason for this is that boxwoods come very early in the flowering and thus prove to be unspeakably valuable plant for bees and other beneficials from the insect kingdom.
Tip: Buxus microphylla should be cut on rainy days with high humidity, as the interfaces can not dry out.
Popular cuts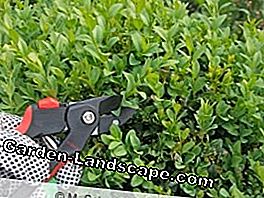 As noted in relation to Buxus microphylla Faulkner, much of the Japanese boxwood breeders are particularly well-suited for formal shape cuts. Among the simpler cuts are the ball, the cone and the cube cut. The more elaborate forms include the spiral, the twister and the duo or even trio-ball cut.
frequently asked Questions
My box trees have gotten winter over brown leaves. Should I be worried now?
The discoloration of the leaves need not necessarily be a consequence of excessive exposure to cold. Instead, it can be a kind of natural antifreeze, which can be observed among other things, the ivy, in various coniferous trees, the yew tree or even the tree of life under certain circumstances.
Can I plant Japanese boxwood in tubs?
In fact, Japanese box trees, such as Buxus microphylla Herrenhausen or Buxus microphylla Faulkner, due to their compact growth form, even one of the best boxwood varieties for the Kübelhaltung.
After the ground frost started surprisingly early last winter, I wanted to ask if I could plant my box trees anyway or if it was right to wait until spring?
As such, you would have been able to plant your box trees without hesitation after the first frost, provided that the soil was frost-free on the day of planting and on the first days following. But in case of doubt it is always better to plant boxwoods in the spring, so that your decision was completely correct.
Video Board: How to grow Wintergreen Boxwood (Evergreen Shrub with Compact Habit).