The Content Of The Article:
The common boxwood (offered by Buxus sempervirens) can be subdivided into more than 60 different types of beech. Among the most popular among them is the variety Buxus sempervirens arborescens, which is considered not only particularly beautiful, but also as very easy to maintain. Nevertheless, there are some aspects that should be taken into account when planting, caring and especially cutting Buxus sempervirens arborescens. You can find out which of them are here.
The boxwood variety Buxus sempervirens arborescens stands out from other varieties mainly because it is extremely resistant to cuts and can withstand even the hardest winters with icy cold temperatures without having to take special winter protection measures. In addition, Buxus sempervirens arborescens grows particularly dense. In addition, the boxwood Buxus sempervirens arborescens proves to be very modest in terms of its demands on its location. Consequently, the possibilities of use, which in this form probably only Buxus sempervirens arborescens offers, seem to be almost limitless.
use
Due to the previously rudimentary presentation features arise at once several uses. For example, Buxus sempervirens arborescens can be planted as a grave plant in individual positions, planted in rows as a decorative border or as meter-high privacy. In addition, the boxwood variety Buxus sempervirens arborescens offers a beautifully cut ornamental plant in the front yard due to its excellent cutting properties. It should be noted that Buxus sempervirens arborescens can also grow wonderfully in pots and therefore also offers to decorate the terrace or the balcony.
Location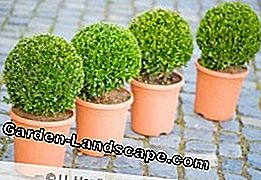 Buxus sempervirens arborescens is one of the sorts of beech that, although they prefer a sunny to partially shaded spot, can still be planted without hesitation in shady and sunny locations. It is only important that the soil is very nutritious and has a certain amount of lime. Accordingly, in the case of very sandy and / or lime-poor soils, it may be advisable to upgrade them accordingly before planting Buxus sempervirens arborescens. With regard to nutrient enrichment, it must be pointed out that exclusively pure organic fertilizer may be used for this purpose. In addition, a soil enrichment with mature compost, humus and so-called horn chips is recommended. Apart from that, the soil should not be too humid, which is why experts strongly advise against watering Buxus sempervirens arborescens too often. One of the reasons for this is that the root of the book could be made too weak when Buxus sempervirens arborescens is regularly watered. On the other hand, there is the danger that excessive nutrients may be flushed out of the soil or flushed out by over-pouring.
planting distance
The distance that should be kept between plants when planting Buxus sempervirens arborescens depends on the intended use and on the size of the plants. Thus, for example, for a bed of about 10 to 15 cm high bedding 8 to 10 box trees per meter are planted, whereas for a good 50 to 60 cm high hedge only 2 to a maximum of 3 box trees should be planted. In addition, it should be mentioned that Buxus sempervirens arborescens can reach a growth width of more than 4 meters, so that a correspondingly large distance to adjacent buildings, fences, walls and / or paths should be kept, as long as the boxwood should not be trimmed.
plants
In itself, Buxus sempervirens arborescens can be planted throughout the year. The only prerequisite is that the soil on the day of planting is still completely frost-free and also for the coming days after not too heavy ground frost was reported. Although Buxus sempervirens arborescens could thus be planted even in winter, it is advisable to plant it in the spring, at least in the case of particularly delicate young plants, so that the young plants have a full growing season to optimally prepare for the coming winter. Of course, Buxus sempervirens arborescens can also be planted in midsummer instead. However, the young plants then have to be reinforced, but this can lead to insufficient rooting.
maintenance
In itself, Buxus sempervirens arbores does not have to be taken care of in order to thrive optimally. Unless the boxwood should grow in a desired shape and must be cut accordingly.
To cut
Smaller boxwood trees can actually be cut throughout the year.However, it should be mentioned that Buchs is an important traditional food or feed plant for bees, which is why Buxus sempervirens arbores should only be cut after the main flowering period from March to April. For larger trees, which could serve as a nesting site for birds, the main section should be maintained until August. It should be noted that the regrowing shoots could be too tender to survive the winter if Buxus sempervirens arbores were cut back only after August. A subtle Auslichten or pruning of individual branches is still possible in the fall or even in winter without any problems.
multiply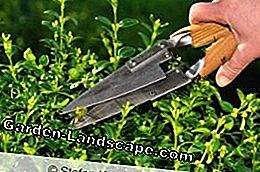 Of course, Buxus sempervirens arborescens can easily be sown, but considering the expected growth of 10 to 30 cm per year, this would be a very time-consuming undertaking. Consequently, it is better to propagate Buxus sempervirens arborescens using cuttings. It is worth mentioning that the cuttings should be taken from plants that are as strong as possible and that have a particularly good growth. In addition, make sure that the cuttings are at least 10 cm long. Incidentally, the ideal period for cutting the cuttings is between September and March. In itself, the cuttings could be cut significantly later. However, since it may take several months until the cuttings have formed sufficiently strong roots, they could be planted in the following year after the cut until late in the garden, which is not advisable for the reasons mentioned above.
frequently asked Questions
Recently, I discovered in the bucket of my boxwood whitish deposits that remind a little of fluff or small flakes. As I pulled the bucket toward me to inspect it more closely, more speckles came out of the book. Can you tell me where they came from and what I can do about them?
In all likelihood, the so-called boxwood flea is responsible for the deposits you describe. With a lighter infestation, you usually just have to be patient until the fleas disappear by themselves. To avoid spreading, they should quarantine the affected boxwood as a precautionary measure. However, if the infestation is already more pronounced, you may have to distribute the small pest spirits with a little diluted soft soap.
Do I have to bring box trees, which are not in the garden but in tubs, into the house during the winter?
No, you do not necessarily have to take your box trees into the house for the winter, as long as their tubs hold enough soil to protect the shrubs' roots from excessive cold.
origin
Originally the Buxus sempervirens comes from the Mediterranean and Asia, where it can easily reach the height of 8 m. In the climate of Central Europe, it usually reaches only the height of a shrub so that it is ideal for bedding limitation. In Europe, the Buxus sempervirens is mainly used for ornate garden design. Many historic castle gardens are equipped with boxwood trees, which have been cut into imaginative plant figures.
The Buxus sempervirens is particularly suitable for the artistic garden design. Since it is densely covered with small leaves, it gives a harmonious picture, the low growth rate ensures that it retains the selected cutting shape for a long time, without frequent recutting is necessary. With the Buxus sempervirens, gardens can be designed in different ways. If you let it grow only a few inches high, it is ideal as a bedding limit. Planted in tubs you can cut beautiful, imaginative figures from the boxwood. But even if you let it grow, the Buxus sempervirens shows its advantages. Over the years, the small tree becomes a stately tree that has an unusual shape and provides shade all year round.
Video Board: Pruning a Boxwood.