The Content Of The Article:
Although there are so many different types of cabbage, they all have one thing in common: they are grown in the same way.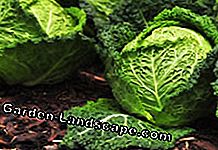 Cabbage is such a variety of vegetables that it should not be missing in any garden. Cultivating it is not rocket science either. However, a rich cabbage harvest will not just fall into your lap. You have to do something about it. Only with proper care will you be able to harvest abundantly and even large cabbages.
Location and ground
Vegetables in your garden usually need a lot of care. If you plant cabbages such as red cabbage, cabbage or savoy cabbage, but also cauliflower and broccoli, then you should make sure that the soil is sufficiently supplied with nutrients. Especially in the main growth phase, the nutrient requirement of the plants is very high. In addition, the soil should be profound. The best is a pH between 5.5 and 6.8. Find out how to determine the pH value here.
In sandy soils, water seeps too fast, but in clayey soils the nutrients are released too slowly. Here it helps if you incorporate plenty of compost into the soil before planting the beds. It also helps the plants, if you loosen up the soil regularly.
Note the crop rotation
Always remember that you are not allowed to plant cabbage in the same location every year. All types of cabbage are heavy eaters. In the next year, you may only use medium-users there, such as Grow carrots, lettuce, chard or fennel. Then follow the weak-eaters and then best a green manure. Afterwards you can start again with the heavyweights.
Kohl likes these neighbors very much
As with so many types of vegetables, you must also take care with the cabbage, what you plant next door. Cabbage is not compatible with all types of vegetables. No problems will you have if you cabbage next to:
potatoes
tomatoes
salad
leek
peas
beans
cucumbers
carrots
spinach
plants. On the other hand, cabbage and onions do not like Kohl as a neighbor.
Pour cabbage and fertilize
Cabbage likes it when the soil is always slightly moist. That's why you have to water it regularly. Of course, you should also add fertilizer, because only then the nutrients are sufficient and distributed in a healthy degree. Take the best stinging nettle for fertilizing. This is how you make it:
Cut about 1 kg of nettle leaves into small pieces and then add the shredded leaves to about 10 liters of water. Close the container and let the mixture soak for about two weeks. In the meantime, stir the whole thing every few days. When the two weeks have passed, you should water the cabbage with the nettle about every three to four weeks.
Video Board: Growing Cabbage - Tips & Harvest.