The Content Of The Article: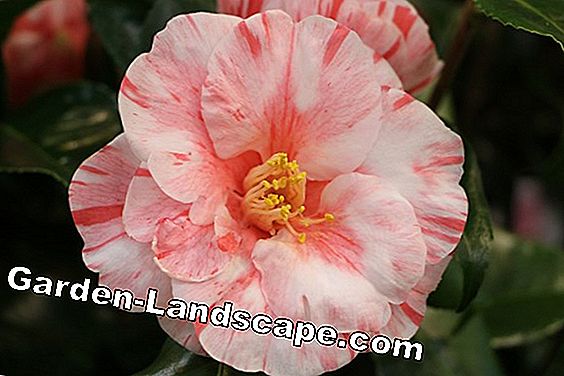 Especially suitable for this is the wine-growing climate. It is important to select varieties that are characterized by a high winter hardiness. Although it may also come to Blatterfrierungen, but these usually grow out again. In addition, only late-flowering varieties should be planted, because the flowers freeze at just a few degrees below zero. Otherwise, the care is quite straightforward.

Short profile of the Camelia plants
Family of tea bushes
Hailing from East Asia
Millennia-old cultivated plant in China and Japan
Over 200 species and 30,000 species
Evergreen shrub or small tree
Can be between 1.5 and 6 m high, but with us they stay smaller
Short stalked flowers, single or in pairs
Blossoms depending on the variety in white, pink to red, also multicolored
Different flower forms
Differences also in growth and leaf form
Flowering in Central Europe in late winter or spring
Different strong scents
Fruits from September, October
Care of the Camelia
First, it must be different, whether it is a container plant or an outgrown specimen. Both, however, need cool temperatures, so that the flower buds also open. At low temperatures, the flowers last for weeks, in the warm living room, however, only a few days. Whether planted out or cultivated in the vessel, the demands on the substrate are the same. The plants prefer a humus, loose and slightly acid soil. Camellias must stand protected outdoors, against cold eastern winds and from the sun, especially in winter. A partially shaded location is ideal. Important is the regular water supply. Drought and waterlogging do not get the plants. Container plants also need additional nutrients. Explanted specimens are usually without. Camellias are cut tolerant, but they do not necessarily have to be cut. A cut in young plants but stimulates the branching, which is important to get dense plants.

site conditions
Both potted and planted camellias need a sheltered location. Ideal is a rather partial shade. Above all, it should be protected from cold east winds and the wintry morning sun. If the water supply is consistently ensured, the plants can also be sunnier in summer. Important is definitely enough light. Bright midday sun is not recommended.

Lots of light, but no blazing sun
Better is partial shade
In the shade, little flowers
Protected from the easterly wind and morning sun in winter
High humidity
As a plant substrate is rhododendron earth. It is almost lime-free and has a low pH, which is important for Camelia. The soil should be loose, humus and slightly sour, just like rhododendrons.

Cheap is rhododendrons earth
Easy, humorous, slightly acidic
To improve the soil, you can mix rotten leaves, compost or pieces of bark.
Sharp sand or lavagrass improve the permeability, the roots can grow better
Pouring and fertilizing
When casting camellias are a bit tricky. They do not like dryness or wetness. Instead, the root ball should always be slightly moist evenly. Dryness causes stress, repeats weakens the plants and makes them susceptible to diseases and pests. Waterlogging quickly leads to the death of the plant's fine roots. Rain water is best for pouring, as Camelia does not like calcareous water. This water can also be used to spray the plants. Since they like higher humidity, spraying is important. It should be done year round.

Water regularly
Not too much and not too little
Neither dryness nor moisture are favorable
From late spring to autumn, watering is especially important.
Too little water can lead to the loss of the buds
Tip: It is important to pour penetrating! The water in potted plants must penetrate the whole pot and it is also important in planted specimens that all roots get water, not just the superficial ones.
Use rainwater
Also for regular spraying
In order to develop many flowers and then open them, Camellias need enough nutrients. This is especially important for potted plants. Propagated specimens need little or no fertilizer. Favorable is a mineral long-term fertilizer, best one for rhododendrons, which have very similar claims. Alternatively, organic rhododendron fertilizer with guano is suitable. It is important not to overfertilize the plants, they are quite sensitive to salt. For mineral fertilizers, one dose is usually sufficient, organic must be re-fertilized once.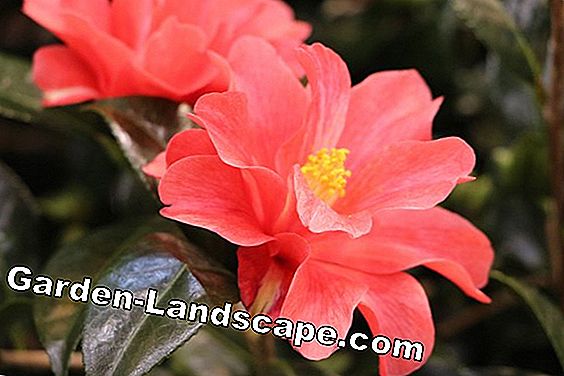 Alternatively, normal liquid fertilizer can be used, which is added to the irrigation water every three weeks. In order not to overfertilize the Camelie, use only half the specified dose! It is absolutely important not to fertilize from the end of July, so that the shoots can mature until the frost. If these are still in the juice, frost damage can not be avoided. Fertilization takes place mainly from late May to mid-July. During this time the flower buds will be created for the next year.

Fertilize regularly
Rhododendron fertilizer is good
Do not over-fertilize - very sensitive to salt
Mainly fertilize from late May to mid-July
Young plants should be repotted regularly, preferably every two years. In older plants, the distances can be kept more generous. Once it has been determined that the pot bale is very strongly rooted, you should change the vessel and substrate. The best time for this is after flowering, so in May, no later than June.

Repotting seedlings every 2 years
Older plants only when the soil is strongly rooted
It is recommended to place the Camelie in the vessel or the soil when planting so that the upper roots are visible, so not too deep. Just plant 3 to 5 cm higher than before in the pot.
Tip: To lower the pH of the soil, mulching with pine needles is recommended.
Cut camellias
Camellias are very cut tolerant. A cut stimulates the branching, which is especially useful in young plants. Only through a regular cut form compact, bushy plants that carry many flowers. It is best to cut directly after flowering. It is important to cut about 2 cm above the leaf base. The result is that the shoot dries and not the bud in the leaf axis. If older Camellias get out of shape or just grow too sparse, a stronger shape cut can be made. So you have influence on the form.

Very cut compatible
Cut after flowering
Especially young plants to promote the branching
Cut 2 cm above the leaf base
Camellias overwinter
Camellias are winter plants. They need the cold to open their flowers. However, they also need protection from the cold. Here a thick layer of leaves on the ground over the roots is helpful. The freezing of the root ball must be prevented. In addition, the entire plant should be wrapped with an air-permeable fleece, which provides shade and at the same time keeps something warm. Crucial for the plants survive the winter and are still blooming, is the right variety selection. Best suited are late flowering varieties. The selection is great. Camelia japonica are better suited than the Chinese varieties, which are not suitable for our Central European winters. Especially hardy plants have proven to be the so-called Higo camellias. However, they have only unfilled flowers, but with a clump of yellow stamens in the middle. In addition, the flowers have a slight smell.

Not in the heated living room
Ideal for potted plants is a cold house or a little heated conservatory
Temperatures maximum 15° C
Leave as long as possible outside
Well-rooted potted plants can tolerate -5° C, but only for a short time
Cold irritation is important for the buds to open
If there is no ideal winter habitat, then exhibit plants after frost period again
Outdoor camellias do not only need protection of their roots in winter, but also a too strong sun. The evergreen plants evaporate a lot of water and can not absorb any more due to the frozen soil. They dry up. In winter-mild regions one can venture the attempt of the planting of Camellias. There is no guarantee that they survive the winter, but it is worth the effort. In general, the plants tolerate temperatures down to -12, sometimes down to -14° C. However, it can lead to frostbite of the foliage. Good winter hardy, healthy plants grow out again. As long as the root is healthy, the plants will recover.


Since flowers freeze at -2 to -3° C, it is important not to plant early flowering varieties. If you want to bring your Camelie safely over the winter, you can build a dwelling from slats or similar material, similar to a tent. With a tarpaulin all around or filled with foliage, the camellias survive the cold season and come, as long as it is cold, even with darkness. An advantage of this hibernation is that it delays the flowering time. So the buds and flowers are protected from late frosts.

Shadow the plant (fleece) to protect it from dehydration of the evergreen leaves.
Floor provided with protective layer
ConclusionCamellias are beautiful flowering plants. They are not easy to care for, but they thrive in the right location and substrate. Important is a balanced water supply. The plants do not like too much or too little water.Otherwise, they do not need much care. Decisive for a thriving, especially with camellias planted, is the right choice of variety. The plants must be hardy and should flower as late as possible. Early flowering varieties are extremely late frost risk. With the right choice, a protected location, suitable substrate and sufficient water, there is nothing standing in the way of the flowering of the plants.
Video Board: Growing Camellia Indoors.