The Content Of The Article:
An awning as a sunshade on the conservatory is quite a expensive affair. Cheaper, however, is a canopy. And not only that. It has even more benefits.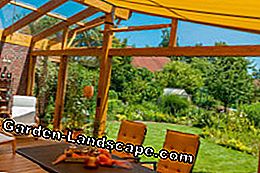 Anyone who is allowed to call a conservatory their own, has it really good. After all, not only can the sunshine be enjoyed in summer here. Even in the cold season is a conservatory something fine, as you can enjoy the snowy landscape in comforting warmth. The only problem is that it can get really hot in summer in such a conservatory. Here you have to think about a sunscreen in time. And not just on the sides. Even the roof of the conservatory needs a sunscreen.
The classic is the awning for this problem solution. It is available in many different versions. But they all have one thing in common: they can be operated at the push of a button. The only problem is that this luxury costs a lot of money. And not only that is a problem. Awnings are usually installed outdoors, so over the winter garden. Accordingly, they are so quickly dirty. This is annoying, because they are not really clean. So you have to hope that the rain cleans the awning. On the other hand, you will not have all these problems if you opt for a canopy in the conservatory.
Canopies have many advantages
Canopies are fixed from the inside in the conservatory and have many advantages over awnings. Not only do they provide shade and coolness in summer, they also insulate the room in winter. They are also:
➜ easy to assemble:
First, a canopy is attached from the inside. That makes the whole thing a lot easier. And second, the structure is not as complex as an awning. Canopies are finally fastened only over stainless steel wires (as seen on markilux.com).
Cheap:
As they are much easier to assemble, canopies are also cheaper. So they are also a cheaper alternative to awnings.
➜ easy to clean:
If the sunscreen is dirty, you can just bring it down and wash it. Then let it dry briefly and you can hang it up again.
➜ decorative:
Anyone who has ever sat under a canopy while on holiday knows what kind of effect the fabrics have on you. They just invite you to dream. A canopy ensures a pleasantly light atmosphere. And best of all, you can also replace the fabrics.
➜ flame retardant:
Anyone who thinks it is dangerous to furnish the ceiling of the winter garden with fabrics is wrong. Even if you serve some flambé at the table in the conservatory, you do not have to worry. Canopies are made of special materials that are flame retardant according to DIN 4102 B1 (more details at rockwool.de).
➜ easy to use:
Even in case of power failure, you can use this sunscreen. Canopies are finally operated via a hand cord. Just as you like it. of blinds.
The best: If it is windy outside, the wind guard of an expensive outer awning enters the sunscreen. In the case of a canopy, on the other hand, the sunscreen will be retained in wind and weather.
Conclusion:
A canopy really has many advantages. And that too over an expensive awning. So if you're not just looking for a cheaper option, but looking for a more practical one, then a canopy is just the thing for you. You can also retrofit a canopy. You do not even have to be skilled in craftsmanship. The assembly is actually very easy and quickly done.
Video Board: Golden-Winged Warbler Ecology and Guidelines for Creating Breeding Habitat.