The Content Of The Article: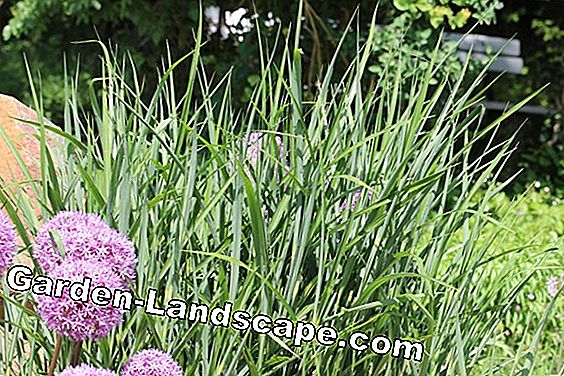 Giant Miscanthus (Miscanthus Giganteus) to German "large stem flower grass" belongs to the family of Süßgräser. As the name suggests, this perennial plant is characterized by a rapid growth of up to 5 cm per day. It reaches an amazing height of up to four meters in a short time. This makes the plant one of the largest of its kind.
In the meantime, giant macrofilm is also being used increasingly as an energy plant because of its rapid growth.
Appearance of the Miscanthus Giganteus
This ornamental grass grows dense and tall, impressed by a light and transparent appearance and is extremely robust. So it can be used as a natural screen in open borders or gravel beds. In growth, it shows light green with white midrib and in autumn, the leaves take on a golden yellow color. The winter gives the grass with hoarfrost a fairytale, graceful appearance.
Location for giant miscanthus
Sunny to partially shaded places are particularly suitable for miscanthus. The plant likes moist, humus rich loamy soils, which do not tend to waterlogging and are little sandy.
Location as sunny as possible.
slight shade is well tolerated.
a lot of shade produces weak growth and little flowering.
moist, deep soil without waterlogging.
Tips for planting
Sowing should be done at 20° C soil temperature, the soil must be kept moist. If the plant forms leaves after a germination period of at least three weeks, it can be planted out in May. Even young plants prefer this outdoor planting season. The planting distance should not be less than one meter. The grass forms rhizomes, ie long horizontal roots that form new seedlings with distance from the mother plant. On a Rhizomsperre can be omitted, since the roots are not wildly proliferating.
nutritious and humic soil
Enriching the soil with compost increases the moisture content
ideal are damp, but slightly permeable soils
the drainage should be as permeable as possible
Damming wetness damages the plant
unfavorable is compacted soil structure
keep at least one meter of planting distance
Miscanthus can be combined well with Phlox, Sonnenbraut or Torch lilies
Regular weeding is mandatory for new planting
Rhizome barriers against miscanthus are only needed for adjacent, care-intensive green areas
Care of the giant miscanthus
Miscanthus is easy to clean. For planting it should be watered for three months daily. After that, this is only necessary in drought. Fertilization can be dispensed with confidently, the plant grows completely without artificial nutrients. Young plants need at least two summers until they flower. Flowering time is September after warm summer months. The grass is hardy and resistant to frost and cold. A pruning to about 10 cm should happen in the spring, when the days are warmer again. The dry, above-ground leaves thus ensure sufficient winter protection. In addition, so the nutrients migrate back into the roots, which ensures a vigorous budding in the spring.
freshly planted reeds, young plant plenty and sufficient watering
Soil should always be moist
Fertilization is only necessary for nutrient-poor soils
Young plants should not be fertilized
Pruning in spring 10 cm above ground level - pruning in autumn leads to rotting
is sufficiently hardy
To protect against wind and snow load bind leaves and stems together in winter
Propagation of the giant reed
An increase in the spring offers after the pruning by division of the clumps by means of spades. Dig up the split grass and re-plant it elsewhere to quickly plant new roots. A self-sowing succeeds only in radiation-rich locations in the fall.
March, April by division of the rhizomes
September by self-sowing after sunny summer
Avoid care mistakes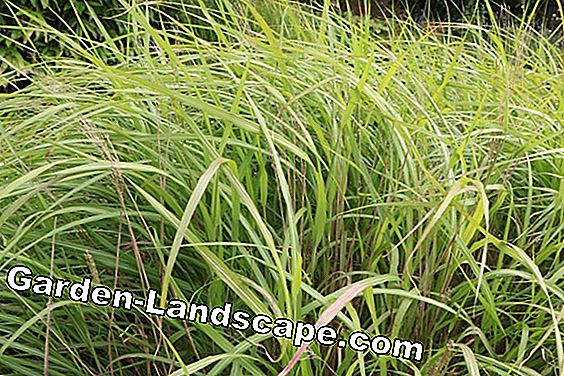 Weed is poison for miscanthus in the year of planting. Pluck weeds regularly to ensure the best planting possible. You should pay attention to a sufficient declaration of the plant to get specific information on the variety of the China grass. Also important: Always pay attention to the space requirements of the perennial, so that it can spread well according to their nature. A maximum of four plants per square meter with a half-meter distance between them is a golden rule.
Flowering: beige or strong reddish-brown, feathery, large flower spikes, usually appear only in very warm summers
Flowering period: September to November
Leaf: arched overhanging, yellow, light brown autumn color, broadleaf-leaved
Growth: vigorous upright growth, forming Horst
Growth size: up to 4 meters high, up to 2 meters wide
Location: sunny, partially shaded
Soil: loamy-humic, fresh, loose soil in which the plant can spread well
Special feature: fast, strong growth after every pruning
Hardiness: very hardy and cold-resistant
Use: Visual protection plant, specimen plant, windbreak, hedge plant, border of ponds, as a container plant in dry gardens, Leitstaude in mixed planting
Space required: 1-3 pieces per square meter, row planting; 2-4 pieces per running meter
Life expectancy: at least 20 years with low care costs
Worth knowing about the giant miscanthus shortly
Giant China grass acts as a summer green solitary plant as well as in the series as a sight and wind protection extremely decorative. It grows fast and upright, has an impressive reed-like foliage and is really easy to clean and resistant. In combination with evergreen perennials and shrubs, it is the ideal designer of ponds and ponds, enriching every garden with its graceful and accentuated growth. As a dry plant, it can serve as an insect hotel for wild bees as well as being bound to mats as wind and sunscreen. Even as a container plant, it cuts a fine figure on a balcony or terrace. As the years go by, miscanthus becomes more and more expressive in color and structure of the leaves and flowers.
Use of giant miscanthus
The miscanthus has many uses:
It is suitable for close planting as excellent privacy.
Smaller varieties are often used as background or marginal planting of woody and perennial borders.
Even an agricultural use as pulp for the paper, pot and plate production is possible.
There are many different varieties. So they differ considerably in size. While that M.in 'Yakushima Dwarf' only 100 cm high, reached M. floridulus up to 300 cm. Even with the leaf shape is something for almost all tastes. So there are varieties with white-colored leaves ("Variegatus"), with yellowish-striped leaves ("Zebrinus"), which with a silver groove ("silver feather"), but also reddish-colored leaves ("Dronning Ingrid"). The ears bloom in silvery-white, brownish or reddish color. But there are also some varieties that do not bloom with us, such. the giant reed or the Eulalia grass.
By the way, the benefit of the Chinese Miscrean is not limited to its decorative function in your garden. He also gives you some material for the floral decoration in the house: You can trim and use its inflorescences such as cut flowers, and the reed itself holds in the vase quite well and can be used as the basis for many magical floristic art. The remains of your miscanthus, which the cut provides in the spring, result in chopped up then still an excellent peat substitute, which gives the potting soil of your houseplants the necessary permeability. If you have a large number of specimens of this beautiful reed plant in the garden, it is probably worth considering whether the chaff of your variety, such as those of the Miscanthus giganteus, can be used for mulching or as a litter for various pets.
What to pay attention to when growing and caring for the miscanthus
The easy-care miscanthus could get into trouble if a soil is very compacted, you should schedule a season with green manure before.
As already mentioned, the miscanthus, which originates from swamps and wet meadows, prefers slightly moist soils, especially the plants that have just been re-planted, so in case of doubt they need to be irrigated.
The young plants are at first sensitive to competition, weeds should therefore be carefully controlled.
If the Miscanthus really feels good, it can also have its drawbacks: after a few years, it forms extensively rhizomes, which produce all around new plants.
This can be quite critical, if the Miscanthus is to stay in its place permanently, you should consider giving it in a mortar bucket in the ground right away.
If a miscanthus spreads out in the wrong place, you can usually stop it, if you cut off continuously in the ground, then there is no power left for rhizome formation.
Video Board: how to propagate Giant reed grass.