The Content Of The Article:
The poison of Wandelröschens can immediately after ingestion or after contact begin to develop its harmful effects. The person concerned initially does not notice. It takes time for the first symptoms to be noticeable. 2.5 to 5 hours may be the delay time, so-called latency, in a lobster poisoning. Its poison is also phototoxic and unfolds its full effect under the influence of sun rays.
Danger: The long latency could lead one to believe that everything is not so bad. Better play it safe and take appropriate measures immediately.
First measures for poisoning people
In particular, when young children eat the poisonous berries of the Wandelröschens, the situation can quickly develop life-threatening. Immediate action is life-saving, every single minute can be decisive. If possible, the child should not be left unattended.

1. Do not wait to see if and until there are symptoms!

2. Remove any remaining berries and plants that may still be in the child's mouth.

3. Give the child plenty to drink. The most suitable is normal water.

4. Never give the child milk. The milk could possibly favor the intake of poison.

5. For external symptoms such as skin irritation, the affected skin should be rinsed well with water.

6. Drive the child on the direct route to the hospital.

7. Or call the ambulance.

8. Do not wait to see if the situation improves!

9. If the child has already vomited, take some with you. In the hospital, examinations could provide valuable information.

Note: The poison emergency can advise you and give you important information. Nevertheless, it is only a consultation and no concrete help. Therefore, do not waste your valuable time when it comes to poisoning that is so severe that it can cause change in beauty.
What can someone else do?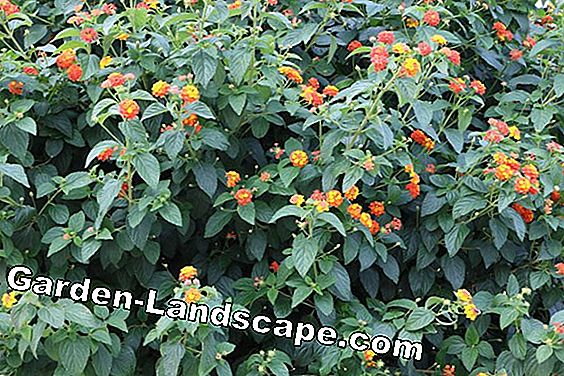 Also in animals immediate reaction is necessary, to serious damage
to avoid and, above all, to save their lives.

1. Do not wait until first symptoms appear.

2. Initiate the first steps as soon as you become aware of the consumption.

3. Do not classify individual symptoms as harmless.

4. Also, do not wait to see if the situation improves.

5. Remove remains of leaves or berries from the mouth of the animal. Use gloves or put a bag over your hand.

6. Drive the animal to the vet immediately.

7. Bring other animals out of the "danger zone"

8. Look for a solution for the future of the poisonous plant.
Destroy the "guilty" Lantana?
Anyone who had to suffer from the poison of this beautiful plant himself or one of his loved ones can hardly enjoy it anymore. Understandable, if the lantana is disposed of rigorously under these circumstances. Especially with children, you are never sure if it does not come to a repetition.
But what about other plants? Hardly anyone is aware of how many plants are toxic to humans and animals. And you can not really look at the toxicity of most plants. Anyone who has children and pets, should deal with it now and then act. So either say goodbye to the plants on a permanent basis, especially the highly toxic, or thoroughly educate and take precautions.

Poison control centers
Berlin
0 30-19 24 0
Gift emergency call of the Charite / poison emergency call Berlin
giftnotruf.charite.de
Bonn
02 28-19 24 0
Information center against poisoning North Rhine-Westphalia / Giftzentrale Bonn
Center for Pediatrics University Hospital Bonn
gizbonn.de
Erfurt
03 61-73 07 30
Joint Poison Information Center (GGIZ Erfurt) of Mecklenburg-Vorpommern, Saxony, Saxony-Anhalt and Thuringia in Erfurt
ggiz-erfurt.de
Freiburg
07 61-19 24 0
Poisoning Information Center Freiburg (VIZ)
university hospital Freiburg
giftberatung.de
Göttingen
05 51-19 24 0
Poison Information Center North of the federal states Bremen, Hamburg, Lower Saxony and Schleswig-Holstein (GIZ-Nord)
giz-nord.de
Homburg / Saar
0 68 41-19 240
Information and Treatment Center for Poisoning,
University Hospital of the Saarland and Medical Faculty of the University of the Saarland
uniklinikum-saarland.de/giftzentrale
Mainz
0 61 31-19 240
Poison Information Center (GIZ) of Rhineland-Palatinate and Hesse
Clinical Toxicology, University Medical Center Mainz
giftinfo.uni-mainz.de
Munich
0 89-19 24 0
Giftnotruf München - Department of Clinical Toxicology Klinikum rechts der Isar - Technische Universität München
toxinfo.med.tum.de
Poison Information Centers Austria and Switzerland
Vienna, Austria
+43-1-4 06 43 43
Poison Information Center (VIZ) - Health Austria GmbH
goeg.at/Vergiftungsinformation
Zurich, Switzerland
145 (throughout Switzerland)
+ 41-44-251 51 51 (from abroad)
Swiss Toxicological Information Center
toxi.ch
Video Board: Is Lantana Plant Poisonous?.