The Content Of The Article: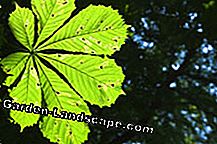 A chestnut tree in the garden is a beautiful ornament. But what if chestnut minnows have taken root? Find out here how to combat chestnut minnows.

Do the leaves of your chestnut look eroded?
The chestnut has wonderful white to pink flowers and of course very beautiful leaves. But the best is the fruit that every child likes to pick in the fall. When the big leaves change color, chestnuts look perfect in every garden. But beware: If the leaves look premature withered or eroded, then a pest is called, which is called Kastanienminiermotte.
Remove foliage thoroughly
The moth nests directly on the leaves and lays the eggs there. The larvae hatch and feed on the leaves. These injuries make the leaves susceptible to fungal diseases and die prematurely. Winter is overwhelmed by the way in fallen leaves. Therefore, this should be thoroughly removed and thrown away, so not on the compost. There is no other provision, as there are no authorized plant protection products. Anyone who removes the foliage thoroughly, ensures that the chance that the chestnut will re-invade next year, is very small.
Small pests - big damage
The chestnuts miner moth has been spreading in Central Europe for almost twenty years. Although the body of the chestnuts miner moth measures only five millimeters, but this small pest can cause great damage. On average, females lay about 20 to 30 eggs on the leaf top. In case of heavy infestation, it can happen that there are 100 eggs on one leaf.
Video Board: Pygmy Leafminer at Work at The Caterpillar Lab.