The Content Of The Article:
From Chia seeds can be really conjure up the most delicious dishes. Among other things, you can also make bread from it. For example, no-carb chia bread or sesame chia bread.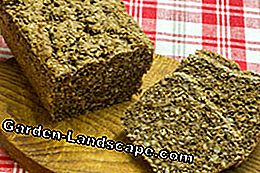 Germany is considered the country with the world's most breads. The bakeries nowadays offer breads for every taste. But due to the change in the bakery trade from small, independent bakeries to large bakeries that process industrial doughs with many additives, bread has often lost much of its quality. In addition, more and more people are allergic to supplements or even tolerate no gluten. Accordingly, it is currently booming breads to bake themselves.

But if you want to bake not only a tasty, but above all, healthy bread yourself, should try out chia seeds. The seeds from South America are full of valuable nutrients and are a good alternative to traditional bread ingredients such as flaxseed or sunflower seeds. In addition, the chia seeds are true slimming products. If you would like to bake Chia bread yourself, we have put together three delicious recipes for baking here.
Recipe No. 1 - Chia-grain bread with wholemeal flour
Ingredients:
350 g each of rye and wholemeal spelled flour
either 1 packet of dry yeast or 1/2 cube of fresh yeast
20 g of dry sourdough or about 4 spoonfuls of fresh sourdough
2 - 3 tablespoons chia seeds
3 tablespoons each of additional grains as desired, e.g. Linseed, sesame, etc.
about 500 ml lukewarm water
1 tbsp salt
Preparation:
Mix the two types of flour, then add all other ingredients except the water. Then pour in the water little by little and work it in with the dough hooks of the mixer. The dough must not be too sticky and soft, so you do not have to add all the water if it would otherwise stick too much. Then put the dough in a greased tin box and let it rest for about 2 hours at room temperature or in a warm place, or just until it has gone well and is about twice as high as before.
Then bake the dough at 180° C circulating air for about 1 hour. The bread is ready when sticking with a chop sticks no more dough and it sounds hollow after falling when you knock on it.
Recipe # 2 - No-Carb Chia Bread (excluding Cereals)
Ingredients:
200 g almond flour
4 chia eggs (you need 4 tablespoons chia seeds)
1 tsp salt
2 teaspoons of soda
80 g of liquid coconut fat
Preparation:
To make the chia eggs, whip up 4 tablespoons of chia seeds and 16 tablespoons of water with a blender and place in the refrigerator for half an hour, stirring every 10 minutes. Then add salt, soda and the coconut oil to the chia egg mass and whip. Add almond flour and stir well for a minute with the blender until the mixture has bonded well and flows tenaciously from a spoon. Then pour the mixture into a buttered box or casserole dish and bake in a preheated oven at 200° C for about 75 minutes. Then do not be surprised: this bread looks a bit different from a "normal" bread.
A little hint:
You can also add pumpkin seeds, cranberries or raisins. Then the bread tastes a little sweeter.
Recipe No. 3 - Sesame Chia Bread
Ingredients:
350 g of flour (either whole wheat or wheat flour)
1 packet of dry yeast
4 teaspoons sesame seeds
1 tbsp salt
3 teaspoons of chia seeds
400 ml of lukewarm water
1 level sesame oil
1 level of olive oil
Preparation:
Put flour, yeast and warm water in a bowl, cover and let rest for 10 minutes. Then add both types of oil and the salt, mix everything together and knead - either by hand for about 10 minutes or about 5 minutes with the dough hook of the mixer. Then form the dough into a ball, cover the bowl and let it rise for 30 minutes in a warm place. After this time knead the dough again briefly and let it go for another 30 minutes. Then work in the chia and sesame seeds.
Grease a loaf of bread or a box and divide the dough into two rectangular pieces, then place them side by side in the mold and let them rest for another 20 minutes. In the meantime, pre-heat the oven to 220° C upper-lower heat and place a heat-resistant bowl with water. Bake the bread for about 20 minutes at 220° C, then down to 180° C and bake for another 15 minutes. The baking time can vary, because each oven heats differently, so it is best to always check and, if necessary, lower the temperature if the bread becomes too dark.
A little hint:
Whole-wheat flour is usually used when baking chia bread. However, if you want to completely forego grain, you can also work with almond flour.
Video Board: Chia Seed 101 + 3 Ways To Use Chia Seeds.