The Content Of The Article:
Chia seeds are really versatile. Among other things, jam can be made from fruits and chia seeds. And all without gelling sugar!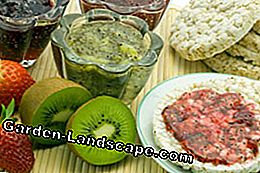 More and more people are looking for a healthy and balanced diet. Accordingly, cooking and bake are now very much in vogue, especially with organic ingredients and traditional foods.
A foodstuff from nature, e.g. The seeds of the chia plant are used for millennia by the people of South America. The chia seeds are full of nutrients and give healthy energy. They are also true power food and versatile. So you can make it out of e.g. Making chia pudding or chia biscuits. Thanks to their gelatinous consistency, you can also use the seeds to make jam with some other ingredients. The good: You can safely do without the use of gelling sugar. So great for those who want to lose a little but still do not want to miss the enjoyment of jam.
Ingredients:
Chia jam can be made very quickly and easily and is thus also suitable for anyone who does not dare to cook otherwise. For one or two glasses of chia jam you need:
250 g fruits of your choice (for example strawberries, raspberries, soft peaches)
3 - 4 tablespoons chia seeds
1 - 2 tablespoons honey, stevia or agave syrup
possibly vanilla, cinnamon or lemon juice
Preparation:
Puree or crush the fruits. Use frozen fruit, then let it boil briefly. Then allow to cool again. Then add the seeds and the sweetener and mix everything carefully so that no lumps form. If you like, you can now taste the whole thing with vanilla, cinnamon or lemon juice.
Put the jam in an absolutely clean glass, close well and put in the refrigerator for a few hours, preferably overnight. Important: When filling, make sure that you do not make the glass too full, because the mass expands later.
The jam is now two to three days. Boil the fruits, then for up to four days.
Video Board: EASY Low Carb Blueberry Jam! | No Sugar added | Keto | No artificial ingredients.