The Content Of The Article: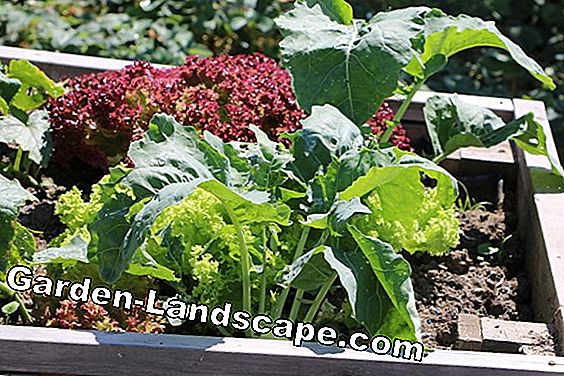 There are many reasons for the purchase or construction of a raised bed, be it for reasons of space, unfavorable soil conditions, the sensible use of garden waste or for back-friendly reasons. Another advantage of this form of vegetable farming is the significantly faster heating of the soil, so that can be planted and harvested earlier. In order to be fair to all and to achieve optimal yields, there is a lot to consider when building a raised bed. The film has a very special significance.
Foil for the longevity of raised beds
A raised bed should always be placed in north-south orientation, so the sunlight can be optimally utilized. The prerequisite for the best possible prosperity is the climate in the raised bed, which ideally is always slightly damp. It should not be able to escape too much moisture or even dry out the earth. Just this moisture can damage the respective sheathing with improper construction and make the construction faster than expected. To counter this, raised beds, especially those made of wood are lined with foil, because wood that is permanently moist will not last long.
Which foil should it be?
Film that you would like to use for lining such beds, should be resilient and robust, dense and tear-resistant and what is particularly important to be ecologically safe. It is designed not only to protect the wood from moisture and fungal attack, but also to protect the soil from the wood, as the wood has often been treated or impregnated with protective glazes. Substances from these glazes could get into the soil and thus into the vegetables. But even foil is not completely harmless in every case. Most commonly used for the construction of raised beds films from PVC, EPDM films (rubber films) and dimpled film.
Pond liner made of PVC
Pond foils are originally designed to trap large amounts of water, which is why they should be tear-resistant, flexible and resistant, and UV-stable. PVC films are generally not as strong as, for example, EPDM films. They age relatively quickly, lose their flexibility and the contained plasticizers can escape. This in turn means that the film is porous and therefore also leaking.
Sheets for raised beds should not only be stable but, above all, suitable for plants and harmless to health. Right here lies the largest mango of PVC films. The high flexibility of these films is due to the plasticizers contained. As everyone knows by now, plasticisers are harmful to humans and animals, and unfortunately, no one can tell to what extent these plasticisers pollute both the soil and the crop. However, one must also mention that hardly any film is completely free of any pollutants.
EPDM film (rubber film)
The so-called EPDM film is a bio-certified pond liner without any fumes. Compared to a PVC film but this has other advantages in terms of raised beds.
advantages

Very high tear strength and elasticity and elasticity of up to 300%
High flexibility, even at temperatures of up to - 40 degrees
Can be processed well in any season
It is durable, UV stable and ozone resistant
Compatible with plants and microorganisms, environmentally neutral
Tip: The biggest disadvantage is the contained plasticizers. In addition, these films are slightly more difficult to lay, but this is not significant in the usually small area of ​​a raised bed.
Noppenfolie
Another film used for raised beds is commercially available bubble wrap. As the name suggests, this film has many small pimples on one side while the other is smooth. The page with the pimples should always point to the wood, only so it can ensure an optimal ventilation of the wood. But that's not the only advantage compared to other slides.

Bubble wrap prevents the direct contact of wood and earth
Protects optimally against rotting and fungal attack
Water can drain down between the pimples
Is resistant to aging and chemicals
It is pressure, tear, impact, wear and root resistant
Is drinking water neutral and can be laid in any weather
Usually contains no plasticizers
Tip: An alternative to the films mentioned is a raised bed fleece made of translucent (partially translucent) PET. It is individually cut, protects against pests and separates the soil from the wood or the respective border.
Raised beds, which also do without foil
Commercially available raised beds can consist not only of wood but also of aluminum, plastic or stainless steel (corroded steel sheet). While film is indispensable for raised beds made of wood, these materials are also without, although in aluminum and plastic, the use of a film may be advisable anyway.High-quality raised beds made of aluminum are corrosion-resistant, heat-insulating, heat-storing and maintenance-free. Plastic is relatively weather-resistant, easy to set up, but quickly becomes stained and soft due to the lack of UV protection. Often, these plastics also contain plasticizers.
You can do without foil on high beds made of stainless steel, also known as Corten steel, a corroded steel plate with rust patina. However, these raised beds lose their material strength over the years. With a rust through time of 15-20 years, the life of these structures is still significantly higher than that of wood.
Conclusion
Raised beds are basically a good thing. This makes it possible to achieve optimal yields in the smallest area. It can be harvested both earlier and longer, and the pest and weed problems are limited. However, moisture can cause great damage if there is insufficient protection, especially in raised beds made of wood. Film offers good protection. A consistent waiver can significantly shorten the life of wood in particular. However, for the sake of your own health, you should pay attention to environmentally friendly films.
Video Board: Vegetable Garden Design - Choosing the Right Layout for Your Garden.