The Content Of The Article:
Top articles about Christmas decorations
ideas
Creative tip: cookie cutter as feed dispenser for birds
Indoor
How to bring your poinsettia back to life
Decoration
Straw stars: Tinker nostalgic Christmas decorations yourself
Christmas colors
Exotic Christmas decoration in green, gold and silver
In addition to the classic Christmas colors red and gold, there are now a variety of new colors that are used for the Christmas decorations. Warm tones of copper and earth, elegant silver or snow-white, as well as natural green and (completely new) blue enrich the festive color palette. Extravagant night blue and turquoise can be found on more and more decorative elements and Christmas tree balls again and set fresh accents in the dark season. Friends of delicate pastel shades, but also of deep violet and black colors can now fully live out during the Christmas season. Muted, but noble and high quality is the motto here.
Christmas decoration made of natural materials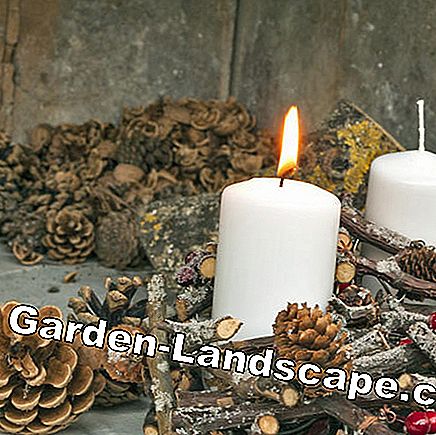 From natural materials you can conjure up beautiful Christmas decorations
Whether classic or not: Christmas decoration never comes off completely without natural materials. In bouquets, arrangements or on wreaths can be found every year, mostly in dried form, lotus flask, tube tops, wild lilies or the fruit stands of the sweetgum. And even the wreaths and arrangements itself consist of the usual evergreen branches and are often cut directly in your own garden. Fir trees, spruces, pines or the pretty branches of holly or mistletoe with berries are hardly missing in a home.
Animal Christmas Decoration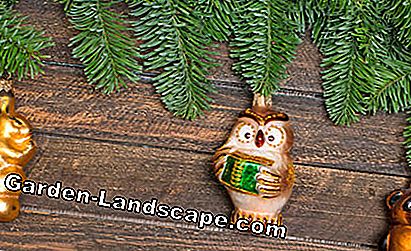 Animals are just part of the Christmas decorations
Even if the focus changes over the years, animal motifs from the Christmas decoration are simply indispensable. Delicate deer, deer, reindeer (with or without red nose) as well as the classic ox and donkey team from the Christmas story have always existed. What's new is that you can also purchase current animal trends in a festive form. Whether dogs, cats or birds, such as owls, which have been very popular for a few years, the range has expanded considerably. Exotic flamingos or sloths are as much a part of Christmas as mythical creatures. Unicorns and fairies must not be missing during the Christmas season and decorate balls, candles and tablecloths.
tree decorations
Christmas baubles in blue are the new trend
Of course, also Christmas tree balls are subject to trends and are no longer available only in the colors red, gold or glass and provided with the classic Christmas motifs. Currently, there are many unusual glass balls, in which branches, beads, tiny Christmas trees or Christmas figures such as angels or Santa Claus are incorporated. Even balls with unusual, for example, furry, roughened or sandy surfaces look good on the tree. Paint finishes and colors in a variety of shades complete the offer. LED balls provide additional lighting in addition to candles or fairy lights.
Pendants, figures, straw stars and Co. are available in many different colors and shapes. Whether classical or modern, nostalgic or in the Star Wars look, playful or crazy: As for the tree jewelry, you can let your imagination run wild!
Classic Christmas decoration
Nostalgic children's toys are an integral part of classic Christmas decorations
Christmas decorations in the classic style are predominantly in the colors red and gold, which harmonize beautifully with the rich green of fir branches and Co. Many elements are made of natural materials or taken directly from the garden or forest. For example, straw stars, beeswax candles or pine cones adorn many classically designed wreaths, arrangements or Christmas trees. Dried orange peel, nuts, cloves, star anise and cinnamon sticks can also be used to create very stylish Christmas arrangements. The tree decorations and the Christmas tree balls usually show nostalgic motifs such as angels, St. Nicholas or borrowed from the biblical Christmas story. Often you also set up a crib. Also very popular: toys from yesteryear.
French country house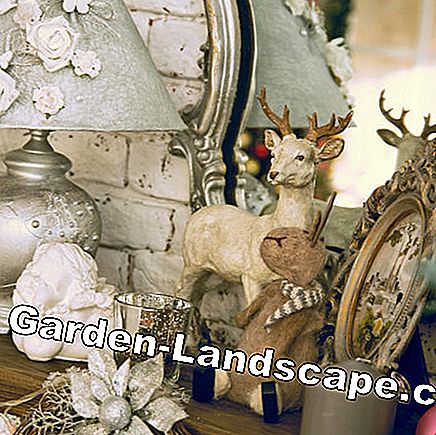 Past splendor and quiet nostalgia speak out of this Christmas deco-trend
A new trend in Christmas decoration is deco à la French country house. Light white and gray tones predominate, giving your home a fragile and delicate finish. The whole thing is combined with sober silver, which underlines the clear aesthetic of this form of Christmas decoration. Nostalgia and shabby chic play an important role here as well, since there is a hint of the past and the luxury of the past. Tables and cabinets are filigree work of wire, glass or metal such as stars, medallions and fine wreaths. For the Festtagstafel there are carafes, cut glasses and a perfectly matched to the decoration service.
Scandinavian Christmas decoration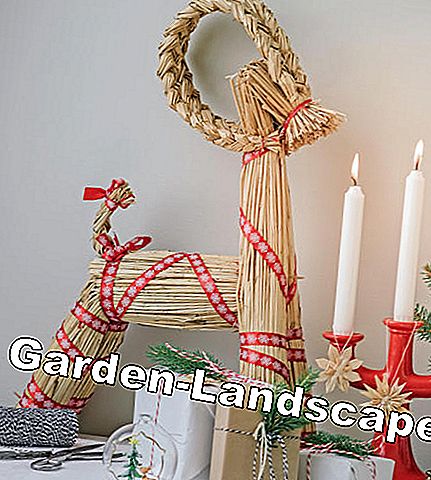 The Christmas buck symbolizes the Christmas season in Scandinavia
"Hygge" and "hyggelig" of course do not stop before Christmas. Christmas decoration in the Scandinavian style is above all natural and purist. Clear shapes meet natural materials such as wood, jute, felt or linen. The color red dominates the arrangements and harmonizes very well with the prevailing natural tones. With great love selected unique items provide a subtle and not too overloaded Christmas spirit. The tree forms the center of the festival. He too is lovingly decorated and stylishly designed. The motifs are allowed to be childlike or traditional. Scandinavian Christmas decorations often include gnomes, reindeer or, most importantly, the Christmas buck. The Julbock (Sweden), Julebokk (Norway) and Joulupukki (Finland), just to name a few, is the symbol of Christmas time throughout Scandinavia. Mostly it is made of straw.
Christmas in the mountains
Cozy Christmas atmosphere at the warm fire
Rustic cosiness and cottage magic: This Dekotrend realizes the dream of a Christmas high up in the mountains. Lots of wood and more muted colors, with coarse, solid materials, also in check patterns or with Christmas embroidery. The table is covered with heavy crockery and stoneware, arts and crafts and home made natural materials decorate the room. And in the open fireplace a warming fire patters. Whether in the city or in the countryside, with this Christmas decoration you get the rustic mountains into your home!
Oriental Christmas decoration
Lanterns with floral ornaments are typical of oriental Christmas decorations
Oriental Christmas decoration is very opulent and ostentatious. Heavy fabrics such as brocade, lush flower patterns, cut crystal and magnificent, hammered plates and plates in copper and gold colors are essential. Anyone who is interested in the world of "One Thousand and One Nights" can fully live up to this trend. The color palette is dark and ranges from purple to violet to deep black, interspersed with elaborate patterns in gold tones.
English Christmas decoration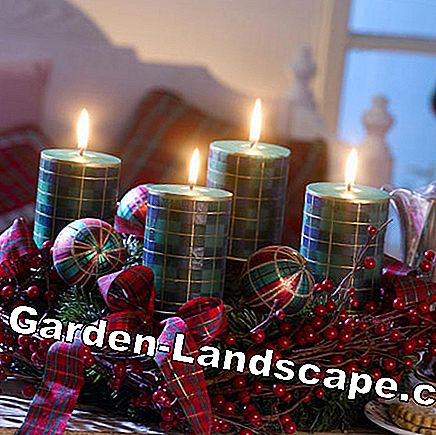 How about an Advent wreath in plaid?
Very British! This is the best way to describe Christmas decorations in the English style. A lot of red, lots of checks and in any case typical English motifs - like the national flag itself. Red telephone boxes, the Big Ben or balls with the face of the Queen or the entire royal family belong here for Christmas. The colors are primarily very strong and also black or metallic gray can be found in the design elements. In addition to the obligatory fir green also plays the "holly" - the holly - a major role. Your berry-studded branches should not be missed in a traditional British Christmas decoration!
American Christmas decoration
An American-style Christmas tree is simply a stunning sight!
American Christmas decorations have found their followers worldwide and let the child emerge in us. Long live the kitsch! At Christmas, a glittering, flashing wizarding world will be created, teeming with chubby angels, merry Santa Clauses and industrious gnomes. Reindeers and Santa's sleighs, mountains of gifts, stars and sweets (inevitable: the red and white striped candy canes!) And above all a touch of artificial snow - that's the way it should be. Christmas trees are often available in the plastic version and the craziest colors. The tree decoration itself is also very striking to shrill and set with sequins, rhinestones or rhinestones. The motives are partly native American and show the national colors as well as multi-level burgers or golden fries.
Vintage Christmas
Christmas is reminiscent of bygone times - this is also noticeable in the decoration
Christmas is always a time of contemplation and retreat. One remembers his childhood and past happy holidays in the circle of the family. Therefore, it is not surprising that vintage and nostalgia play such an important role in the Christmas decorations. Traditional motifs and classic elements convey old values ​​and give security and security. Chubby angel faces, Saint Nicholas in the austere bishop's robes, and dapper children in a holiday suit are just as likely to be here as delicately glittering tree ornaments in the form of old-fashioned balls, Christmas tree spikes or jellyfish angels. In any case, a "vintage" Christmas decor also includes a "real" Christmas tree made of spruce, pine or Nordmann fir. Lace doilies and filigree handicrafts adorn the tree as well as tablecloths and pillows.
Modern Christmas decoration
Christmas trees can be designed in many ways
Modern Christmas decoration is on the whole rather sober. Clear colors such as white dominate and, if natural materials are used at all, they are individually staged and, for example, artfully draped in a vase or a glass. Acorns, nuts, cones and Co. are made of porcelain, silver or similar work and look so much nobler.Anyway, modern decoration is above all one thing: handpicked and selected with love. The classic Christmas tree is replaced by creative alternatives. The typical tree outline is often reproduced from special paper, plastic, a simple wooden frame or with fairy lights. Current deco materials such as table cloth are also used during the Christmas season and can be converted into discreet advent calendars or place cards. To give the whole a personal touch, the deco concept is broken with holiday souvenirs, characters from the fairy tale, comic or manga world, home-made or witty or thoughtful sayings.
Video Board: Mariah Carey - All I Want For Christmas Is You.