The Content Of The Article:
At Christmas, many decorate not only their house, but also the garden. Here are 3 tips on which Christmas decorations in the garden looks especially nice.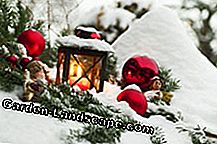 Every year at Christmas time, numerous gardens, terraces and balconies enlighten in many places with atmospheric drapery. For many, various decorative items embellish the entrance area, the windows, etc., in order to welcome home the heavenly Advent season. Here are our tips on how you can get this Christmas flair in the garden.
Tip 1 - Fairy lights and illuminated figures
"Outdoor fairy lights / light tubes
Outdoor fairy lights can be mounted not only on trees, but also on balcony railings and fence borders, on windows and on bed frames. It is always important that you always protect the associated electrical connectors weatherproof.
The light tubes, which are available in bright colors today, are very atmospheric and can even be mounted on the gable.

"Decorative lighting figures
In addition, especially at Christmas time and decorative lighting figures are offered with different designs, such. a Santa Claus for the window or a free-standing reindeer as a lighting fixture.
Tip 2 - Christmas tree
"Christmas tree in the pot
Anyone who ever wanted to plant a noble Nordmann fir in the garden should use Christmas as an opportunity! In the specialized trade, you can buy a Christmas tree in the pot, which you can easily plant in the garden after the Christmas days (next spring).
When buying, you should pay particular attention to the associated root ball of the pot tree, because this bale should be as compact as possible and not loose.
Of course, you must also take into account that the pot tree indoors (usually at elevated room temperatures) must be watered regularly - avoid waterlogging in the Christmas tree stand, however! The situation is different when you set up the potted tree outdoors. Because there the tree needs very rarely a little irrigation water - e.g. if you place it permanently under a canopy.
"Christmas tree / deciduous tree in the garden

Even a fir tree that has been planted for some time can serve as an annual Christmas tree. For example, you can decorate it with weatherproof light garlands. A corresponding packing note indicates such special fairy lights for outdoor use.

It is also suitable for any deciduous tree, mainly to be converted with LED string lights to the atmospheric Christmas tree.

Important:
You should always connect fairy lights in an extra external socket (also applies to extension cords). The use of a timer allows time-differentiated lighting.
Tip 3 - make decorative items yourself
You can also easily make your own deco products for the Christmas season:
"Mobile / wall decorations / window decorations
Also well suited are apples, straw tufts and hay, cinnamon sticks, dried orange slices, drilled walnuts and the like. This can be, for example, pretty mobile and wall decorations / window decorations finished. For example, thread the individual products onto fishing lines. The individual garlands may decorate you with pearls and / or loops in the gaps.
"Lanterns

Lantern articles also ensure the Christmas garden design with natural candlelight. The candlelight in the entrance area or on window sills looks very atmospheric.

"Spray cones with decorative snow
For example, collect large pine cones and pine cones, let them dry and spray the tips with decorative snow. These cones can be effectively draped in a variety of arrangements.

"Pack cardboard as gifts
You can also wrap old cartons in different sizes with colorful slides as gifts.
Video Board: Christmas Decorating | Tree decorating tips!.