The Content Of The Article:
Also this year we organize again our popular Christmas quiz. The first prize this time is a brand new lawn tractor from Wolf Garten worth 2999 euros! Here you will find all 16 main prices at a glance.
The first prize of this year's Christmas competition is a lawn tractor BluePower 92.160 H by Wolf Garten
On December 1st, our big Christmas quiz starts again. As every year, all participants can answer a quiz question about our website every day and have the chance of attractive daily rates. In addition, anyone who has participated at least once will automatically attend our main draw in mid-January and, with some luck, win one of the 16 grand prizes worth over € 11,000.
Regular participation in our daily draws is not only worthwhile because of the attractive daily prices - it increases your chance of winning in every respect: Whoever answers the quiz question every day automatically automatically takes part in the main draw with 24 lots.
Important: If you are not yet a member of our gardening community, you must first register for free on our website. This has the advantage for you that you do not have to fill in the address field for participation every day. After registration (top right of the page), the address from your profile is automatically transferred to the entry form.
Start photo gallery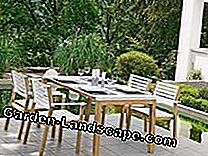 16
Show all
All main prizes at a glance (16)
1st prize: The new lawn tractor BluePower 92.160 H from Wolf Garten is equipped with a BluePower engine from Briggs & Stratton. The engine is 38 percent lower in emissions than the previous generation. The evaporation of hydrocarbons was even reduced by a petrol tank with activated carbon filter and special tank lid by 51 percent. A maintenance monitor indicates all normal maintenance work, so that an optimal service life of the drive is guaranteed. The 656-cubic-meter, two-cylinder engine delivers 16 horsepower, which is transmitted to the cutterbar and wheels via the hydrostatic transmission. The cutting width of the lawn tractor is 92 centimeters. The collecting bag holds 240 liters and has a level indicator. Value: 2.999, - EuroWon has won Martina Sander from 31084 Freden
2nd prize: Viking's MI 555 C robotic lawnmower is designed for areas up to 2,000 square meters. It has a cutting width of 53 centimeters and moves within an area that is enclosed with a special perimeter wire during installation. The robotic lawnmower sensors detect the weak magnetic field of the low voltage cable and the robotic lawnmower changes its direction. The lead-acid battery provides energy for 2.5 hours of work, then the device automatically goes to the charging station and recharges. Since the robotic lawnmower always cuts just a few millimeters, the clippings can simply remain lying on the lawn. It rots in the sward and gives back the nutrients to the grasses, so you can get by with less fertilizer. Value: 2499, - EuroWon Dieter Riemekasten from 54329 Conc
3rd Prize: The innovative and hitherto unique combination of FSC-certified teakwood and the high-quality, white plastic Kettalux-Plus characterizes the modern garden furniture series "Magnus" by Kettler. Kettalux-Plus is an extremely stable, weather-resistant and easy-care material. Thanks to a special coating, the plastic has a brilliant and easy-to-clean surface. The armchairs offer a high level of comfort thanks to the lumbar support. In 2010, the new furniture series "Magnus" received the prestigious "red dot design award". The price consists of a 160 x 95 centimeter table and four armchairs. Value: 1695, - EuroGewonnen has Gerd Fehlau from 39291 Möser
4th prize: The Silver 520 BRV Premium petrol lawn mower from Al-Ko combines all the care that lawn fans expect. Tray, mulching and lateral ejection make it a multi-talent for modern and comfortable lawn care. A powerful Briggs & Stratton engine with a comfortable ReadStart system makes it particularly easy to start. Speed-Control allows a stepless drive of the large, lawn-gentle rear wheels. Thanks to the offset construction method, cutting close to the edge is possible. Total value: 539, - Euro has won Heike V. from 74354 Besigheim
5. Price: The new Cordless Chain Saw MSA 160 C-BQ from Stihl is the ideal helper for firewood sawing, property maintenance, crafting and house building, especially when sawing in confined spaces. The low-vibration and low-recoil saw chain with high cutting quality was specially developed for compact chainsaws. The running time of the chainsaw is up to 35 minutes with the lithium ion battery pack Stihl AP 160 - that's enough for around 150 cuts in spruce square timber (10 x 10 centimeters).The QuickStop Super chain brake stops the saw chain in a matter of seconds - not only during heavy kickback or when the front hand guard is activated, but also when the rear handle is released. The fast chain tension allows comfortable tensioning of the saw chain. The winning set includes the MSA 160 C-BQ power saw, the AP 160 battery pack and the AL 300 fast charger. Total value: 639, - Euro Belinda Heinrich has won 18276 Lohmen
6th prize: The "Big Horse 5" by Sioux-Holz is a square timber play tower with a green PE wave chute. Thanks to the impregnation with Wolmanit CX, the wood is very weather-resistant. The children can climb over the side rungs on the tower and let off steam while slipping. It is in the Sioux game device to a kit for self-assembly, which is supplied with detailed installation instructions. The device is TÜV-approved for use in the private sector. Value: 434, - Euro has won Anita K. from 86666 Burgheim
7th prize: Husqvarna's 440 e-series TrioBrake chainsaw is particularly easy to maneuver and maneuver. The tool-free chain tensioner additionally facilitates operation. The X-Torq engine delivers 2.4 horsepower with low fuel consumption and low emissions. The TrioBrake system is particularly innovative: it is a chain brake system that can be triggered in three different ways. In addition to conventional operation via the front handle, the chain brake can also be activated with the right hand on the rear handle. In addition, there is an inertia mechanism that automatically decelerates the chain during abrupt, atypical movements such as kickback of the saw when making a cut. This reduces the risk of accidents, especially for occasional users. Value: 519, - EuroWon has won Silvia Rasch from 18273 Güstrow
8. Price: Black & Decker's AutoSelect package includes five devices - a hammer drill, a jig saw, a multi-sander, a battery charger and a cordless screwdriver. With these devices, DIY for the inexperienced easier and for experienced DIY enthusiasts more comfortable: The user only needs to turn the setting ring on the pictorial representation of the desired application and the respective device makes the optimal settings for yourself. This way, the best work results are always achieved. Total value: 510, - EuroWith Silvia Jürgens from 31855 Aerzen
9th Prize: Hedges, lawn edges and topiary can be processed wirelessly and comfortably with this cordless tool set by Gardena. The cordless hedge trimmer HighCut 48-Li convinces with its ergonomically optimal center of gravity distribution, stepless telescopic arm and a rotating blade unit. So the hobby gardener for the most comfortable cutting position does not have to embrace and brings even hedges up to three meters in height without ladder in shape. With the new cordless grass and shrub shears set Comfort Cut, you are perfectly equipped for all trimming and trimming work. Practical: The precision-ground knives can be exchanged easily and without tools. Total value: 320, - EuroWas won by Hanna Muliaronak from 14197 Berlin
10th prize: The "Iris" backpack sprayer from Birchmeier holds about 15 liters of tank capacity. It is designed for professionals, but also enjoys great popularity with home gardeners. This is mainly because of the robust construction and long life. The device has an external pump, which achieves over six bar pressure at high flow rates. The pump piston has an adjustable cylinder seal rubber. All connections between spray tank, pressure hose and nozzle are bolted, spare parts are available for at least ten years. The winning set includes the back sprayer Birchmeier "Iris" with the following accessories: spray tube extension, adjustable nozzle, Vario Gun with 3-6 meter spray width and switching from jet to fog, bio filter bag for sifting out herb broths, spray shield to prevent drifting (eg for herbicide application), comfort set of padded hip belt and shoulder pad (not shown). Total value: 350, - Euro has won Anja K. from 52156 Monschau
11th prize: The hedge trimmer AHS 54-20 LI from Bosch with its 36-volt lithium-ion battery is a real alternative to gasoline hedge trimmers. The 54 centimeter long sword cuts off branches up to two centimeters in diameter. With the sawing function in the front of the sword, the device even creates branches up to two and a half centimeters thick. The new hedge trimmer weighs just 3.5 kilograms, about 30 percent less than a petrol-powered model. Thus, even large hedges can be cut quickly and easily, and without tedious handling with jerrycans and odor nuisance. Value: 300, - EuroGenerated Dieter K. from 80935 Munich
14th Prize: With the new Garden Pump GP 70 Mobile Control from Kärcher, water reserves from cisterns, tanks or rain barrels can be used optimally for garden irrigation. The pump delivers 5000 liters of water per hour and with its 1600-watt motor develops enough pressure for the simultaneous operation of up to five garden sprinklers. The maximum suction height is nine meters, the maximum head is 70 meters.The supplied remote control can be used to program the pump to turn itself on and off at freely selectable times. Value: 279, - EuroWon has Anni H. from 44267 Dortmund
13th Prize: Kodak's PlayTouch Zi10 is the latest generation of award-winning compact HD video cameras with touch-screen controls. With the new integrated editing function and the Share button, it's child's play to share these memories on video portals such as youtube.de. You can connect the camera directly to the computer via the integrated USB arm and upload the videos. Other features include electronic image stabilization, LCD anti-glare, automatic face detection, an external microphone port and HDMI output. The camera records HD quality video (1920 x 1080 pixels) and can store up to 10 hours of HD quality video on a 32GB SD / SDHC memory card extension. It also shoots 5 megapixel photos. Value: 269, - EuroGen has won Sabine Bergmann from 32657 Lemgo
13th Prize: The winner of this award expects a weekend trip to Keukenhof in Lisse near Amsterdam, the largest flower bulb park in the world. The price consists of one overnight stay for two persons at the Regardz Hotel, two tickets for the park including a guided tour and a gift package with summer flower bulbs. For the arrival, the winner receives a fuel voucher of 100, - Euro and a parking ticket for the visitor parking lot. The trip will take place after agreement and availability of the hotel in the period from 24 March 2011 to 20 May 2011. Total value: 260, - Euro won by Tanja Dunkelmann from 41468 Neuss
16th prize: Honda's new electric lawn mower HRE 370 impresses with its shapely design and has a cutting width of 37 centimeters. The electric motor with its 1,300 watts also masters higher grass and the mower is relatively quiet at 88 decibels (A). The cutting height can be centrally adjusted to five levels, a carrying handle facilitates the transport of the 15 kg lightweight lawn mower. Value: 259, - EuroWon has Randolf W. from 10439 Berlin
16th prize: Cubico is the designer pillar of the Lechuza planter range - more and more architects and indoor gardeners around the world are enthusiastic about the simple elegance of the shapely rectangular containers made of high-quality plastic. The winning set consists of a Cubico 40 (40x40x75 centimeters) and CUBICO 30 (30x30x56 centimeters) including matching plant inserts with retractable handles and water level indicator. The inserts can be planted separately and then simply inserted into the planters. The plants are not included in the price. Total value: 207, - Euro has won Michael Engel from 81735 Munich
Video Board: TYTU Trivia! Answer Questions, Win Prizes! Episode #1.