The Content Of The Article:
The Clematis is one of the most beautiful climbing plants. Read here how to achieve through proper cutting, better growth and lush flowers.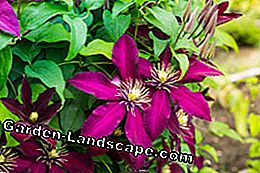 The Clematis is a fast-growing clematis, which blooms particularly lush. For this reason, the Clematis must also be cut every now and then. The flowering period of the clematis depends on the variety, generally between April and July. A proper cut is necessary so that this flower splendor always returns. There are three types: the spring, the summer and the two-flowered. And that's how it's cut.
Cut clematis spring flower
They form their buds already in autumn, so that they can be admired in bloom in spring. Here, the side shoots are shortened directly after flowering. Not too strong and preferably not cut into the old wood.
Cut Clematis summer flower
These varieties grow from below, that is, waste wood is not present here. They are therefore not cut directly after flowering, but only in the spring, before the plant starts to grow. Here about 10 cm above the ground cut off everything. But be careful: do not cut too soon, as the clematis is very sensitive to frost.
Cut Clematis twice
Here only the flowered flowers are removed. The shoots are not cut back. However, at a distance of about 4 to 5 years, you should also carry out a "radical cut" here, so that the plant can "recover". The pruning is done so far that only 30 cm of shoots remain.
Sometimes it takes over to trim such a beautiful plant radically, but if you stick to the above-mentioned cutting specifications, then you get gorgeous and especially lush flowering clematis. Try it!
Video Board: Taking Stem Cutting of Clematis.