The Content Of The Article:
Clematis, Clematis 'Miss Bateman' - Care & Cutting
Clematis 'Miss Bateman' captivates with its large, star-shaped, bright white flowers. They are 12 to 15 cm tall and may have greenish stripes. The stamens in the middle are reddish brown to lilac and very large. The variety is very rich flowering and reliable hardy. It blooms from May to June. Often there is a post-flowering at the end of August. With good care, the plant is up to 2.5 meters high. She is a spreading climber. To be able to spread, she needs a rank aid. It is particularly suitable for trellis, wall greening and the fouling of fences.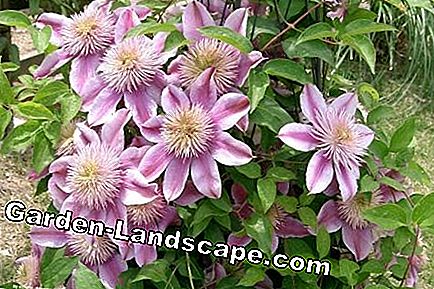 Clematis 'Josephine' Evijohill (N) - care and cutting
With the Clematis 'Josephine' the trellis is colorful in spring and late summer. Different long petals make the flowers beautiful. Inside the flower they are short, numerous and pink, like a pom pom. This delicate flower dream is easy to clean.
Clematis, Clematis 'Etoile Violette' Violet star - care tips
Clematis 'Etoile Violette' combines the advantages of the wild forms of the clematis such as vigor, health and fruit set with the colors and flower forms of the large-flowered hybrid clematis. The flowers are about 7 inches tall and from a smoky purple-blue. They have slight crimson stripes. The cream-yellow to greenish stamens are a harmonious contrast. The shape of the flower is reminiscent of a wide-open bell with pointed petals. The flower has four or six petals. The plant flowers from June to August. In autumn, the plant adorns with feathery, silver-gray fruit stalks that last a very long time.

Plants for facade greening: Clematis, Wilder Wein & Co

Climbing plants are not only beautiful to look at in the garden. They also lend a facade that certain something. A facade greening really makes sense in many ways. However, wind, location and light conditions play a key role in plant selection. Who wants to green his facade, should therefore pay attention to a lot.

Clematis, Clematis 'Montana Rubens' - care & cutting

Clematis 'Montana Rubens' is one of the best known spring-flowering clematis. It belongs to the mountain forest vines and is very strong. It reaches heights of up to 8 meters and pleases by its rich flowering. The flowers are pink and 3 to 5 cm tall. Although this is rather small, but due to the large number of flowers is similar. The clematis flowers from May to June. When a 'Montana Rubens' winds up on a house facade, that's a special eye-catcher. Also, this is an ideal place to compensate for the not so high winter hardiness...

Clematis 'Hagley Hybrid' - care tips for the clematis

Clematis 'Hagley Hybrid' may not be the most beautiful pink flowering clematis, but one of the most thankful, robust and healthy. She is fairly undemanding and barely affected by disease. Especially for beginners, this strain is very suitable. As already mentioned, the clematis flowers pink, a very bright pink. It flowers very abundantly. The flowers reach a size of 12 to 14 cm. The plant flowers in June and then again from August to September. Sometimes she also blooms...

Clematis, Clematis 'Madame Le Coultre' - care & cutting

Clematis 'Madame Le Coultre' impresses with its large white flowers. They reach a diameter of up to 18 cm and have a wavy edge. On the light green leaves, the flowers look like luminous dots. The stamens are silvery to yellow and average in size. The clematis flowers from June. If it is conveniently located, it will produce a second flower in late summer.

Clematis, Clematis 'Texensis Princess Diana' - Care & Cutting

Clematis 'Texensis Princess Diana' is named after the Princess of Wales. It is an easy-care and unproblematic plant. It has bright pink flowers, more red than pink. The petals converge on the outside in white tips. The flowers are about 8 cm tall. The shape resembles that of a bell, but standing upright, like a tulip. The clematis flowers from July to September and often into October. It is a very flowering variety, which is very well suited as a specimen plant. The flowers are even good as cut flowers, as they bloom on a long stem.
Video Board: Actinidia KIWI BERRY - species, varieties, applications - Part 1.