The Content Of The Article:
Cola is a fad and nothing for children - many say. But that's not the case if you make the coke from cola-herb syrup and mineral water yourself. We show how to do it.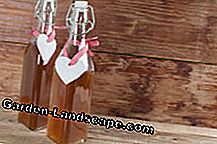 Cola and other sodas and soft drinks are not unjustifiably part of the drinks that many parents and health professionals consider unhealthy fattening and dental killer. In the meantime, you can also buy some organic lemonades and herbal mix drinks in the supermarkets, but if you prefer to mix delicious drinks with cola flavor, then the cola herb is really a good alternative. From this herb you can make a delicious syrup, which is often used in the kitchen.
The shoots and the narrow young leaves of the cola-herb shrub, also called camphor-boar rue, do not only smell of cola, they also taste good afterwards. Reading tip: Cola-herb planting - That's how it's done.
Important:
As the boar has an anticonvulsant effect, pregnant women should not take them to avoid premature labor.
Guide to making children's cola
If you want to prepare cola and cabbage syrup for yourself and your family and then serve home-made lemonade with lots of flavor and little sugar, you only need a few ingredients and a little skill. For about 1 liter of cola-herb syrup you need:
• 5 teaspoons of shoot tips and young leaves of cola herb
• 1 - 2 biocitons (according to taste)
• 500 g of sugar
• 1 liter of water
Step 1:
Slice the lemon and place it with the chopped shoot tips / leaves of cola herb in a heat-resistant, large bowl.
Step 2:
Put the water with the sugar in a saucepan, mix well and boil until bubbly. Then pour the sugar water over the lemons and the cabbage, cover the bowl with a lid and leave in the fridge for 3 days.
Step 3:
Then filter the liquid through a clean cloth, boil again and immediately fill in hot rinsed, absolutely clean bottles and seal.
Step 4:
Then mix the delicious syrup with ice-cold mineral water and you can enjoy your homemade cola.
Video Board: How to Make Homemade Soda - DIY Recipe.