The Content Of The Article:
Rose fans, who miss matching beds or generally a garden, do not despair: Roses take if necessary also with a pot and decorate terraces and even the smallest balconies. If you pay attention to important aspects of planting and care, there is nothing to stand in the way of lush flowers and long friends of pot roses.
Pot size and location
First, the size of the vessel is important: Roses are deep root, and so they can develop sufficiently, the pot should have at least 35 to 40, better 50 centimeters in height and diameter. The earth volume then reaches in the largest pot variant for about five years. The flower queen feels most comfortable in sunny, airy locations with enough drafts. After rain showers, the leaves dry quickly and there is no attack surface for fungal infections such as the dreaded Sternrußtau. Squares where the heat accumulates in the summer should be avoided if possible, because pot roses are generally more susceptible to disease as they are in most cases more exposed to drought stress than free-range roses.
Roses for the pot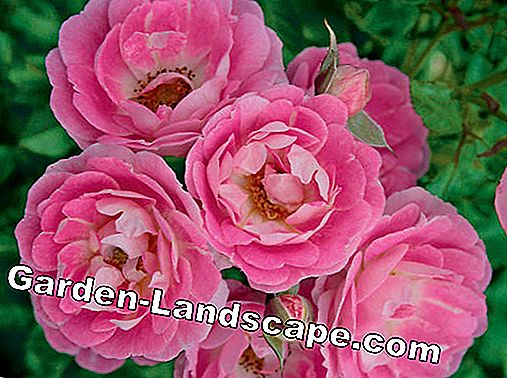 Start photo gallery
6
Show all
Roses for the pot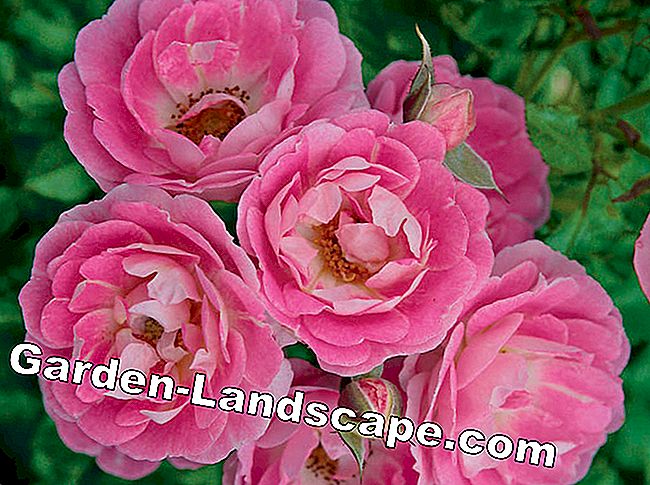 'Flirt 2011' is a dwarf rose with two-colored flowers in pink and cream. It will be about 50 centimeters high
'Apricot Clementine' flowers in umbels. The miniature rose grows compact and becomes 60 centimeters high
Noack's 'Medley Ruby' is a bed rose with healthy, glossy foliage. She gets 30 to 40 inches high
'Solero' shines with lemon yellow flowers. It is about 70 centimeters high and is a bed rose
'Gärtnerfreude' is a raspberry red groundcover rose with filled flowers. The stature height is 30 to 50 centimeters
'Garden of Roses' grows very compact. The bed rose is about 60 centimeters high and carries heavily filled flowers in pastel pink

Optimal varieties for the pot are not only dwarf roses - there are also specimens of other growth forms that are suitable for the small habitat. For example, many bedding or small shrub roses as well as some precious roses have proved themselves. Make sure that the selected plants are compact and not too bulky, and that they are strong and healthy. And of course, not only a rich flowering is close to the seat interesting: the fragrance is also an important selection criterion.
Maintain pot roses properly
Roses do not like dry or stunned feet. If necessary, pour potted roses when necessary and at the same time ensure a good drainage, for example with a drainage layer. The wintering of pot roses is quite simple: as they discard their foliage, they can be placed in a dark garage at +8 to -10 degrees, for example. Tip: Protect the treatment site by piling up with foliage compost or potting soil and place the pot on a polystyrene plate. When hibernating outdoors, you should put the pot in a wooden box and fill it with autumn leaves. A shady, wind and rain protected place close to the house wall is ideal. Important: Make sure that the root balls do not completely dry out or wet in winter.
Roses in the pot: You should pay attention
Heiko Hübscher, himself a fan of roses, is the gardening director of the rose gardens Zweibrücken
In which soil should potted roses be planted?
"Roses like it slightly acidic, I use a mixture of garden and rose soil with a pH of 5.5 to 6.5, fertilization is recommended only after the main flowering in June do not go looking for it and do not train enough new roots. "
When do I turn over?
"If the size of the pot is appropriate, the rose may remain in the jar for up to five years, but it should be repotted in the fall or spring, carefully remove the old soil and cut shoots and thick, bony roots before replanting The very finest roots will dry up within a few minutes, so put the rose in the water as you mix the soil. "
Can roses be planted in containers?
"Planting should be better avoided, especially as it prevents the foliage of the roses from drying properly after a rainstorm." The competition for light also plays a role in. For tall stem roses in the pot, subplanting is generally possible for example, small summer flowers and upholstery. "
Video Board: 6 Color In The Pot Soap Swirling.