The Content Of The Article: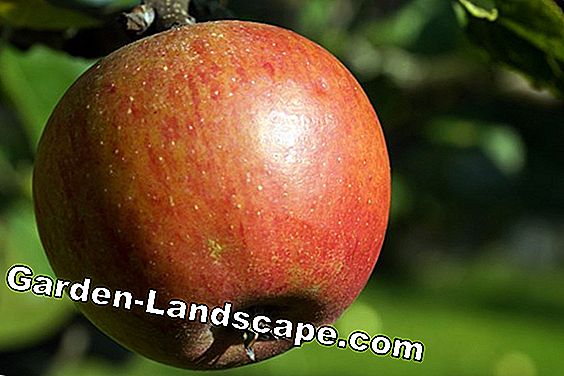 Viruses and bacteria can also transmit diseases that can be controlled by special means from the trade. To avoid all diseases, the tree should be cut professionally, as well as optimally supplied with water and nutrients. Plants that are in too little soil (too small pots) are more susceptible to disease. We recommend a pot of at least 25 to 30 liters. In order to prevent harmful insects Vogelnistkästen can be attached to the tree or in the vicinity.

Worth knowing about pear fruit soon
Pale fruit is ideal for people who want to harvest a lot of fresh fruit in a small space. Both for small gardens, as well as for balconies this tree species is the right choice. For people without green thumbs, the column fruit is also recommended, since it requires little care.
A 2-4 meter high tree with a slender habit, such as apple, cherry or plum, is particularly suitable for small gardens, terraces or balconies. It takes up little space and can be well planted in wooden tubs / terracotta pots, with a content of at least 25 liters.
When planting the tub in winter, it is advisable to cover the tub with straw or leaves. The bucket can overwinter on a bucket roller or wooden board to prevent damage from ground frost.
An occasional watering is recommended. After 2-3 years you can enjoy the high fruit yield. The long side shoots should be cut back in November or February. Several varieties of column fruit can also be placed next to each other at a distance of 60 cm.
The pillar fruit offers the advantage of winter hardiness, good soil compatibility and high fruit set. In addition, it is easy to fertilize with a little complete fertilizer and is not pest and disease susceptible. The fertilizer is distributed around the tree, with buckets fertilization should be done once a month after flowering.
The pillared fruit prefers sunny to partially shaded areas, otherwise there is a risk of early fruit shedding. To limit growth and encourage flower bud formation, a summer cut (fruit tree incision), depending on the type of fruit, is advisable between June and August.
Depending on the variety, a pollen donor may be needed for the prickly pear if it is not a self-pollinated variety. In another self-pollinated variety, the yield from the cross-pollination harvest is higher.
Not all shoots are needed for fruiting, so these, not yet lignified shoots, can be unscrewed or torn out. These shoots of the lateral buds are shortened to four eyes to allow the formation of the later branches.
Video Board: How To Take Cuttings - 4 Minute Guide to Clones and Cloning.