The Content Of The Article:
General
Country house gardens have always been a very popular form of garden design. Where and when exactly this garden style was created can today no longer be located exactly. The Landhausgarten - not to be confused with the Bauerngarten - corresponds to the ideal concept of rural life in the countryside. Here, the layout of a classic country house garden is strongly based on the English garden tradition: a well-structured garden with hedges, paths, in the form of cut shrubs and colorful ornamental beds. In the resulting individual "garden rooms" are usually hidden seating, cozy arcades, playful garden or glass houses and ornate statues, fountains or small natural ponds. The Landhausgarten combines in its design elements of the cottage garden with those of the farmer garden, that is to say: country house gardens combine the strictly geometrically laid out basic structure of English gardens with the rural-playful, natural-idyllic cottage garden.
Landscaped country house garden
Anyone who decides to build a country house garden has two options for design: formal or playful. The formal landscaped garden has as a basic structure straight paths, enclosed in boxwood beds and cut in shape woody plants. In the playful version, lawn paths meander past lush flowering flower beds to a romantic garden shed or a hidden bench. The paths and beds are organically designed and modeled on nature. In addition, in the Landhausgarten small streams or a natural pond can be created.
In addition to the question of taste, of course, the size of the plot is crucial in the design. For smaller country house gardens, the clear, symmetrical design is recommended, for larger the playful, nature modeled variant. The more space you have, the better, because the more elements (garden rooms, beds, water features) you can accommodate in your country house garden. Attention: A country house garden is not necessarily one of the easy-care design options. If you want to present a beautifully maintained country house garden, you must definitely invest one or two hours in gardening.
Create paths through the Landhausgarten
Structure in the Landhausgarten are the paths that guide the visitor or garden owner through the green idyll. In the playful variant, grass trails are often enough to move in the garden. For a little more design, for example, bar-like wooden planks or well-grown natural stone slabs naturally blend into the terrain.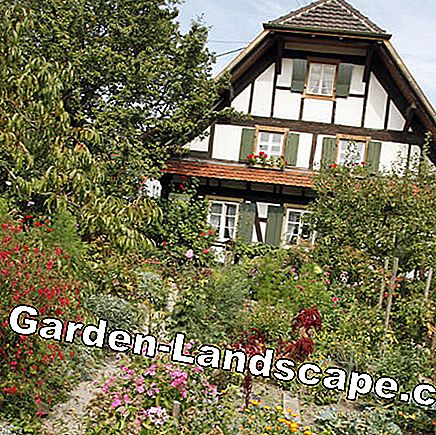 Playfully designed country house garden with lush flowering flower beds and beaten tracks
Clinker is a classic and very stylish material for garden paths, which can be embedded in the floor in different laying patterns. Especially nice: the Schuppenbogenverband. But also gravel, mulch or simple tread plates can be used for the installation of garden paths and give the Landhausgarten the necessary structure. To compensate for existing bumps, you will find in many gardens also integrated height levels or small stairs.
Bedsets for the country house garden
An important role in the design of country house gardens play the bed frames. They are more than just frames for the various ornamental beds, they structure the garden, facilitate the gardening, especially the mowing, and reflect the cultivated nature of the villa garden. Gladly natural stones, clinker bricks or bricks are used in the plant of bed enclosures. But also wooden constructions such as low lattice fences or a wickerwork of wicker or hazel rods fit perfectly into the picture. Depending on the style, you may also place wrought-iron elements around the beds. In addition to these structural borders, hardworking and skilled gardeners in the Landhausgarten can also plant beds made of topiary shrubs such as boxwood or yew.
Paths made of natural stone slabs, which are very naturally fitted into the terrain, give the Landhausgarten structure
Landscaped garden with plants framing
Many ornamental plants that are planted in our present gardens are originally wildflower varieties. After they were first cultivated in monastery gardens, they later arrived in cottage gardens and so also in the country house gardens. Ornaments and borders for beds are mostly made of boxwood (Buxus sempervirens) in country house gardens. These can be very nicely cut and retain their artful form for a long time. Flowering plants such as peonies (Paeonia), daisies (Leucanthemum) or lupines (Lupinus) provide bushy colors. Among other things, they can be combined very well with the Soft Lady's Mantle (Alchemilla mollis). The popular groundcover grows very fast and its yellow-green flowers have a long flowering time.Catnip (Nepeta) also harmonizes very well and picturesquely proliferates beyond the edges of the path and the borders.
As one-year-old summer flowers, flower-shaped baskets (Cosmos bipinnatus), ornamental tobacco (Nicotiana x sanderae) or marigolds (Calendula officinalis) are often planted in country house gardens. An annually recurring joy one has with thimble (Digitalis) or the yellow-flowering Mullein (Verbascum). These yearlings sow themselves and emerge again and again in new places in the bed. The Columbine (Aquilegia) is not only a good figure in the bed, but can also be tied to very beautiful wildflower bouquets.
Wrapped in shapely boxwood paths are typical of country house gardens. The pink flowering rose bushes make a nice contrast to this
A special eye-catcher, especially in mature country house gardens, is the house tree. Whether in a group or in a solitary position: a tree of its own delights more than just a generation of garden owners. In country house gardens one often finds old pear trees (Pyrus communis) or horse chestnuts (Aesculus hippocastanum). Of course, roses should not be missing in a beautifully designed country house garden. One of the most popular varieties is the climbing rose 'Raubritter'. She is famous for her beautiful pink ball blossoms. The variety is very robust and can withstand both heat and rain. Other classics include the romantic-looking Ramber 'Bobby James' or 'Paul's Himalayan Musk', with which gorgeous trellises of all kinds can be greened. Because flower arches and trellises also fit perfectly in country house gardens. For planting, we recommend not only roses but also clematis (Clematis) or wisterias (Wisteria).
Tip: Build old fruit and vegetables in your country house garden. How about the apple variety 'Red Winter Pison'? The fruits have an intense red color and the apples have a slightly sharpened shape. The pulp itself is aromatic sweet. The tree is very robust and hardly susceptible to diseases or pests.
The Ramblerrose 'Bobby James' has creamy white flowers and exudes a pleasant scent
Alternatives to boxwood
If you want to make your country house garden more modern and above all, for example because of the boxwood thorn and the boxwood dying, want to do without the almost obligatory box trees, we can present some attractive alternatives. Large tree nurseries now have preformed, cut shrubs in their assortment. We recommend the Evergreen honeysuckle (Lonicera nitida 'Maigrün') or the Japanese holly (Ilex crenata 'Convexa'). The yew (Taxus baccata) reaches a very old age and thrives especially in shady locations very well. It can be shaped as an evergreen and opaque hedge. But beware: the yew is poisonous! The compact green barberry berberis (Berberis buxifolia 'Nana') has pretty orange-yellow flowers and looks great as a small, cut hedge.
The protected bench in the Landhausgarten blends in naturally with the surroundings
Decorate country house garden
Whether bench, light or art objects: used decorative elements should take up the romantic flair of bygone times, which characterizes the Landhausgarten. Here you can let your design ideas run free. Old tools, such as milk churns, pitchforks or old zinc baths, which are painstakingly distributed throughout the garden, can often be found in the Landhausgarten. Rustic tables or baskets, a wooden ladder as a climbing aid for nasturtium (Tropaeolum) or pretty old metal watering cans. Antique furniture can be found in the Landhausgarten as well as ornate cast iron seats. Bric-a-brac friends and nostalgics get their money's worth here. Hidden arbours or romantic garden sheds, pavilions or old-fashioned greenhouses are an absolute must on larger properties.
Deco from past times: A cast-iron sundial fits perfectly in the Landhausgarten
Two great design ideas for large and small country house gardens
A garden with rural charm can basically be realized everywhere and regardless of the size of the plot - even in the small terraced garden with less than 100 square meters. Here are two design examples for a small and a large country house garden:
A small garden with clean lines
The symmetrical system makes the small garden look bigger
For the approximately 70 square meters terraced garden offers a symmetrical design with form trees and cut hedges. Lush beds with lupine, peony, sage and cranesbill frame the terrace and do not let the garden seem too austere. Two rank obelisks with yellow, fragrant honeysuckle have also found a place. Four bookballs emphasize the transition from the terrace to the lawn, in which a round summer flowerbed with book surround was created. In the beds on both sides of the lawn bloom roses stems. Rich blooms promise varieties such as 'Leonardo da Vinci' and 'Botticelli'. Catnip and steppe sage are suitable planting partners for the roses.A small arbor made of cut hornbeam invites you to linger and allows a very different view of the garden. To the left and right of the arbor are two large privet balls.
Plenty of space for perennials and flowering shrubs
A large garden becomes clearer and more comfortable due to the room layout
If you have a larger plot (in our example it is around 400 square meters), you can make your garden more generous and divide it into different rooms with hedges and trellises: The large terrace with clinker pavement is followed by a traditional farmer's garden with gravel paths. The beds are edged with book hedges. In the summer there are perennials, summer flowers and spicy herbs. A fragrant pipe shrub and a red blossoming Weigelie shield the area from the neighboring garden. Behind the Hainbuchenhecke is a garden house with rabbit hutch. Larger shrubs and small-crowned trees such as lilac, pear, quince and an apple tree spread a rural flair in the garden. Parallel to the hedge runs a wide perennial border. Romantic mood comes at the seat under the pergola with the fragrant climbing rose 'sympathy' on.
Video Board: How To Create A Cottage Garden | Waitrose Garden.