The Content Of The Article:
Since furniture and cushions under a covered terrace are much better protected, you also have much more options in the design.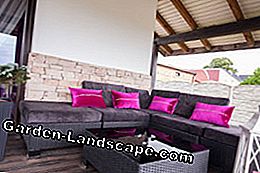 With around 1600 hours of sunshine in 2014, we can not really complain in Germany. I know, bitching is always about the weather, all you have to do is know how to use it properly.

Sitting outside with friends over coffee and cake or just a glass of good wine and a thrilling book - just wonderfully relaxing! But woe when the first clouds start, then quasi panic breaks out. Immediately pillows and dishes are brought into the house and covered with sensitive garden furniture. Gone is it with the coziness, unless you have a covered terrace. Surely I do not have to explain that advantage to you now?

However, many gardeners and homeowners have the problem that they do not know how to set up or design the spacious seating area.
Idea 1: Coziness as in the living room
Soft seat cushions and cuddly pillows are rather unusual on a terrace. If it is covered, you can afford this luxury. Special outdoor furniture is manufactured in such a way that it can withstand a certain amount of moisture, not continuous rain, easily. Pay attention to water-repellent pillows (as seen on impressionen.de), then the comfort on the covered terrace nothing stands in the way.
When decorating you have a free hand. Everything that is important to you in the house can also be found on the terrace. It is even possible to set up one or two small cabinets in the outdoor area, so you do not have to go into the house for every jar or spoon.
Idea 2: Rustic charm with wood
If you like it more rustic, make your terrace with lots of wooden elements. This not only includes the furniture, but also the decoration around it. Quite simple and also practical, is the stacking of firewood. The right place is quickly found: close to the house wall and at least one meter from the outside. So the wood does not get wet even when the rain comes from the side.

➪ Find more ideas for attractive storage of firewood on freshideen.com.
Idea 3: Flower power on the roof
Most terrace owners place their attention on the design under the roof. But with the right roof greening, your terrace will be a real eye-catcher even from above.

The planting is visible from a few meters away and will certainly attract envious glances.
Idea 4: Covered south-facing terrace
Simple to implement and yet extraordinary: a terrace in Southern design. What may not be missing is one or better than several rocking chairs. In this case, save on color and concentrate on white. A few flowers around it, that's all you need! For smart craftsmen, there is a video tutorial on how to build a southern terrace. Who wants to implement the look to one hundred percent, so must not waive the corresponding border of wood. Again, keep your fingers off too much color, stick with white.
Idea 5: Maritime flair simply implemented
If you love the sea and would like to spend the whole year on the beach, the maritime terrace is a must. In this version, the colors clearly outweigh blue and white. If your patio is big enough, set up a beach chair that alone creates a maritime flair. Thanks to your roof, you are not permanently forced to insert the lying surface.

For decoration, I recommend reeds, shells and a few stones. Also suitable is a fishing net and a life buoy (just hang on the wall). Crockery made of stoneware, of course in blue and white, completes the ambience.

➪ Also read: Maintain wooden beach chair - 5 value-preserving tips
Video Board: Beautiful and Inspiring Roof Top Garden Designs And Ideas.