The Content Of The Article:
The classic etagere has usually two or three floors and is either rustic made of wood or romantic-playful of porcelain. However, this etager consists of clay pots and coasters and fits stylishly on the garden table. All specimens have one thing in common: They offer a lot of space in a small space and present, for example, flower deco, sweets or fruit in the most beautiful.
Material and tools
several unglazed clay pots and coasters in different sizes
white and colorful acrylic paints
Krakelierlack
brush
Adhesive tapes (for example from Tesa): uncreped painter's tape, patterned deco tape, strong adhesive tape on both sides
scissors
Craft pad
Step by step: From the flower pot to the cake stand
Start photo gallery
6
Show all
Etagere crafting instructions
Depending on the desired height, the etagere is composed of one or more pots and coasters. The vessels must be clean, free of grease and dry. Then first one, then the other side is primed with white paint. Let everything dry well
To preserve the cracked pattern, the pots and coasters are then painted with special Krakelierlack. It contracts when it dries and causes the color coat, which is applied later, to tear. This is how the white primer comes to light again
After drying divide the coaster with painter's tape into two surfaces. Carefully press the masking tape with your fingers to avoid any gaps in the paint. Now paint out the first surface, let it dry slightly, then carefully remove the painter's tape
When everything has dried well, cover the color transition and paint the second half. Before the paint has completely dried, remove the painter's tape slowly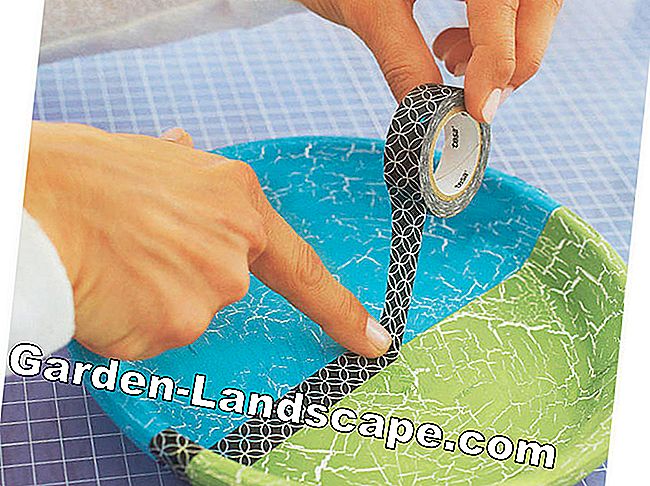 With trendy deco tape, which is available in many colors and patterns, cover the color edges of the coaster over. The tape can be ripped by hand, if necessary, it can be removed without leaving any residue
Finally, cut small pieces from the assembly line and glue the pot and saucer together
Video Board: Amazing birthday cake decoration | pink color gel ice cream cake | creative cakes.