The Content Of The Article:
Owls are currently not only the trend of the kids. The plushy tree-dwellers with their big eyes make us smile on many Youtube videos, and even the 30+ generation was already eagerly looking forward as the bold owl Archimedes in the Walt Disney classic "The Witch and the Wizard" let go of their cheeky comments, In order to welcome the approaching autumn with a somewhat atmospheric decoration and also to encourage the younger generation to tinker again and again, we have a creative crafting idea for you: owls made of pine cones, which are made in the blink of an eye.
What you need for crafting
The material list is quite manageable, you only need:
dried pine cones
different colored handicraft paper (130 g / qm)
adhesive
Knetkleber
scissors
pencil
That's how you make the pine cone owls
First select three sheets of craft paper of different colors that suit you and that harmonize with each other. Ideal are two bright and one dark color. Then pick a sheet from which to cut the owl base. You can first record the desired outlines with a pencil and then cut along the line. Needed: beak, eyes, wings and, if necessary, feet and breast shield.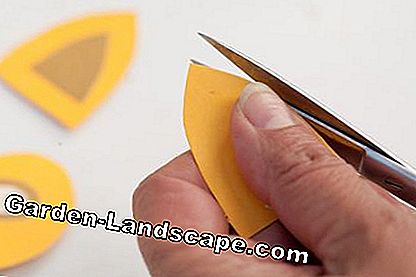 First beak, eyes and Co. are cut out
From the other two leaves, cut out similar shapes (smaller and larger) and join them together with the glue stick. This will give your owl a face and depth.
For more depth, a smaller blank is glued to the larger one
Now you take the kneading glue to hand, forming small beads, which you put on the backs of the tinkered Owl parts and attach them to the pine cone. If it allows the shape of the pin, the parts can also be inserted in the pin (for example, for the wings).
Press small balls of kneading glue onto the back of the craft paper (left) and attach the blanks to the pine cone (right)
Now decorate with nuts and the first autumn leaves and the pretty autumn decoration is ready. Incidentally, a great job to tackle with the children a forest walk for the search for materials and a crafting afternoon in the rain.
We hope you have fun!
Video Board: DIY Owl Decoration - A Gift Idea.