The Content Of The Article: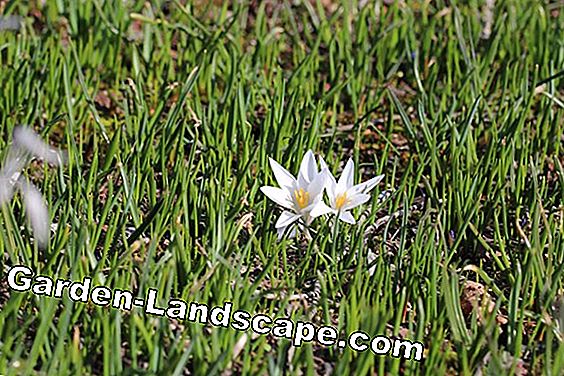 The crispy juicy flower bulbs of crocuses are among the favorite foods of vultures. While the large-scale control of these pests in the garden proves to be quite complex, the targeted protection in the context of planting is comparatively uncomplicated. Special vault baskets are available in the specialized trade. With a little manual skill, you construct the protective basket made of narrow rectangular wire itself. A lid is superfluous because voles do not come to the surface. Before the crocus tubers the basket comes into the earth. How to do it right:

Dig a 15-20 centimeter deep plant hole
Insert the vole basket
Cover the floor with a 2-3 cm high sand layer
Then put the crocus onions in a small tuff
The excavation is now filled, pressed and watered. Ideally, mark the planting location so that it is not accidentally dug up in the autumn.
Beautiful plant partner
Would you like to have additional plant neighbors in addition to the crocuses, for even more variety in the appearance? Then the following autumn bloomers for the rock garden, the bed, the lawn and in the flower box are recommended:

Gold crocus (Sternbergia lutea): not a true crocus, but just as enchantingly beautiful
Creeping Mountain Beanwort (Satureja spicigera)
Dwarf mountain savory (Satureja montana ssp. Illyrica)
Red Sand Thyme (Thymus serpyllum 'Coccineus')
From a design point of view, the autumnal colts (Colchicum autumnale) is the perfect complement for crocuses in autumn. Her pale purple flowers look like the crocus flowers confusingly. Unfortunately, this pretty flower is very poisonous, so it is not recommended when children or pets are around them.
ConclusionBlooming crocuses in the autumn make a splash in the rock garden, lawn, bed and flower box. From September to November, the colorful blossoms glow and attract astonished looks. Above all, the magnificent autumn crocus and the saffron crocus are considered the ideal candidates for decorating the autumnal garden. Planted at the appropriate location, the care is hardly worth mentioning. Under normal conditions, neither watering nor fertilising is required. In order for the bulbs to remain vital for several years, the timing of pruning is important. Anyone who tolerates until all parts of the plant have completely retreated will be rewarded with the magnificent flower costume again next autumn.
Video Board: .