The Content Of The Article:
There are free-range cucumbers for pickling and greenhouse or snake cucumbers for fresh salads. Both species need a lot of water and as a heavy-treater in the growth phase plenty of fertilizer. Since cucumbers need a lot of heat, snake cucumbers are usually grown in the garden in the greenhouse starting in April, whereby the young plants in the house are preferred. Outdoor cucumbers, however, may only be placed in the bed in the middle of May, but you can also sow the cucumbers directly into the bed at the end of April or beginning of May and lay out three seeds per sowing hole.
Cucumber beds before planting fertilize
Outdoor cucumbers come into the garden, greenhouse cucumbers in a bedplain, which is supplied with a rich portion of deposited horse manure and mineral whole fertilizer according to the manufacturer for the quick effect. Who can not get a manure, alternatively uses mature compost, fertilizes with horn chips or horn meal for a faster effect and in addition an organic fertilizer according to the manufacturer. Of which you work depending on the fertilizer between 30 and 40 grams per square meter. A mulch layer of straw or grass clippings between the plants keeps the soil loose and moist throughout the culture period.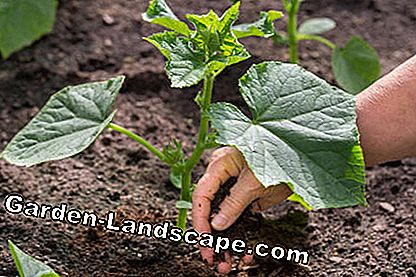 Somewhat deposited horse manure or mature compost gives young cucumbers an optimal start
Provide cucumbers with special fertilizers right away
Instead of the whole fertilizer one can take also special Gurkendünger from the specialized trade. These are available either as cucumber, tomato or vegetable fertilizer - they are all suitable. The fertilizers have an optimal nutrient composition and a high potassium content for optimum water supply to the fruits. Fertilizing with special fertilizers is easy, but they are more expensive. The cucumbers are once taken care of during planting and then again for re-fertilizing in July. There are also fertilizers with long-term effect for five or six months. But it is also important with these fertilizers a good soil, which should be well supplied with humus both in the greenhouse and in the field. For, astonished, muddy soil cucumbers basically hate. Foliar fertilization with stinging nettle diluted 1:10 with water supplies the cucumbers with trace elements.
Special fertilizer for cucumbers can be added directly with the irrigation water. You will find information on the mixing ratio on the packaging
Do not be too generous when fertilizing
It should not be too good with mineral fertilizers, since cucumbers have very sensitive roots and are sensitive to the salts contained in the fertilizers. This is especially true for low-priced fertilizers with their high content of ballast salts.
Add cucumbers
If the cucumbers want a refill from around the beginning of July, you can add lees or liquid guano weekly. When the cucumbers start blooming, you will need to replenish every two weeks. Otherwise, the cucumbers get many leaves, but little fruit. To pickle fruits, cucumbers need a lot of potassium, magnesium and trace elements. If you fertilize with stinging nettle, you can incorporate some stone dust into the soil. Guano and cucumber fertilizer have these nutrients already ex works on board.
Video Board: Some of My Tips For Growing Cucumber Plants - TRG 2014.