The Content Of The Article:
Your daffodils just stopped blooming? That's annoying, but not hopeless. Here you will find the solution and further tips for care.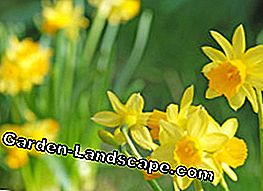 If narcissi suddenly stop bloating, the reason is often that the main onion has too many and too many onion drives. But this can be remedied very quickly and easily, more on that later. Another reason for the daffodils not blooming may be diseases and pests that rob the daffodil of strength. Also check that the flowers are deficient in nutrients. Should a deficit prevail, often enough a portion of fertilizer.
What to do when daffodils stop blooming?
Check the location
Daffodils should not be too dark. Optimal is an alternate location.
Dispose of in case of illness
If one of your daffodils has an illness, you must dispose of the onion as soon as possible. Otherwise there is a risk of infection for the other daffodils.
Too many onions
The most common reason your narcissi do not flower is the formation of too many onions. Think of it like this: The main onion forms many small onions, which then extracts the nutrients from the mother's bulb. All power goes into the small secondary bulbs and the bloom stays out.
Share onions
To solve the above problem, you need to divide the bulbs. When the main flowering time is over, the tubers are taken from the ground and the small secondary bulbs are carefully removed.
Proper storage of the onions
The storage of split onions over the summer takes place in the cellar, which is very airy in the best case. Optimal is a room temperature of five to ten degrees, without direct sunlight.
In order not to experience the absence of flowers in one year at all, it makes sense to take precautions. If the onions are regularly divided, about every four to five years, there are not even too many secondary bulbs.
Video Board: How to Care for Daffodils after Blooming.