The Content Of The Article:
Daisies gain even more attractiveness in the garden with their color diversity. This abundance can be expanded and multiplied with seeds or cuttings.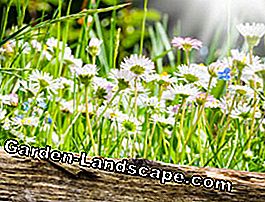 There is hardly a hobby gardener who has no marguerites in his garden or on his terrace. With their white, purple, pink or red flowers they are one of the most popular perennials. If you are not satisfied with a margerite pot on the terrace but are dreaming of a colorful "marguerite sea" in your home garden, you can easily fulfill this wish. The basketblood can be multiplied on the one hand with seeds and on the other hand with cuttings.
Seed bag open and go
Garden centers offer daisy seeds in a variety of varieties. Here you are spoiled for choice. But the "standard daisies" with their white-yellow flowers are an eye-catcher, but if you mix in 2 - 3 more colors, they create a rich color splendor.
As early as March, young plants can be brought forward in seed trays. Many gardeners sow their daisies from May into the field.
With the seeds not only the traditional varieties are multiplied. This also extends the range of other-colored basket animals. In this way attractive contrasts in the discounts are created.
Use existing plants - put cuttings
On the other hand, marguerites can be propagated with cuttings. Towards the end of August to the beginning of September, the flower lover cuts about ten centimeters long shoots from the marguerite and puts them in a partially shaded, warm place in the ground. Even in pots with garden soil, the cuttings can be set.
Then regular watering is important. If the cuttings are then sprayed with water every day, they will grow faster.
After about two weeks, the plants should have formed enough roots. Now they can be carefully removed from the soil and placed in a pot with nutrient-rich potting soil.
In time for the first frost, the cuttings find a winter home in their house in their pot. In spring, the wintered marguerite plants are then set outdoors.
Video Board: How to grow Daisies from a cutting.