The Content Of The Article:
origin
Almost all wild species of daylily (Hemerocallis), which belongs to the large family of the daylily family (Hemerocallidaceae), like many garden perennials and bulbous flowers, originally come from East Asia. They grow there mainly on meadows and in bushes on nutrient- and humus-rich, fresh to moist soils.
Appearance and growth
As garden plants wild species such as the lemon yellow daylily (Hemerocallis citrina) and the brown-red daylily (Hemerocallis fulva) are popular, but also the countless large-flowered garden hybrids with their often multicolored, star-shaped bell-shaped flowers. They are available except for pure blue in almost all shades. Although each flower only opens for one day from the end of May, the perennials produce so many buds that the flowering time of the garden hybrids lasts almost the entire summer. The plants are constantly forming small subterranean daughter tubers from which develop large clumps over the years - the individual leaves can be depending on the variety between 20 and 120 inches long. Therefore, plan for the garden hybrids about one square meter of stand space in the bed. The parallel-veined, elongated leaves are light green and die off at the end of the season for most daylilies. The flower stems are long and thin, usually slightly bent and stand above the foliage.
The flowers of the lemon yellow daylily (Hemerocallis citrina) emanate in the evening a strong lily of the valley scent
Location and ground
Daylilies are durable, extremely easy to care for and very adaptable. They grow with sufficient soil moisture in both full sun and partial shade, where they then form significantly less flower buds. Special soil claims do not have the perennials. A normal, humus and permeable garden soil is enough for them, but it should not be too dry. Most garden hybrids come from the US or Europe, to a large extent from hobby breeders. The US breeds are known to be in need of more heat and often use fewer flowers in cooler, less sunny locations.
planting
Daylilies can actually be planted from April to October, but the best planting times are in spring and autumn. As the long, narrow leaves of the daylilies are overhanging, do not put the plants too close. A planting distance of 50 to 60 centimeters is optimal for most species and varieties - that is about four copies per square meter. Since daylilies prefer a more nutrient-rich soil, make it easier for them to start by improving the soil with some compost. Place the plant so deeply that the roots are covered with soil about three to five centimeters. Important: Water thoroughly once planted.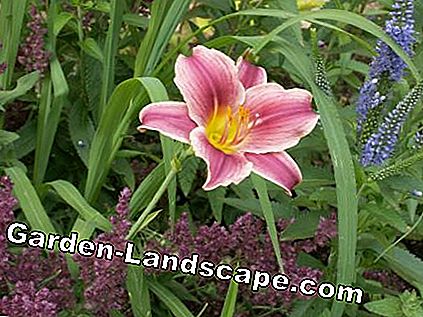 Dream partners of the daylilies are the award of honor (Veronica) and steppe sage (Salvia nemorosa)
Other care tips
In case of prolonged drought, you should water the shrubs in time. Otherwise, some varieties discard their still unopened flower buds. If the old foliage does not rot spontaneously in winter, it should be removed in early spring before budding.
A regular division is possible, but usually not necessary, because the plants are naturally very durable. Occasionally you have to reduce the clumps, because they take up too much space over the years. This is best done in the spring or after flowering in late summer.
use
Daylilies have long been cultivated in Europe as old farmer garden plants and there is a huge diversity of varieties. Since they love moist soil, they are very well suited as marginal planting for garden ponds. If possible, they should be placed on the eastern shore, so that the wind does not drive the wilting flowers into the water. In addition, daylilies are suitable for all bedding locations from sunny to partially shaded. Narrow planting strips close to buildings can be planted with pure daylily plantings in an easy-care and colorful way. Because of their imposing shape one sets daylilies in the perennial bed as so-called Leitstauden singly or in pairs. Pure daylily beds, for example under larger shrubs with bright crowns or in narrow plant strips along buildings, also have their charm. If the soil is not too dry, daylilies can also be integrated in prairie gardens. Especially the more delicate, filigree wild species look good here.
Important species and varieties
The species of daylilies comprises about 20 evergreen or deciduous species, but breeding has now created over 50,000 varieties worldwide - and these are only those that were actually registered. Since daylilies are often bred by hobby gardeners, especially in the US, it is likely that there are actually many more varieties.
Here are some varieties with beautiful flowers: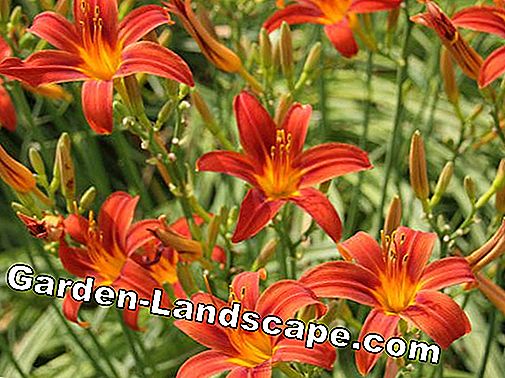 Start photo gallery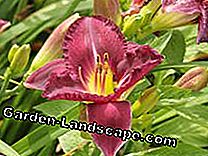 20
Show all
Beautiful daylily varieties
Daylily 'Sammy Russel'
Daylily 'Haller Marabuk'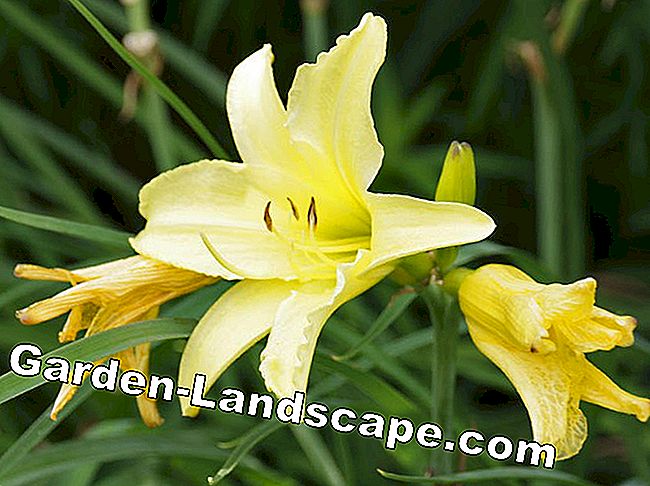 Daylily 'Quiet Dawn'
Daylily 'Sarabande'
Daylily 'Pfarrkirchner Schwan'
Daylily 'Tarragona'
Daylily 'Little Lassie'
Daylily 'Shooting Star'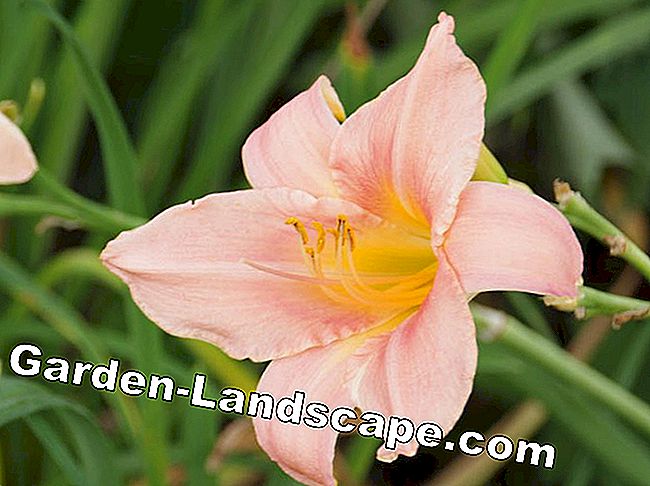 Daylily 'Satin Silk'
Daylily 'Rauschgold'
Daylily 'Irish Limerick'
Daylily 'Prairie Blue Eyes'
Daylily 'Haller Hulla Girl'
Daylily 'Moonlight Masquerade'
Daylily 'SHTT 9920'
Daylily 'Red Mittens'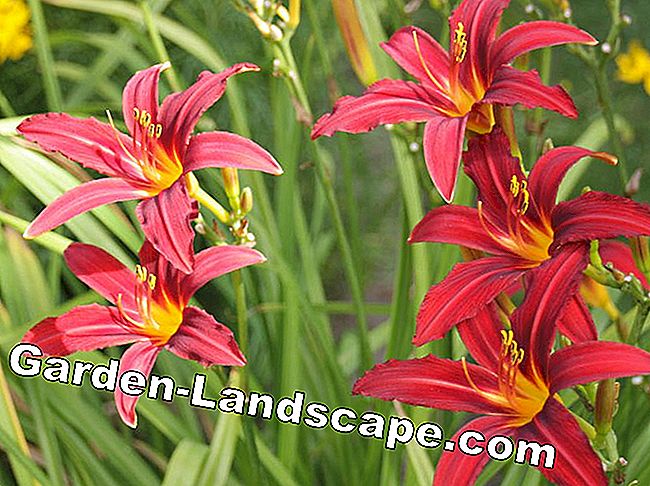 Daylily 'Crimson Pirate'
Daylily 'Seedling'
Daylily 'Hyperion'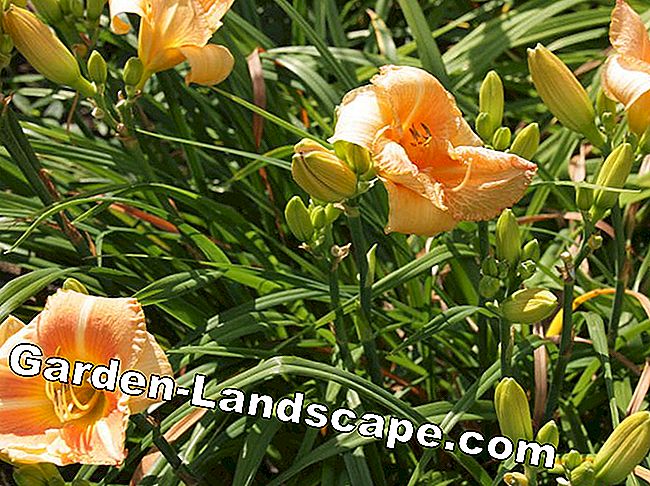 Daylily 'Ever so Ruffled'
proliferation
If ingrown clumps are to be divided and transplanted, it is better to wait for the optimal dates in autumn (at least six weeks before the first frost) or early spring: dig up the perennials, divide with a sharp spade and insert so deeply into the new site that the transition between roots and leaf fans at least two thumbs thick covered with soil. Then water well. Also by sowing you can multiply daylilies: cover seeds as thick as the diameter of the seed, and provide even moisture. Until germination, the daytime temperatures should be around 20 degrees, then the seedlings should be bright and moderately warm. Pure variety reproduction is only possible with wild species. If you sow cultivated varieties, you get chance seedlings. For hobby gardeners and breeders, it is interesting to read out the best seedlings.
Apricot colors presents the 60 centimeter high miniature daylily 'Bertie Ferris'
Diseases and pests
Although daylilies are not part of the snail's favorite food, they are not completely disdained. Schneckenfraß causes problems at best on young, not very vigorous specimens. Occasionally, the plants are also attacked by aphids, thrips, gall bladder and butterfly caterpillars. Stem rot (Sclerotium) is one of the most common fungal diseases.
Video Board: How to Grow Daylilies : How to Maintain Daylilies.