The Content Of The Article:
It is surprisingly colorful, the fascinating world of Echinopsis cacti. When they unfold their magnificent flowers in the summer, from which a lovely scent flows, they are in no way inferior to the classic summer flowers. It is the exciting combination of spiky dress and flower splendor that kindles the passion for collecting in so many hobby gardeners. Familiarize yourself with the most beautiful species and varieties that the South American cactus plants offer. Practical care tips also pave the way for beginners to successfully cultivate Echinopsis cacti.
Care Tips
The vernacular dubbed the Echinopsis like a peasant cactus. In earlier years, flowering specimens were often to be found on the windowsills of diligent brickwomen who did not have much time for elaborate flower care, but did not want to miss out on a little colorful variety. It is easy to conclude that Echinopsis cacti are among the most frugal specimens among prickly succulents. The following tips for care show what is important.
Location
The closer the site conditions are to the climatic conditions of their South American homeland, the more opulent Echinopsis develop. Ideally, a suitable window seat or in summer a place on the balcony are available. Thanks to their green plant body, the succulents can tolerate a few hours of sunshine:

Optimal is an east or west window
Maximum 80-100 inches from the window
From May to September on the sunny balcony
As possible protected from raining rain
In October, Echinopsis cacti move to their winter quarters. There they would like to stand cool for the next 4-6 months, at temperatures between 2 and 12 degrees Celsius. A little light should be available, so that in the spring, no time-consuming habituation phase is needed. Cast or fertilized is not in this rest period. From March, the small scratching brushes will wake up from their hibernation and gradually prepared for the new outdoor season.
substratum

Substrate lovers can discuss passionate cactus lovers for hours. Over the years, experts develop their own individual mixtures. As a rule of thumb, the best cactus soil is well drained, not compacted, and gradually releases the absorbed nutrients and water back to the roots. The following recipes have proven themselves:

30-60 percent commercial cactus clay, mixed with mineral components
Suitable additions are pumice, lava, vermiculite, coconut fiber, perlite and sand
As an alternative to cactus clay, TKS1 (peat culture substrate) and Pikiererde are used, due to their lower percentage of humus compared to potting soil.
Tip: Cactus substrate with a pH greater than 7 is deadly to any Echinopsis. It is therefore recommended to use a simple pH test before using a new mixture.
Pouring and fertilizing
A key feature of cacti is the enormous water storage to which they are capable as succulents. In accordance with this, the watering preferably takes place according to this rhythm:

From March spray Echinopsis occasionally with water
Until May increase the amount of water gradually
Pour alternately pervasively and allow to dry well
From September reduce the amount of water again until it ends perfectly in winter quarters
If you prefer to hibernate on the windowsill, pour the cactus from time to time, so that the root ball does not dry out completely. Basically should never be watered under blazing midday sun, but in the morning or in the evening hours.
Tip: Ideally, collected rainwater is available for watering cacti. Hard tap water should be softened beforehand to a pH of 5.5 to 6.5.
For a farmer's cactus to develop its pretty flowers, it needs a balanced nutrient supply. The specialized trade offers special liquid fertilizers, which are exactly tailored to the needs. Give this supplement every one to two weeks from May to September.
Beautiful species and varieties
Echinopsis adolfofriedrichii

The species retains its globular habit and becomes a maximum of 15 centimeters high, with a diameter of 10 centimeters. Above it rises a brilliant white flower in the summer. It easily reaches a size of 13 centimeters on a stalk up to 20 centimeters long. The ideal plant for night owls, because the flowers open only in the evening hours.
Echinopsis eyriesii
Located in Argentina, this species enchants the summery balcony with a pink-white flower on the stalk, which is up to 25 centimeters long. Your pretty strong thorns make necessary maintenance work to a gauntlet course.
Echinopsis ferox

The dramatic habit is characterized by up to 18 centimeters long, curved thorns. The spherical plant body reaches a height of 30 centimeters. Above it rises a beautiful flower in white, pink, yellow or red.
Echinopsis huascha
With a stature height of up to 1 meter and a lush branching, these farmers cacti claim a lot of space. While most species and varieties develop star-shaped flowers, these present rather funnel-shaped to bell-shaped in rich pink.
Echinopsis chrysantha
With a stature height of 4 to 6 centimeters, this cactus comes as a tiny. Nevertheless, he presents a pretty yellow-orange flower that flaunts during the day. This species is therefore the perfect candidate to introduce interested children to the topic.
Echinopsis backebergii var. Winteriana
Since this species does not sprout, it thrives best in small pots and flowers in beautiful pink with a white throat. If you would like to try sowing Echinopsis, this specimen will work very well. Within 3-5 days the germination begins here.
Echinopsis schieliana
If you want a peasant cactus with cushion-forming character, meet the perfect aspirant here. With a stature height of 5 centimeters, join numerous balls with a diameter of 3-4 centimeters to each other. Dainty flowers in red or yellow decorate the appearance in summer.
Echinopsis peruviana
One of the largest species reaches a height of 3 meters with good care at the right location and produces flowers with a diameter of 25 centimeters. The 4 centimeters long thorns should not be underestimated.
Rheingold hybrids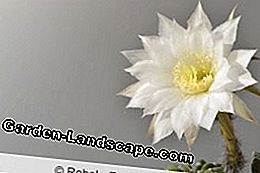 At the end of the 1960s, an ambitious working group created a family of varieties that combined old breeds with American Paramount hybrids. The result was the wonderful Rhine gold hybrids, under which all conceivable reds in the flowers dominate. Some examples:

Sonata: outside white, inside pink with a diameter of 10 centimeters
Cardinal: pink with purple border and pink central stripe
Bellissima: bright white blossom with magenta stripes
Arabelle: spectacular with a reddish-yellow center, carmine-colored border and yellowish central stripe
Schick hybrids
They are the gems among the Echinopsis cacti. Developed by the hand of the famous breeder Bob Schick, these varieties are traded worldwide with high sums. Beautiful specimens are:

Daydream: bicolor blossom in yellow-orange and pink with dark-pink center stripe
Coquette: light yellow, wonderfully fragrant flowers over a round plant body
Consolation: yellow, outward into pink flowering over barrel-shaped plant body
Elegant lady: inside white flower, running to the edge in pink purple
Lipstick: glamorous shiny petals in bright red
Conclusion
For hobby gardeners interested in the cactus culture, Echinopsis are an excellent choice for launching. Undemanding in the care, robust in the constitution and endowed with a beautiful flower, this genus often marks the beginning of a long friendship. Those who are passionate about collecting will find a multitude of spectacular species and varieties within the large family of farm cacti.
Video Board: 5 COMMON MISTAKES IN CACTUS CARE.