The Content Of The Article:
The biggest shortcoming of electric lawnmowers is the long power cable. It makes the handling of the device difficult and limits the range. If you are not careful, you can also easily damage or even sever the cable with the lawnmower. However, the exact cut, a low noise level and the absence of exhaust gases are clear advantages of electricians. The use is on land up to 600 square meters in size with obstacle-poor, little winding lawns makes sense. Also important is an easily accessible power connection.
This way you can avoid cable clutter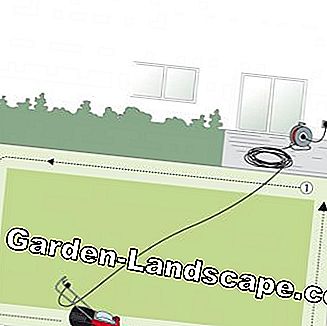 By following these steps, cable clutter can be easily avoided
Step 1: Unwind the cable drum completely before mowing and lay the cable in loops over each other. If it stays on the drum, it can heat up and burn through. Connect the cable to the power outlet and mower. Start from point 1 and mow the edge area first to create a clearly defined area.
step 2: Lay the cable in loops over each other again and start at point 2 with the mowing. By moving away from the cable line by line, always pull it behind you and there is no danger of you accidentally cutting it with the mower. Tip: If possible, choose a cable with a striking color - then the risk of damage is also lower in other gardening work, for example in hedge trimming.
More tips against cable problems
Further remedy create special cable guides on the spar of the lawnmower. In general, make sure that the cable is always behind the mower or on the side of the already mown surface. Only approved cables that are also approved for outdoor use are permitted. Tip: There are also heavily sheathed safety cables that withstand even the blade of the mower. Smooth, round wooden or metal rods or special cable guides from the gardening trade help to ensure that the cable in the bed does not damage sensitive plants. It can also guide the electric cable around sharp-edged wall corners.
Video Board: How To: Cable Management - Full Guide.