The Content Of The Article:
Generally, fruit trees are cultivated free-standing. But there is a well-tried, special way of growing: fruit growing on trellises. The trellis is a grid-shaped construction made of wood or metal, to which the shoots of the fruit trees are bound. Using this trellis, the branches are brought into the desired growth habit and held there. In most cases, trellises are erected on a wall or wall to better exploit the heat. But there is also the possibility to cultivate espalier fruit free-standing.
Location
For fruit trees that are pulled in two dimensions, the right location or the right orientation is one of the most important factors in cultivation. Wall trellises are preferably placed in front of east or west walls, so that the flower buds in late winter are not heated too much by the sun on a south wall and expel prematurely. In order to optimally exploit the light conditions, one planted freestanding trellis trees in a north-south direction.

Wall trellis: on east wall or west wall
detached trellis: in north-south orientation
sheltered
sunny to partially shaded
Suitable types of fruit
So that they can grow well on the trellis, only such fruit trees should be selected, which were refined on a weakly growing surface. For cultivation, the various pome fruit and stone fruit varieties are suitable:

Apple
apricot
pear
cherry
peach
plum
quince
For apples, the backing M9 is usually used. In the case of pears, different quince dishes have proved their worth. If you are flirting with growing trellises in your garden, you should definitely seek advice in a tree nursery or nursery. In autumn, you will find there a rich offer of fruit trees.
Tip: Also popular on the trellis are grapes, kiwis and blackberries, which are not really among the classic trellis fruits.
Suitable tree forms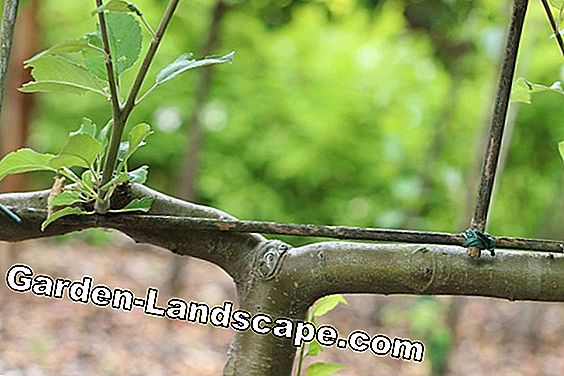 Fruit trees generally have very sensitive roots, so it is important to plant them in a place in the garden that is not prone to waterlogging. A well moisturizing, moderately nutrient-rich soil is optimal.

profound
humos
well drained
planting
Fruit trees can be planted between October and March. The prerequisite for planting, however, is that the weather is frost-free. An autumn planting has the advantage that the tree has more time to form new roots. This is why these fruit trees drive earlier than trees that are planted in the spring. Pay attention to quality when buying your trellis tree. You should not buy shrubs with cancerous wounds, poorly healed dressing or sparsely branched specimens. You get particularly robust trees in a nursery. Here you are also with good advice to the side, if you should have questions.
Regardless of whether you have decided on an already pre-cultivated trellis tree or would like to raise a normal young tree yourself, planting is the same for both variants. Do not use wires or other rigid materials for tying. These lead to constrictions after a short time. Sisal ropes or rubber bands are better.

Time: autumn (frost free day)
Dig out the planting hole (double bale width and depth as the root ball)
the roots must not be kinked
Loosen the sole with the grave fork
if necessary, fill in sand or gravel as drainage
Distance to the trellis: about 20 cm
Excavation with compost
Water rootballs
in potware, rip open the outer root layer with your hands
Insert tree
Fill planting hole
compete
water thoroughly
possibly pour watering edge
Tying up the leader on the trellis (with coconut or rubber band)
Tie lower shoots horizontally (or other growth habit)
Tip: Many fruit trees, such as the apple, can not fertilize themselves and therefore require a pollen-giving second tree nearby.
plant section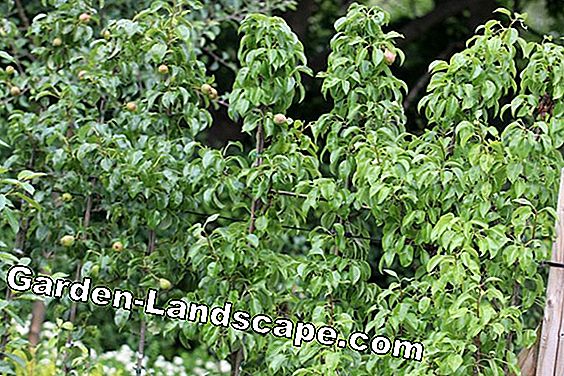 The upbringing of the young tree begins with the right planting when planting. The difference between the trellis forms lies only in the arrangement of the branches. In horizontal palmettes, the branches are raised at an angle of 90 degrees (ie horizontally). With a sloping palmette or a fan-fold the branch angle is about 45 degrees. The planting is done either directly at planting in autumn or at the latest in early spring.

Align 2 strong side branches on the lowest lath
horizontal with pears and apples
for all other tree species at an angle of 45 degrees (diagonal of the individual compartments)
the two branches form the leaders of the lowest floor
the fixation takes place relatively close to the trunk
If it is a preferred trellis tree, which already has several floors, the remaining side branches (floors) are connected in this way. In normal fruit trees, the tree must first be built. For two-armed trellis trees the main shoot is superfluous and can therefore be cut just above the two side branches. For all trellis trees where additional floors are to be built, the following applies:

remove all remaining branches
Guide the top of the center drive upwards
maintenance
Compared with the conventional cultivation of a fruit tree, the cultivation of trellis fruit only means more work when planting. Since only a few branches are specifically promoted in the trellises, a cut is very clear and easy to execute. Of course, trimming trees also need extra water and occasional fertilizer addition to a regular cut in dry periods.
to water
Freshly planted fruit trees must be watered regularly in the first time, so that their roots can spread well in the soil. Mature, well ingrown specimens are only watered in prolonged dry periods or at high heat. Make sure that waterlogging never occurs.
Fertilize
Healthy growth requires not only light and water but also a balanced supply of nutrients. In the first year after planting, no additional fertilization is required, as far as the soil has been treated with compost or humus. In the following years, the trees are fed in the spring with a complete fertilizer, which is worked into the soil and then covered with a layer of well rotted compost.
Construction cut for the classic palmette
In the following growing season, the apple or pear tree is not cut and allowed to spread unhindered. The first parenting takes place again between late autumn and early spring in the rest period of the fruit tree. Now the next floor is being built.

Central drive at the height of the second lath caps
At least three well-developed eyes (buds) must be preserved underneath
From this, the new side branches and the extension of the central drive develop
In the course of the year, the new side shoots are routed horizontally or at an angle of 45 degrees from the trunk and attached to the first floor. The shoot, which is formed from the uppermost eye, is directed vertically upwards and forms the new middle drive. Over the years, several floors will be built in this way until the tree has reached its final height of no more than two meters. Then the central drive is cut just above the last branch pair, so that the tree no longer grows in height, but only in the width. While the floors are being built, you also educate the older side branches at the same time. These have now formed side shoots that have tufts on the approach.

the soft (year) side shoots after the 4th leaf (early summer)
remove too close by side shoots completely
Fruit shoots remain uncut for about four years
preservation section
Once the tree is fully established, annual conservation measures ensure a good harvest of aromatic fruits. These include:

prune old fruit shoots to three to four buds (February to March)
possibly redirect to a favorable shoot at the top
For apples, pears and quinces in March, shorten the length increase with a light, smooth bark on the middle drive and side branches
with apricots, peaches, plums and cherries, this cut is only after the harvest
Tip: In apricots, removed fruit shoots are cut back to half after harvesting.
variety recommendation
Not all varieties of trees are equally suitable for trellis cultivation. Good experiences have been made with the following varieties:
Old apple varieties

Alkmene: good aroma, autumn variety
Auralia: high yield, good taste
Red Berlepsch: storage location, very aromatic
Goldparmäne: well-tried variety, good taste
Schöner von Nordhausen: regional, robust apple variety, storable
New apple varieties
Gerlinde: hardly susceptible to scab, resistant autumn variety
Rebella: resistant autumn apple, less susceptible to scab
Rubinola: long lasting on the tree, robust
Santana: red autumn variety, good taste, very resistant
Topaz: robust storage with a sour taste
pears
Alexander Lucas: late ripening, well storable
Clapp's favorite: Summer pear with a fine aroma
Countess of Paris: sturdy pear variety, well storable
Good Luise: tasty autumn pear with good shelf life
Delicious from Charneau: robust autumn pear, adaptable
quince
Bereczki: pear quince from Hungary
Radonia: pear quince from Radebeul
Vranja: pear quince from Serbia
Wudonia: apple quince from Wurzen
peach
Bebedicte: white, juicy pulp, resistant to the curling disease
Fruteria: red variety with white pulp, robust
Red Haven: proven variety, yellow flesh, very juicy and sweet
Revita: pink flowers, white pulp, robust against ragweed
Red vineyard peach: pink blossom, red pulp, very robust
apricots
Compacta: medium sized, juicy fruit, weak growing
Harlayne: insensitive to Monilia, productive
Harogame: robust against Monilia, beautifully colored fruits
Kuresia: very aromatic, high resistance to shark virus
overwinter
When wintering nothing special is to be considered, in so far as the trellis fruit trees are in a sheltered place. The roots of young trees are protected by a thick layer of humus or mulch from freezing through the soil. However, special attention should be paid to flowering. There is a risk of late frosts that freeze the flowers. A fleece that is spread over the tree overnight protects to a limited extent. It is better, however, to select a late flowering fruit variety.
Conclusion
A suitable method to grow fruit trees in small gardens, is the cultivation of the trellis. The trees take up little space and provide the gardener with particularly aromatic, sun-ripened fruit. Although the trellis is somewhat more time-consuming than the normal cultivation, the method is also easy to learn and use even for inexperienced gardeners.
Video Board: Vegetables You Can Grow in the Winter Edible Garden.