The Content Of The Article: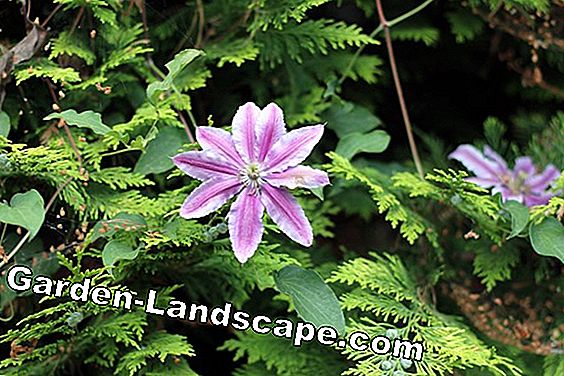 The Clematis should get a protected location as a climbing plant. In addition, you should cover the ground in winter with brushwood to protect the plant from heavy frost. Very well, the Clematis is suitable as a container plant. For tendrils, the plant needs a trellis or a climbing aid. If one decides to use the Clematis as a container plant, one can protect it very well by packing the pot against overly hard frosts.
Important are the prevention of waterlogging and a loose, humus rich soil. The clematis thrives excellently on east or west sides of buildings. She likes it light to half-shady without permanent sunlight.

The evergreen honeysuckle - ideal for greening of fences, walls and pergolas
The evergreen honeysuckle - or evergreen hissing snake called - is a real highlight with its large, dark green leaves. In July and August, the appearance of this creeper is enhanced by red-yellow flowers that look like trumpets. Subsequently, they develop from these purple-colored berries, which adorn the plant until late autumn. The evergreen honeysuckle grows up to 4.50 meters high with a suitable climbing aid. With the evergreen honeysuckle you can beautify walls, fences, carports and much more.
The plant makes no special demands on the soil and usually works very well with normal garden soils. In addition, everything is allowed from sun to shade. The evergreen honeysuckle grows about 30 to 60 centimeters a year. This can make you disappear within a few years, the "stain" in the garden.
Video Board: 10 Fast Climbing Flowering Vines for Your Garden - Gardening Tips.