The Content Of The Article:
Evergreen garden shrubs are an ornament even in winter, because unlike other plants they do not shed their foliage. They can therefore serve all year round as a shade, wind and privacy and are therefore very popular not only with hobby gardeners. In order for them to come into their own and thrive in the garden, a few factors should be taken into account when choosing.
Low shrubs
Low evergreen shrubs that bloom and are hardy can be used as groundcover or small bedding frames - but of course stand alone and cultivate in the tub. Well suited for these purposes are:

Large-leaved periwinkle as ground cover in the shade
Small-leaved evergreens as groundcover in shadows
Dwarf privet as a small hedge or solitary up to 100 cm in height
Snow heath or winter heather as a winter-flowering evergreen shrub for sunny locations
Cotoneaster as ground cover for sun to partial shade, bears white flowers and red berries
Spindle shrub as a creeping or climbing shrub for sunny to partially shaded locations
Important for the small evergreen garden shrubs is to pay attention to their frost hardiness. For example, in the small-leaved or large-leaved periwinkle, a light winter protection may be advisable if the climate is very cold and hard and the shrub otherwise unprotected.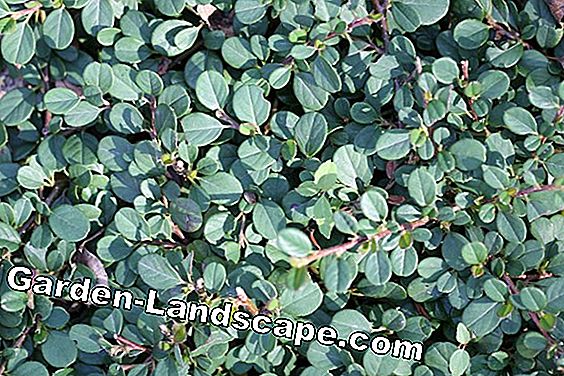 Even with the culture in the bucket, it is usually useful to wrap the planter to protect the roots with garden fleece and put it on polystyrene or other insulating pad. This reduces the risk of frost damage. Alternatively, the evergreen shrub can be overwintered in the house bright and cool or cold but frost-free. Planted in the field, it is sufficient - if necessary at all - to cover the evergreen shrubs easily with brushwood or straw.
small shrubs
Like the ground-covering or very low dwarf shrubs, the evergreen shrubs are still suitable for the culture in the tub. However, they can also be used as hedges and thus already provide a light privacy, donate shade or act as a demarcation. Of course, they are also suitable as solitaires. Known and popular species of these evergreen garden shrubs include:

Barberry, bears flowers and fruits, suitable for sunny to half shady locations
Boxwood, known for its good cut tolerance and available in numerous species, does not tolerate full sun
Brilliant medlar, needs some protection and is available in different colored varieties
Privet, suitable for sunny to partially shaded locations and often used as a hedge due to the good cut tolerance
Cherry laurel, tolerates only in winter in the winter, no full sun, is otherwise undemanding of versatile
Mahonie thrives best in the sun, but is extremely tolerant of location
Once again, the culture in the bucket may require protection from frost. The wintering in the house is not always easy or possible due to the size.
In addition, these evergreen garden shrubs still require that they often require a waste in planters, as they can otherwise reach up to three meters in height and corresponding widths - the care effort is therefore correspondingly larger than if they are planted in the field and here after all Pages can unfold freely.
Tip: Some nurseries offer the professional hibernation of larger potted plants. If the frost protection outdoors and the space in the house is not enough, there is a possibility to save the evergreen shrub over the winter.
Large shrubs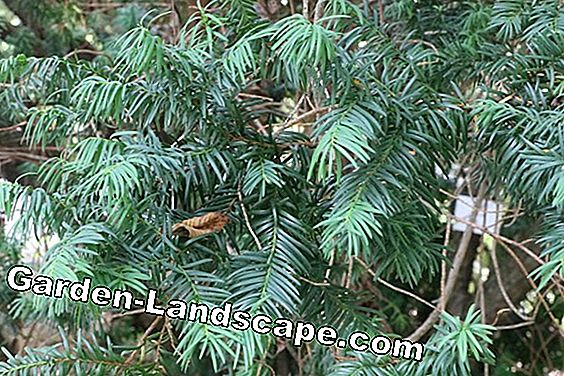 Large evergreen garden shrubs are an eye-catcher in themselves, but do not fit in the tub and not in any garden due to their size. In addition, care should be taken that they not only take up a lot of space - but also provide plenty of shade. This may not be ideal for some other plants. Those who plant them should therefore choose the location wisely and with foresight.
The list of large evergreen garden shrubs includes, among others:

Yew, such as European and Japanese yew, ideal for shady and partially shaded locations
Goldliguster, which needs a lot of sun for its golden coloring
Lebensbaum, also known as Thuja, are available in green-leaved as well as yellow and white-colored varieties - the location depends on the leaf color
Oil pasture, thrives best in sheltered locations in the sun or light shade
Mother-of-pearl shrub, also called Kolkwitzie, needs plenty of sunshine to develop its flowers
Shrub Scots pine, tolerates sun to shade and copes well with urban climate and exhaust fumes
The demands on the location and the care are very different for these, so that good research should be done in advance. The advantage of this is that you can find the right large, evergreen garden shrub for each location.
Fast-growing species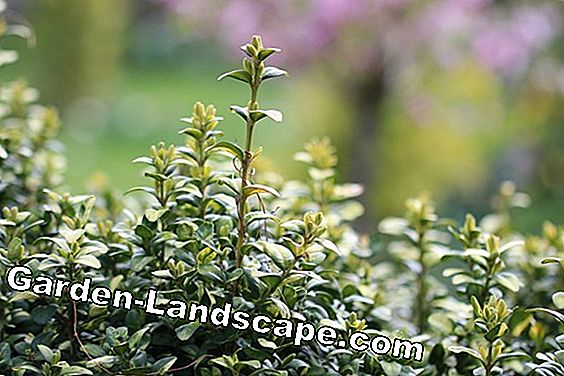 If a fast-growing screen is desired, some of the evergreen garden shrubs are particularly suitable. Among them are breeding forms of:

barberry
boxwood
Photinia
cherry laurel
mahonie
These are also ideal, for example, to close gaps - can grow without matching waste other plants but also in a very short time "over the head". Anyone who chooses to do so should therefore be aware of the need to care for a regular blend and, of course, choose the location accordingly for growth.
alternatives
Suitable alternatives to the mostly foliage-bearing evergreen shrubs may in some cases also be found among the conifers. Some of these plants, such as the known as Thuja tree of life or cypress grow very quickly and need hardly be blended or limited. This can be a significant advantage compared to other garden shrubs. Especially when they are in hard-to-reach corners of the garden or care for little time left.
Tip: Especially with conifers caution is advised, because these are allowed in garden clubs and some communities only up to a certain height and may need to be "capped". Visually, the missing tip is again perceived by some gardeners as disturbing.
toxicity
Some of the above-mentioned evergreen garden shrubs, including the tree of life mentioned several times but also the yew, the boxwood and the privet, contain plant poisons. This makes them less susceptible to pests, but also to a potential danger to animals and children.
Especially the fruit-bearing species can seduce by brightly colored berries for snacking. Households and gardens with small children and animals should therefore pay close attention to the toxicity of the shrubs, if necessary resort to alternatives or protect the plants accordingly from access by children and animals.
Video Board: Awesome Evergreen White Flowering Raulston Hardy Dwarf Viburnum.