The Content Of The Article: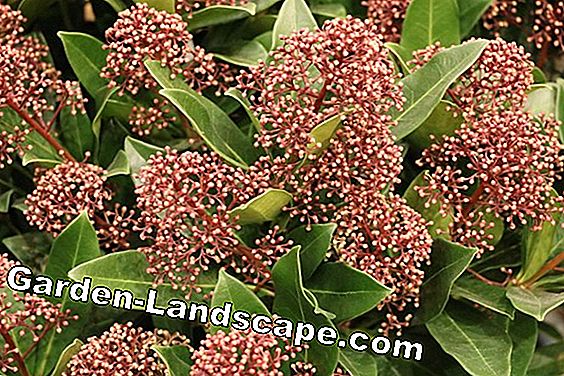 Evergreen, hardy and fast-growing shrubs have not the advantage over wintergreens that most are very cut tolerant, many thrive well in shady areas and are also suitable for creating hedges. As shrubs in general, plants are referred to, which, in contrast to perennials woody and perennial. They have no continuous trunk like trees, but many thin woody shoots. These shoots, on which the leaves or needles are located, branch near the ground. In addition to evergreen, there are also deciduous wild, ornamental, floral, thorn, scented and fruit shrubs.
Japanese flower cluster
The Japanese flower cluster grows as a dense, compact, upright or roundish shrub. He is 60 - 100 cm high and almost as wide. The laurel-like foliage is shiny dark green. The white to pink-colored flowers appear between April / May on upright, up to 12 cm long panicles. This hardy plant thrives in partially shaded to sunny spots, in fresh to moist and preferably acidic soils. It comes into its own in single and group planting. Normally good hardy, a light winter protection makes sense in unfavorable locations.
Tip: The soil on which the Japanese Flower Kimmie stands should not dry out if possible.

Grape myrtle 'Scarletta'
The grape myrtle grows as a 40 cm high and 60-80 cm wide, bushy, dense dwarf shrub that brings color to the garden even in winter. The color of the leaves ranges from reddish-bronze when sprouting over scarlet red in spring and green in summer to burgundy in autumn. The white, fragrant flower clusters show up between May and June. This hardy and undemanding plant needs a moist, humus-rich soil and thrives in both partial shade and shade.

White peat myrtle
The about 50 cm high and broad peat myrtle is a upright and bushy growing small shrub. Their leaves are leathery, shiny and dark green with a thorny tip. The white-pink flowers appear from May to June and are reminiscent of those of lily of the valley. Their most beautiful jewelry, however, are their spherical, snow-white fruits that adorn the shrub from September into December. It is best to choose a sunny to partially shaded location and a nutrient-rich, low-lime and slightly acidic soil.
Tip: If she freezes in the winter, she drives out after a pruning in the spring again. A light winter protection is advisable.

Säckelblume 'Victoria'
This is one of the winter hardest Säckelblumenarten sort is the most beautiful evergreen variety. It grows upright and bushy branches. The special feature is the numerous deep blue flowers that she carries from May to July. The Säckelblume thrives in any normal garden soil as well as in sunny to partially shaded locations. It reaches stature heights of 80-100 cm and a width of 50-70 cm. In individual position, it is particularly good effect.
Medium and large shrubs

Narrow-leaved barberry
This fast-growing shrub captivates with its yellow-orange flowers, which hang in small clumps on the plant in May and form a nice contrast to the dark green foliage. Their branches grow overhanging, with the shrub between 150 and 200 cm high and just as wide. The flowers later develop spherical, blue-black fruits. This plant prefers sunny to sunny locations with moderately dry to fresh soil. In severe winters, it can happen that it freezes hard. After a strong pruning in the spring, it drives reliably again. It is suitable for a single position but also for small hedges.

Jewelry Mahonie
This exotic-looking, low-growing shrub is also a popular garden plant because of its fragrant, golden-yellow flower clusters, which show themselves from February to April. In contrast to other Mahonien, which become maximally 100 cm high, these stature heights of up to 250 cm and growth widths of 100-150 cm can reach. The leaves are pinnate and glossy green. Particularly decorative are the bluish-black berries, which are frosted white from July. This beautiful solitary plant prefers sheltered, partially shaded to shady locations as well as humus and sandy-gravelly soils. It looks very nice in individual position, but can also be cultivated in the bucket. Winter protection is recommended in very cold winters.

Easter Snowball
The relatively fast-growing, evergreen Easter snowball is up to 200 cm high and also broad, dense and very decorative early flowering with pink buds, which turn into intensely vanilla-scented white flower tufts. In autumn, some of the dark green leaves turn yellow to orange. In severe winters, he drops part of his foliage.This ornamental shrub is suitable for sunny locations and bright partial shade. The soil should be permeable to water and damp and waterlogging and dryness should be avoided at all costs. This plant is poisonous to humans and animals.
Tip: Winter midday sun can lead to leaf damage at the Easter snowball. Appropriate protection or sheltered location is advisable.

Holy bamboo
These plants have nothing to do with conventional bamboo. They grow as loose upright shrubs with stature heights up to 200 cm. The leaves are red when sprouting, later fresh green and from autumn orange to red to purple. In June / July, this bamboo forms its paniculate, cream-colored inflorescences, and in the fall it adorns 6-9 mm large, spherical, bright red fruits. This ornamental plant grows in partially shady and slightly shady spots, in well-drained, nutrient-rich soils. In cold locations, winter protection is recommended, as well as protection against the winter sun.

European firethorn
- Pyracantha Coccinea -
The European Firethorn grows upright, loose and sparse and depending on the variety up to 400 cm high. The glossy green leaves are sitting on heavily thorny branches and in May / June, the white umbels form. In autumn, the actual adornment, the bright yellow, orange or red fruits. Firethorn prefers full sun to partially shaded locations with well-drained, nutrient-rich soil, but can also handle heavy soils.
Tip: Waterlogging does not tolerate waterlogging, but dryness is no problem.
White-colored privet
This fast-growing privet bristles with white-grained, gray-green shiny leaves, grows between 200 and 300 cm high and is well suited as a hedge and individual plant. In June / July, the creamy white, fragrant flowers and later the spherical, black fruits show up. He loves sunny to partially shaded locations and normal garden soils. In severe winters he can lose his foliage partly or completely.
ConclusionThere are many shrubs that are evergreen, hardy and fast growing. Some have very decorative foliage, other beautiful flowers and / or very decorative fruits. Despite winter hardiness, some shrubs need winter protection in particularly cold locations. Occasionally, some lose some of their foliage in the winter.
Video Board: How to grow Davidson Hardy Ligustrum (Fast Growing Evergreen Screening Shrub).