The Content Of The Article:
In winter, the garden always looks quite dull. But not if you put on evergreen plants. They conjure up an attractive, green eye-catcher in the wintry garden.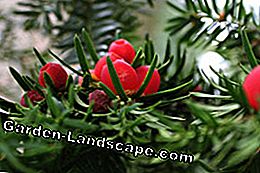 Many gardeners want to have a balance in the garden, which is why they like to combine perennials and evergreens. While the perennials often bloom for a short time and sometimes even completely, the evergreen plants look good all year round. With their shape and color, they set impressive highlights in every season. So you have fun in the garden even in winter.
In addition, evergreen plants also provide a year-round screen. So if you do not want the garden to look totally dull in the cold season, you should resort to these plants. Below, once put together the most popular evergreen plants.
These evergreen plants are especially popular
Yew:
The yew is an evergreen conifer that bears pretty red fruit. Whether as a hedge or a single tree - the yew is a real eye-catcher. But beware: in the needles is the dangerous poison Taxin. In addition to the needles, it is mainly the seeds that make the yew poisonous, because here the poison is particularly concentrated.
Location: thrive in every location
Ground: calcareous
Planting time: autumn
To water: water in case of prolonged drought
Fertilize: not mandatory
To cut: Through continuous cutting yews grow into great shapes
Thuja:
The Tree of Life, as the Thuja is also called, is very suitable as a hedge, but is also a stand-alone eye-catcher. It is a pine-like wood that belongs to the cypress family. The Thuja is actually quite easy to maintain and adaptable. But beware! The cypress plant contains poisonous essential oils that can cause skin irritation in sensitive people. Therefore always wear gloves if you want to touch a thuja. Reading tip: planting and cultivating thuja - That's how it's done.
Location: sunny
Ground: slightly sour, moist
Planting time: in the spring
To water: Water young plants regularly for the first 3 years
Fertilize: in spring with conifer fertilizer
To cut: in February / March
Paper:
The boxwood is often used as a hedge plant, but is very slow growing and therefore only suitable for small hedges. In principle, boxwood plants are ideal as a small, natural border of flowerbeds or garden paths. The boxwood also makes a good figure as a single plant and ensures a Mediterranean flair. This is mainly because you can cut the boxwood well in shape. You can e.g. cutting geometric shapes or animal motifs. It therefore offers several advantages: it is dense growing, easy to care for, undemanding and easy to shape.
Location: sunny or shady
Ground: humus rich soil
Planting time: October to May
To water: Water regularly after planting
Fertilize: annual crediting
To cut: between May and August
Ivy:
Ivy is popular because it is very fast-growing and is well suited as a privacy screen or canopy. Gladly Ivy is also used for facade greening. But the façade must be flawless, because the anchoring roots quickly find their way through cracks in the plaster. And that, in turn, can cause problems over time. Otherwise, ivy is also very easy to care for. The biggest care effort for ivy concerns pruning.
Location: shade / semi-shade
Ground: wet / nutritious
Planting time: All year round, except in frosty conditions
To water: in the main growing season regularly
Fertilize: from autumn to spring every 14 days with liquid fertilizer
To cut: in the spring
Holly:
As the name implies, this is a spiky structure that looks beautiful, especially when it forms its red berries. Again, be careful: the bush is poisonous! The Holly is particularly suitable as a screen, because the shiny evergreen leaves and the red fruits make the Steckpalme a real eye-catcher in the garden. Particularly striking are the thorny serrated leaves.
Location: thrive in every location
Ground: moderately moist
Planting time: Anytime possible on frost-free ground
To water: only necessary for potted plants
Fertilize: unnecessary
To cut: Shape cut in the summer
Cherry laurel:
The cherry laurel is a very popular hedge plant, as the robust, evergreen shrub grows quickly and thus forms in a short time an opaque hedge.He also gets along well with dryness. In the spring he wears cream white, candle-like upright inflorescences from which until August the small black laurel cherries arise. You must never eat them because they are poisonous. Only by boiling the poisonous substances are destroyed.
Location: partially shaded to shady
Ground: best dry and sandy
Planting time: autumn
To water: in long drought and in winter on frost-free days
Fertilize: End of March with horn meal and compost
To cut: Bring hedges into shape at the end of June
Video Board: Which evergreen shrubs can I plant in the shady part of my garden.