The Content Of The Article:
Sea containers have always played an important role in freight forwarding. But did you also know that they can be used in the garden? We'll tell you how.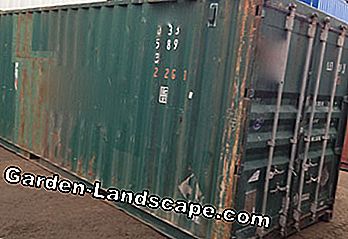 Do you know Malcolm McLean? Certainly not, right? He was an American shipowner and transport operator who came up with the idea of ​​shipping boxes in the 1950s (more about Malcom McLean). To be precise, these were sea containers. An ingenious invention that saved the workers in the ports the laborious carrying of boxes and sacks and thus abolished the heavy drudgery.
The idea, once invented by a bright mind, has over the past few years made other bright minds think about recycling these shipping containers. Finally, some containers are scrapped every now and again, but they are still too bad for scrapping. But what do you do with it? Creative people get a sea container and use it sensibly in the garden. This may sound a bit strange at first, but if you look at the following ideas for recycling or upcycling the containers, you too will be amazed.
Let's just take an example: get yourself an old shipping container and convert it to a garden shed, then the sea container is not only cheaper, he is also flexible because of the many uses as a normal garden shed. Should he ever go away again, you will at least get the scrap value back.
A sea container has quite a few advantages over classic garden and equipment houses, storage sheds and the like. Some people even live permanently in a sea container. See some sea container living examples here.
Here again a picture of a normal, used container, how you can buy it (about 850, - Euro / net). Here you can see the shipping container, so to speak, what it looks like, and further down, what it looks like.
Uses for a sea container in the garden
❖ Idea # 1 - Garden house / workshop:
Let's get back to the idea with the garden shed. That's really a great idea, right? All you have to do is install a few windows and doors (possibly sliding glass doors), repaint the garden shed, or to dress with wood and then set up. You do not have to worry about getting wet feet in the container when it rains. Sea containers are usually wind and waterproof.
Of course, this also applies if you convert the shipping container to a small workshop. Here you can then integrate sockets, build a tool wall and store all your tools dry and safe. So you create your own small space for crafts and crafts, in which you are completely on your own and, for example. Can pursue their hobby, if in the house to the space is missing.
❖ Idea # 2 - Pool:
I would never have thought of that, but a sea container can be used to quickly build a swimming pool. Simply take the container into the ground or set it up normally and then dress with wood. All you have to do then is equip the container with the necessary pool technology. Then you can already get out the scuba mask and go splashing. Cheaper, how to build a real pool or build yourself, that's all.
Tip:
Inform yourself in advance with a specialist, what you need all about pool technology and how you can best convert the sea container to a pool.
❖ Idea # 3 - Pool House:
What belongs to a pool? Of course, a pool house! Of course, this can also consist of a shipping container. Just remove some of the walls, seating, sink and shower (both possible in a separate area) integrate and already the small, but very fine pool house is finished. If you spice up the container then you have created a real eye-catcher.
❖ Idea # 4 - Shed:
But a shipping container does not have to be rebuilt to be a great place in the garden. For example, you can only equip a container with shelves, wall hooks and brackets and you have already created a great storage shed or a practical garden tool house. Here then all garden tools such. the lawn mower, bicycles and Co. find their place. So they are no longer in the garage around and take accordingly no longer unnecessary space away.
❖ Idea # 5 - Greenhouse:
If you remove the steel walls of the sea container and replace them with plastic walls, you can use the container as a greenhouse. Let the doors last best so that you can always ventilate the greenhouse.Otherwise, you can use this type of greenhouse just like any other. You only need to create small beds here and then fill them with soil. After that, the breeding joy is nothing in the way.
Video Board: Insect Lore Butterfly Garden Instructions.